St. Helena is an incorporated city of some 5,900 people that was incorporated on March 24, 1876. It is located in the northern part of the Napa Valley, some 15 miles north of the City of Napa. It is home to many world-famous wineries and restaurants as well as a thriving downtown business district. St. Helena is "Napa Valley's Main Street."
From A for Ana's Cantina to Z for ZD Wines, there is an alphabet soup of discovery in St. Helena and the surrounding environs.
A is for Ana's Cantina, 1205 Main St. It is open from 10 a.m. to 1:30 a.m., seven days a week. Ana's Cantina is the best bar in St. Helena, not because it is the only bar in town, but because the friendly staff, great decor and the mix of clientele create the perfect atmosphere for your night out.
B is for Cathy Buck, the proprietor of the Cameo Cinema, the single-screen movie theater in the heart of downtown. It opened in May 1913 and throughout the years has had several names. In 1996 Charlotte Wagner assumed the lease and performed a serious upgrade to the facilities and equipment, renaming the theater the Cameo Cinema. Cathy Buck assumed the lease in 2008 and a new era for the Cameo Cinema began, with the installation and upgrade of digital sound and projection equipment.
C is for Al Carpy, the founder of St. Helena's beloved Carpy Gang, which celebrates its 80th anniversary in 2016. It began with a sandlot baseball game between Ursuline Academy and the local elementary school in 1936. Children wanted to compete, but their skills were lacking. Al Carpy stepped in to fill the void and teach local children not only the athletic skills necessary to play baseball, football, basketball, track and boxing but also the "life skills" of teamwork, sacrifice, sportsmanship and character that would last a lifetime.  
St. Helena Carpy Gang is a member of the Mendo-Lake Empire Junior Football and Cheer League. We play (football and cheer) with three grade divisions, Pee-Wee, Junior Varsity and Varsity. For the 2016 season, football head coaches were Corey Beck, Joe Herdell, Donnie Taylor and Shane Pavitt. The Cheer coaches were Jessica Farrell, Stephanie Iacobacci, Hailey Covey and Marina Montelli. 
D is for St. Helena Drama and the new St. Helena Performing Arts Center, which was dedicated in November 2016. The new 353-seat center cost $14.5 million, paid for by bonds, which St. Helena voters approved in 2012. It promises to be a well-used facility and will be a blessing to Patti Coyle, SHHS drama teacher, and Alba Gonzalez-Arredondo, music teacher.
E is for "Elegant" as in Meadowood Resort, the Napa Valley's luxury property that features a full range of amenities, including a croquet court, spa, tennis courts, 3-star Michelin restaurant and exquisite rooms for the discerning traveler. Meadowood has hosted a wide range of celebrities, including U.S. presidents.
F is for Freemark Abbey which traces its roots to 1886, when Josephine Tychson built and operated the first redwood cellar on the property, becoming the first woman winemaker in California. The stone building seen today was built in 1939, and today Freemark Abbey produces cabernet sauvignon, merlot, chardonnay, and riesling, as well as very limited production wines, such as Viognier, petite sirah, sangiovese, and cabernet franc. Depending on conditions, the winery sometimes makes a late harvest riesling known as "Edelwein Gold."
G is for Gott's Roadside, a Northern California restaurant group with four locations in St. Helena, Napa, San Francisco and Palo Alto. Brothers Joel and Duncan Gott leased the historic burger shack on Main Street known as "Taylor's Refresher" and created a classic café and roadside stand with the freshest ingredients. It was renamed Gott's Roadside in 2010.
H is for Jim Hunt, founder and a member of the committee that runs the St. Helena High School Athletic Hall of Fame. The first class was inducted in October 2013 and the committee's goal was to honor annually an outstanding group of individuals who represent each generation. It's the purpose of the Hall of Fame to preserve history, honor excellence and connect generations. The seven most recent honorees were from generations spanning from 1934 to 1998. Hunt is also a columnist for the weekly St. Helena Star.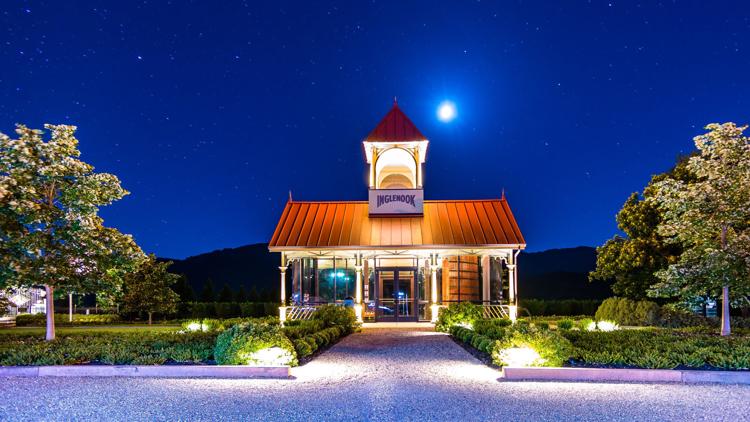 I is for Inglenook and Francis Ford Coppola. Gustave Niebaum established Inglenook in 1879 and ran the Rutherford estate until 1908. His grandnephew, John Daniel, Jr. ran it from 1939 to 1964. Six-time Oscar winning director, writer and producer Francis Ford Coppola and his wife, Eleanor, bought part of the 1,400-acre estate in 1975 and the rest of it, including the historic chateau, in 1995. In 2011, the Coppolas acquired the iconic Inglenook trademark and Coppola announced that henceforth, his celebrated estate would be known by its historic original name, Inglenook. "Our goal has always been to make one of the world's great wines," he said. 
J is for the July Fourth Fireworks, which was hosted for years by a group of local wineries, including Louis M. Martini, Prager Port Works and Trinchero Family Estates. Currently, the City of St. Helena's Recreation Commission helps raise funds for the annual fireworks show, which is held at Crane Park.
K is for Christopher Kostow, the award-winning executive chef at The Restaurant at Meadowood Napa Valley. Kostow, born in Highland Park, Illinois in 1976, is the author of "A New Napa Cuisine" and has won the "James Beard Award for the Best Chef: Pacific." The Restaurant has been awarded three stars from the Michelin Guide for several years. 
L is for Marc and Brenda Lhormer, founders of the Napa Valley Film Festival, a nonprofit cultural organization that celebrates the cinematic arts and enriches the community by presenting an annual world-class festival and year-round education and outreach programs. The organization was founded in the summer of 2009 and the Lhormers produced a small film festival the following year. In November 2011, they produced the first full-scale Napa Valley Film Festival with over 100 films, 250 film industry guests, 150 participating wineries, 30 chefs, and a total attendance of 24,000 over five days.
M is for Model Bakery, which has been a part of St. Helena's culinary scene since 1908. It is located at 1357 Main St. and its current owner, Karen Mitchell, has run it for 30 years. Her daughter, Sarah Mitchell Hansen, is co-manager. They specialize in handmade and baked breads, pastries, cookies and coffee drinks and offer breakfast items – you've got to try the English muffins, Oprah's favorite – and a lunch menu of hot and cold sandwiches and salads.
N is for Napa Valley Wine Train, a restored historic train that includes 10 vintage Pullman railcars, built in 1915, and two engines. The train offers daily 36-mile round-trip tours with locally sourced American fare and Napa Valley wines in the center of the Napa Valley, starting and ending at its McKinstry Street Station in Napa. Besides the dining journeys, the train will stop at different wineries and offers special event trips. The rail line was established in 1864 by Sam Brannan, who wanted to transport San Franciscans to his resort in Calistoga. The Napa Valley Wine Train was established in 1987 and the first rail trip was on Sept. 16, 1989.
O is for the St. Helena Independent Order of Odd Fellows and its hall, which was built April 25, 1885, at 1352 Main St. The St. Helena family of Oddfellowship has come together in our local community with the beliefs and values that friendship, love and truth are the basic guidelines that we need to follow in our daily lives. Through working in our local community, we understand that we can make a difference in the lives of people in our world. The Odd Fellows organization was founded in England in the 1700s and came to America in 1819. There are some 12,000 chapters throughout the world and 600,000 members.
P is for St. Helena's annual Pet Parade, a celebration of our beloved dogs, cats and other pets, which we put into their best Halloween costumes and march down Oak Avenue. The Pet Parade is the beginning of St. Helena's annual Harvest Festival, which is held on the third Saturday in October. It is a great way to celebrate the end of the harvest season in Napa Valley and experience the beginning of the beautiful fall foliage. The festival features live music, food and craft booths, wine pouring stations, a kids carnival, a 5k run and a kids run.
Q is for Darrell Quirici, who was named Coach of the Year in baseball, for his efforts in the past year. With no field in town, a road-heavy schedule, and practices reduced to the occasional trip to Angwin and sharing the football field with the track team, the odds were against St. Helena. From the first day, though, Quirici was adamant that there would be no excuses. After a losing campaign in 2015, he led a senior-heavy roster to a second-place finish in the NCL I (11-3 record) and fourth-best record in Division IV (16-8 overall), and even got to host a playoff game as the No. 7 seed. Despite losing to eventual semifinalist Piedmont, 3-2, the Saints had plenty of proud moments this spring.
R is for the Rianda House Senior Activity Center, located at 1475 Main St. in the heart of St. Helena. The thriving center offers a one-stop-shop approach to connect our community's senior population to the programs, services and resources needed to support independence and successful aging. With the population of adults ages 65 and older expected to rise by 50 percent in the next 20 years, the need has never been greater. Current research on older adults clearly demonstrates that the three building blocks of longevity – good physical, mental and social fitness – can lead to a longer, more fulfilling life and reduce medical costs. The comprehensive menu of activities and services available at Rianda House helps the active adults in our community achieve optimum health to make the most of every day. Come take a look, try a class, have a cup of coffee or read the daily papers. Rianda House Senior Activity Center welcomes Upper Valley adults from 9 a.m. to 4 p.m., Monday through Friday. 
S is for the St. Helena Public Library at 1492 Library Lane, which houses over 75,000 books, DVDs, books on CD, CDs, newspapers, magazines, microfilm and other media. Also part of the library collection is the Napa Valley Wine Library, consisting of some 3,500 titles and more than 6,000 items. The world-famous Silverado Museum is housed in a wing of the library building.
The City of St. Helena has a long history of public support for library service. Begun privately as a subscription library by townspeople in 1875, the first library became a city library in 1892 and was housed initially in the Independent Order of Oddfellows Building (IOOF) on Main Street. In 1904, local citizens interested in a more permanent home for the library, contacted library philanthropist Andrew Carnegie, who eventually donated $7,500 to construct the first permanent library building in 1908.
The current building at 1492 Library Lane was constructed in 1979 and named for a much loved local physician, Dr. George J. Wood and his wife, Elsie. It was enlarged in 1996 with a remodel in 2010.
T is for Boy Scout Troop 1, led by Jodie Hunt. The troop, which is sponsored by the Rotary Club of St. Helena, meets at 7 p.m., Wednesdays at the Scout Hall on Railroad Avenue next to the Fire Department. Boy Scouting is a year-round program for boys from age 11 to 17. Through the Boy Scout program, young men can achieve the core objectives of strengthening character, personal fitness and good citizenship. 
U is for the UpValley Family Centers of Napa County, which are the result of a merger between the Calistoga Family Center and the St. Helena Family Center, with locations in both cities. The newly combined organization became official in February 2014, its Executive Director Jenny Ocon manages a staff of 15. In 2015, the centers served 1,879 families, helped 100 percent of uninsured children who visited the centers connect to health insurance and its tax assistance volunteers helped 519 families with their taxes. The program generated $695,473 in refunds, averaging $1,340 per family.
V is for Vintage Hall, built in 1912, which was the original St. Helena High School. The St. Helena Unified School District owns the building and paid $5.7 million for its renovation, completed in December 2002. According to the contractor, Angwin's Helmer & Sons, the completed project included a new kitchen and cafeteria, expanded student services, school district offices, and a new boardroom for use by the school board and city council.
The challenge of this project was to bring the building into compliance with the California Building Code without compromising its historic status. The solution was to place a new structural steel frame and concrete foundation within the building's wood-frame and stone-exterior shell. The entire mechanical and electrical system for the building was also replaced, and the interior finishes and fixtures were replaced with those more consistent with the original construction.
Helmer & Sons Inc. is a family-owned construction company established in 1975 and located in Angwin. It builds projects for a wide variety of clients in Napa, Sonoma, Solano, Lake and Mendocino counties.
W is for Woodhouse Chocolate, located at 1367 Main St., represents the combined efforts of three generations of the Anderson/Wood family. John and Tracy Anderson, their daughters Christina and Caroline, Christina's husband Vince and Tracy's mother Christine run the kitchen and company together. Their mission is to create the world's most flavorful and rich chocolates and confections using local, sustainable ingredients whenever possible. Produced in the European style, Woodhouse chocolates are handmade in a historic 1890s stone and brick building.
X is for X-rays, likely to be found at Adventist Health, St. Helena Hospital and Health Center, located on the way up to Angwin, the home to Pacific Union College. St. Helena Hospital has 181 beds and a wide range of services. It was founded in 1878 as Rural Health Retreat and is the oldest Seventh-day Adventist hospital in the United States. Services include the following:
-Medical/Surgical Services
-St. Helena Recovery Center
-St. Helena Center for Health
-The Martin-O'Neil Cancer Center
Y is Trent Yaconelli, the associate executive director of the Boys & Girls Clubs of St. Helena and Calistoga. Yaconelli was first hired as club manager in 1997, which was long before the 11,200-square-foot St. Helena clubhouse was built at 1420 Tainter St. next to St. Helena Elementary School. In fall 2016, the organization received a $200,000 grant from the Napa Valley Vintners through its Auction Napa Valley fundraising event.
Z is for ZD Wines, which is family-owned and operated by three generations of the deLeuze Family. It is located at 8383 Silverado Trail in Rutherford. ZD was founded in 1969 by aerospace engineers Norman deLeuze and Gino Zepponi, along with their families. Their founding concept was to produce world-class chardonnay and pinot noir reminiscent of France's renowned Burgundy wines. They achieved this endeavor by sourcing from the cool Carneros regions of Napa and Sonoma. The ZD Wines brand highlights the initials of the founding partners' last names, but it also symbolizes the term Zero Defects, an acronym for the quality control program Norman and Gino worked under while designing rockets at AeroJet, a rocket propulsion manufacturer in Sacramento. Today the winery produces chardonnay, pinot noir and cabernet sauvignon.