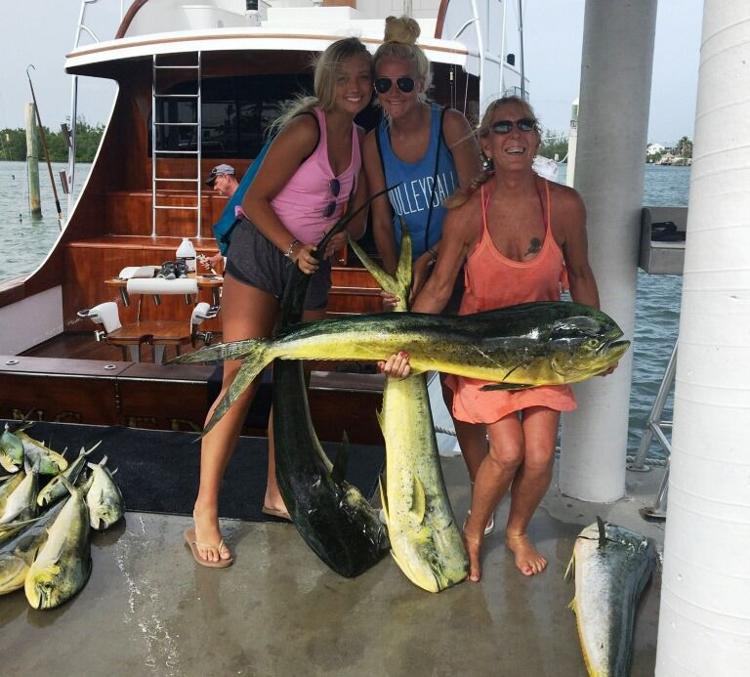 Just A Week Ago, I Wrote ... "Humm, Today is Friday the 13th. I warned Napa readers: no black cats in front of you, don't walk under a ladder, and don't bet against Lora Trinchero in a fishing contest. Look at these numbers from her recent Florida mahi mahi adventure:
*Two 40- to 45-pound hens
*Ten more up to 15 pounds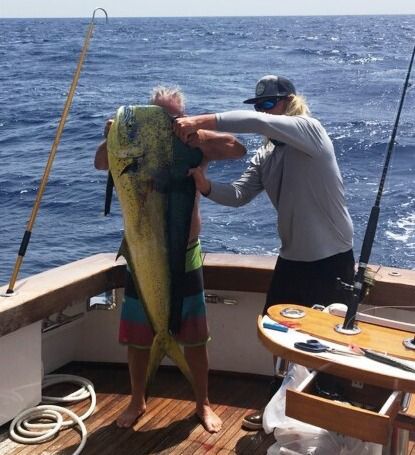 Mahi mahi are big, beautiful and strong fish. Big chunks of gold coming up to the surface, prompting the name "dorado." You may also know them as dolphin or East Coast dolphin fish. Bag limit per person is 10 a day with a 20-inch minimum length in most sectors.
Some years ago, while fishing at Mexico's Bahia Magdalena, I was taught to tie off the first one caught. Leaving it in the water quickly attracted others and kept many close by. It was non-stop fishing till your arms hurt. LT says it's still the same.
Potential new world record mahi mahi was just caught by 14-year-old Lucas Duke in Hatteras, N.C. It weighed a whopping 72 pounds, 14 ounces.
12,000-Mile Fish?… Stan Press' grandson, Noah Tedeschi, caught a beautiful small-mouth bass this summer in the St. Lawrence River at the top of New York state – where it borders Canada. Manning the net was pro guide Dean Meckes (315-405-1706).
This is Noah's second trip to fish the mighty St. Lawrence River, right where it enters Lake Ontario. That 5-pound smallmouth bass is what you get in these big waters. Noah lives in Southington, Connecticut.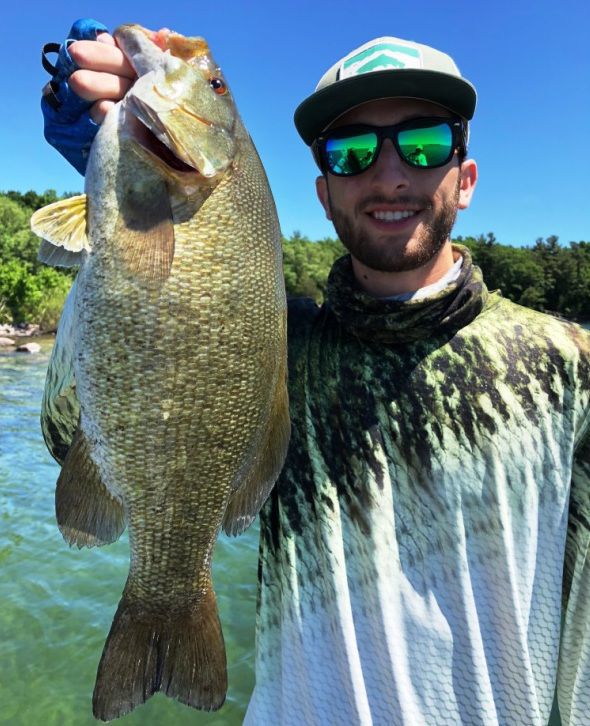 12,000 miles? Here's how: My dear friend, New Yorker Bob Berman, and I discovered Dean a few years ago when we caught and released 33 big, wild smallmouth bass – in three days. I could hardly wait to get home to tell Stan. That's a 6,000-mile round trip. Then Stan took Noah for a birthday bash to fish with Dean, and came back home to tell me that the bite had stayed solid. That's the other 6,000 miles, round trip. Dedicated bass hunters, call Dean right now and book a trip. Ask him to take you bassing in nearby Chaumont Bay, the largest fresh water bay in the world.
Stay in Clayton, New York (fly to Syracuse, then drive) right on the bank of the St Lawrence. It's right in the middle of the famous Thousand Islands region; we fished around most of them in that stretch of the river that is two miles wide. Eat breakfast at the Koffee Kove; get them to bag your lunch, too. Be careful where you sit; the Mayor and his team have a breakfast meeting at the table in front of the cash register. You will never forget this trip.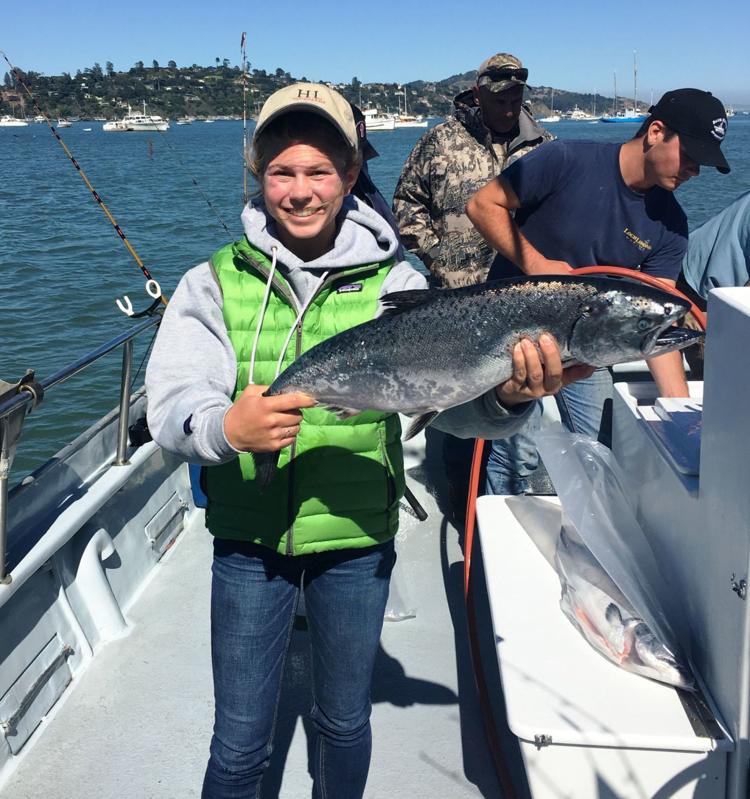 Meanwhile, Closer To Home… another of my favorite St. Helena anglers, Liesl Wolf-Heinemann is taking full advantage of the hot king salmon bite in the salt. She has limited out on two recent trips. As part of her last limit, Liesl put a solid 20 pounder in the net—on the Sundance out of Emeryville. (510 652-3403).
Lest We Forget… My longtime favorite pooch, Snoopy was lying on his ridge-pole this week—reminiscing. He mused, "I'll never forget one of the smartest things I ever did…I never bought a Nehru Jacket."
Full disclosure: me neither.