In a frigid season opener, the St. Helena High varsity baseball team couldn't find much warmth at the plate, letting a tight game against visiting Lick-Wilmerding of San Francisco slip away late, 7-0.
"It's tough to play in these conditions, but both teams play so it's not an excuse," said Saints head coach Darrell Quirici. "It is what Mother Nature gives us."
St. Helena (0-1) mustered four hits through the first four frames but went cold over the remainder of the contest, going three-up, three-down after a 1-0 deficit ballooned to 4-0 and then 7-0 in the last two frames.
Stephen Collins, the Saints' starting pitcher, stomached a tough-luck loss, exiting the game after five innings and his side down by just one run. He allowed two hits, struck out two and walked one.
An error on a throw by Collins to first base put the Tigers' first run on the board in the fifth frame.
"Steve threw a great five innings," Quirici said.
Casey Walker made a relief appearance and was chased after 1 2/3 innings, surrendering six runs (five earned) on eight hits, one walk and struck out two. Many of those hits came on 'almost' plays by the Saints' defense, which was charged with four errors in the contest.
The home team, missing Caleb Jeske (foot) and Jack Adkins (shoulder) due to injuries, squandered multiple scoring chances on opening night.
In the second inning, Ryan Rockwood (1 for 3) launched a lead-off single through the middle of the Tigers defense, quickly stole second, and advanced to third on an error that put Luis Robledo (0 for 2, walk, steal) on-base. But a strikeout by Collins stranded both runners.
In the fourth, Randall Mosley (1 for 3) skied a base hit into the gap by the right field line but missed the bag as he was rounding second base and sprinting for third. The Tigers (1-0) stepped on second to erase the Saints' only potential extra-base hit of the night.
In the third, Walker (1 for 3) reached second on a fielding error and, in the fifth, Robledo's lead-off walk was followed by a steal of second, but in both instances the runners were left on-base.
The other hit for the Saints was a two-out single by Alex Kerr (1 for 3) in the first.
"That was a good ballgame through the first five," said Quirici. "Then, a couple mistakes here and there and, all of a sudden, you're in a hole we, at this time, don't have the offensive capability to come back from. Like our scrimmage on Saturday (against Justin-Siena), early in the game, lots of runners left on base and we've got to get those guys to the plate and put some runs on the board."
Varsity Boys Basketball
Cloverdale 54, St. Helena 39
The Saints looked to spoil Cloverdale's Senior Night on Friday by continuing their hot shooting from their own Senior Night on Wednesday, when they scored 35 points in the first quarter in a 71-44 rout of Fort Bragg. But it was a different story in the opening stanza of this North Central League I game. St. Helena (11-15, 4-10 NCL I) couldn't find its shooting range and went 0 for 5 from the free-throw line, and trailed 14-4 after one quarter.
In the second quarter, the Saints got 3-pointers from Ethan Battistini and Jonathan Gamble but still trailed by 10 at halftime, 27-17. In the third, despite threes from Christian Iano, Gamble and Battistini, they couldn't get enough defensive stops. The Eagles took a 41-29 lead into the fourth, when – with a home playoff game on the line – they made nine of 10 free throws to seal their 15-point win.
Battistini finished with 11 points, Gamble nine, Iano five, Zac Flood four, Olie Russum and Nick Jeworowski three apiece, and Rockwood and Collin Darrall two each.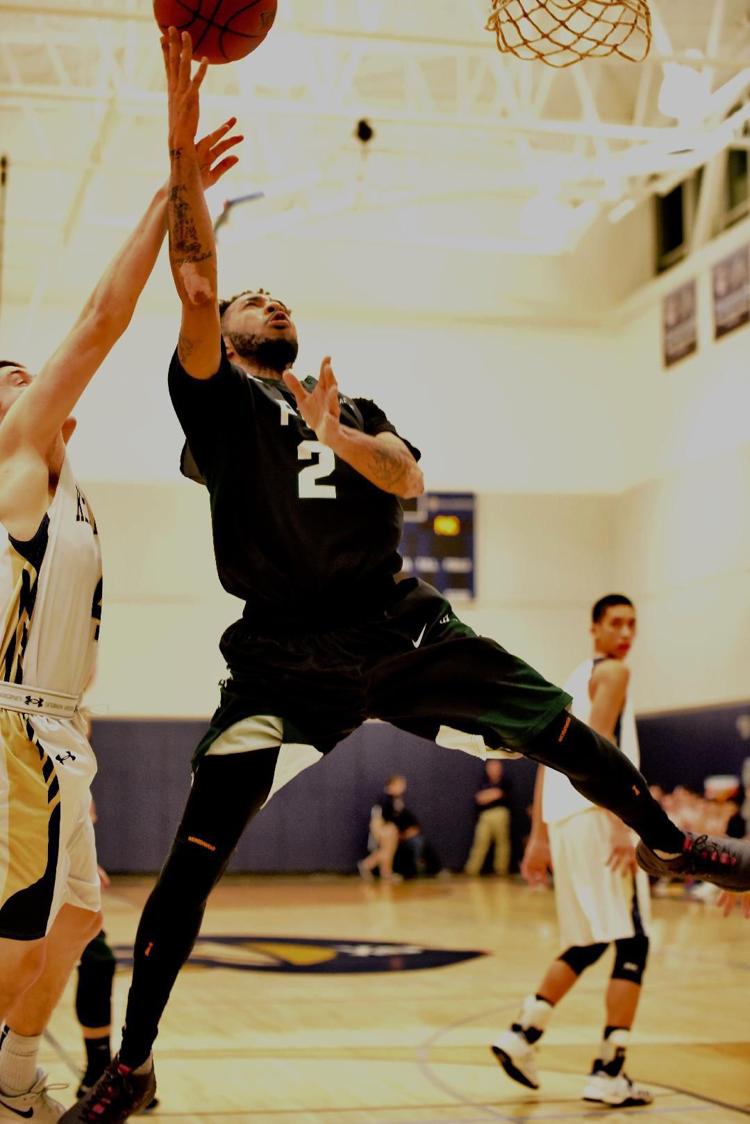 College Men's Basketball
Season ends for Pacific Union College
The Pioneers won 74-66 over Cal Maritime at Pacific Auditorium in Angwin Saturday as Rae Hubbard scored 26 points.
Pacific Union (10-14 overall, 7-7 California Pacific Conference) finished in a tie for fourth place with Simpson University. But Simpson (11-13 overall, 7-7 CalPac) secured the No. 4 seed for the playoffs based on beating the Pioneers twice during the season.
Pacific Union honored its senior class – Jayson Marquez, Noel Briones, Brandon Franklin, Devon Pinnock and Hubbard – during a ceremony on Saturday.
"It's going to be tough to replace guys like that for sure," said head coach Greg Rahn. "We played our seniors most of the game. The maturity level of these young men and what they were able to accomplish was pretty fantastic to watch."
Hubbard also had 3 rebounds. Franklin (21 points, 10 rebounds, 5 assists, 5 steals), Marquez (15 points, six rebounds), Briones (8 points, 6 rebounds, 3 assists, 3 blocks), Pinnock (4 rebounds, 4 assists, 2 steals), Jeremiah Blandin (8 rebounds) and Joseph Scott (3 steals) were other standouts.
"For us to beat a very good Maritime team was big," said Rahn. "We had to do what we needed to do. We had to play with that toughness and mind-set to get it done. It just kind of felt like we were in control the whole game."
PUC lost last week to UC Merced, 82-71.
The Pioneers were led by Wayne Englestad (17 points, 2 rebounds), Blandin (16 points, 9 rebounds), Franklin (12 points, 5 rebounds, 2 assists), Hubbard (10 points, 3 rebounds), Briones (6 points, 8 rebounds, 3 assists), Pinnock (6 points, 3 rebounds, 4 assists, 3 steals), and Marquez (4 assists, 2 steals).
College Women's Basketball
PUC loses final two games
The Pioneers (2-19 overall, 1-13 CalPac) lost their last two games of the season, falling to UC Merced, 68-55, and Cal Maritime, 57-45, last week at Pacific Auditorium in Angwin.
Imari Clinton scored 12 points and had 10 rebounds and four assists in the game against UC Merced.
The Pioneers were also led by Kylie Beal (11 points, four rebounds), Karla McCommas (10 points, six rebounds, two steals), Makana Kaaikala-Caban (eight points, three rebounds, two assists), Molly Hargon (seven points, three rebounds, two assists), and Gabriela Lua (five points, two assists).
In the game against Cal Maritime, the Pioneers were led by Clinton (15 points, 12 rebounds, four assists, three steals), McCommas (eight points, seven rebounds), Beal (six points, two rebounds), Hargon (five points, four rebounds), Kaaikala-Caban (five points, three rebounds, two assists), Faith Williams (three points, two rebounds, two assists), and Lua (three points).