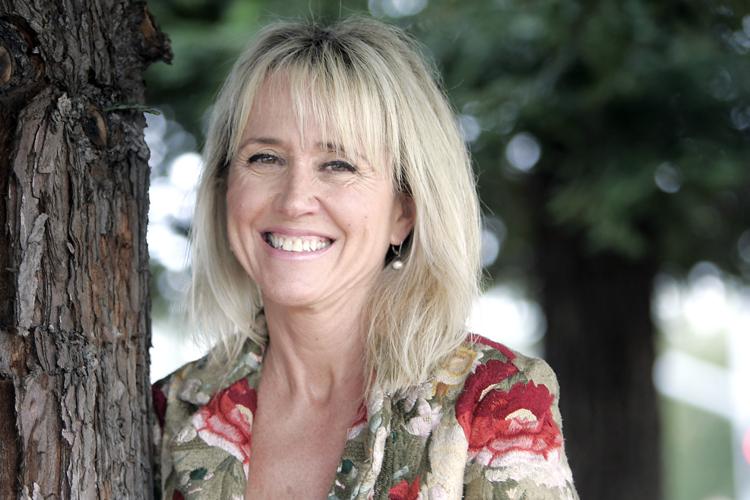 There are few endeavors outside of marathon running that could capture the resilience of someone like Robin Bollen so well.
For all the dramatic turns she's faced in her life, the 55-year-old St. Helena resident has navigated every single one, and her persistence to continue distance running helped her achieve a goal she's chased for more than two decades.
Last fall, Bollen was awarded a spot in the 122nd running of the legendary Boston Marathon, one of the most prestigious road racing events in the world. She will run it for the first time on April 16.
"Even though it's been a few months since I've gotten my letter, every time I think about it I get tears in my eyes because I get so excited and feel so honored that I was chosen," she said. "I only made it by a couple of minutes within my age group so I thought for sure I'd be the little man on the totem pole – but I wasn't. I'm so grateful all the time."
That gratitude comes from a life where running was often the saving grace for Bollen.
When she was 13 years old, she slipped on the wet edge of a swimming pool in her hometown of Laguna Beach. Bollen's head smacked against the concrete of the pool floor, knocking her unconscious while water flowed into her skull with each cataleptic breath.
To make matters worse, she was suffering from a sinus infection so the pool water became trapped inside her clogged nasal cavity. It wrapped around her optic nerve and pushed her left eye out of its socket. Within 12 hours, her head had swollen to twice its normal size.
"I'm in the record books of Children's Hospital in Hollywood because nothing like that had ever happened," Bollen said. " … I didn't look human."
Bollen underwent a grueling operation that kept her in the hospital for six weeks. She jokes that she was there so long they even set up a personal mailing address for her.
Survival was far from a sure thing, but Bollen pulled through, with a souvenir in the form of a long scar on her face that's barely visible now. She went to vision therapy to regain her eyesight but her breathing was never the same. When she runs she has to consciously focus on her breath to maximize the flow of oxygen through her body.
But the obstacles kept coming. At an age when outward appearance is such a cornerstone, naturally, having an accident like that made life difficult for that 13-year-old girl.
"I was tortured by the teenagers. They're so cruel," Bollen said. "Bullying has not changed much – it's only gotten worse nowadays. But the kids were so mean to me."
In addition to the verbal attacks by her peers was the physical pain in her skull. Bollen suffered from severe migraines and found few actionable methods of treating them.
Eventually that combination became so intense she elected to literally run away from it all.
"I just ran down the road because I was so upset from the bullying and my head was just pounding," she said. "As I was running, my headaches stopped. I felt better physically, mentally, and the bullying didn't bother me anymore. It just developed into this passion."
In 1996, a sibling of one of her closest friends convinced her to run a full marathon. Before that, Bollen had done half marathons and other shorter road races, but never a full 26.2 miles.
That year she set her sights on the California International Marathon in Sacramento.
"I was hooked after that," Bollen said. "The next marathon I ran was six weeks later in Huntington Beach … and I just kind of went from there."
In her return to her backyard, running the Surf City Marathon in February 1997, Bollen recorded a personal best that still stands 21 years later, clocking just over three hours and 54 minutes in just her second marathon.
She eventually made her way to the Napa Valley in 2002. Bollen became a small business owner, running a spa in St. Helena before simplifying it to the one-woman show it is now – Splendor Studio Aesthetics, housed in a studio space on Adams Street.
Running remained a constant, with 12 full marathons and eight half marathons to boast. The Boston Marathon will be her 21st overall road race.
But in April 2013, another obstacle was thrown at her and this one seemed insurmountable.
Bollen had to have an emergency hysterectomy because of "massive tumors" that had overwhelmed her uterus. Seemingly overnight, she lost her ability to have children and never had any say in it, sending her into a deep depression.
Her doctor cleared her to run after four weeks, but the operation had torn up the ironclad core muscles she'd developed as an exceptional runner. She returned to the Napa Valley Marathon in 2014, thinking she would be the same, but by mile 20 the pain was so intense she was in tears the final six miles, trudging at such a slow pace she didn't even want to know her time when she finished.
"I cried, not so much because of the pain, but I thought I was not going to be able to run another marathon. I thought I wouldn't be able to handle that pain," Bollen recalled. "But my husband (Ric Bollen) helped me get through that and heal myself. I never gave up."
It took her nearly three years to recover to the point she could run over 20 miles without feeling any pain in her abdomen. Even now, much of her training is focused on enhancing her core muscles.
As Bollen got her marathon legs back under her, she revisited her goal of running the Boston Marathon. It has competitive qualifying times and only allows around 30,000 total entrants spread between 11 age groups. So even if an applicant checked off all the requirements to register, they aren't guaranteed a spot in the race.
She was seeking a time under four hours at last year's NVM, hoping to use her backyard road race as her qualifying event. But conditions were brutal that Sunday in early March, with torrential rains and heavy winds bearing down on the field.
"The conditions were insane," Bollen said. "I was running in water past my ankles so my shoes were completely submerged and soaking wet."
She finished in 4:06:28, more than six minutes slower than the even 4:00:00 she needed to qualify in the 50-54 age group.
"I was so bummed because I didn't think I made it, but right away, that afternoon I wrote to Boston saying … this is what I did and what should I do and I really want to go, this is so important to me," Bollen recalled.
What she didn't realize was the age groups are determined by how old the runner will be the year they actually run the race. Since Bollen would be 55 in 2018, she was applying for the next division, which required a 4:10:00 or lower qualifying time.
Once she realized she actually hit her mark, Bollen registered the minute Boston opened up its applications.
"I was obsessively checking my email from the day I applied," she said. "Every second I had a second, I would check."
On Sept. 27, at 9:27 a.m. – a unique convergence of time she likes to point out – Bollen got the email she'd been seeking for decades as a marathon runner.
One of her favorite oldies songs, "Twist & Shout," came on the radio as her inbox lit up and she danced with her two dogs in the living room, overflowing with elation at this culminating accomplishment.
That fall morning, moments before she was set to go back to work, Bollen sang and danced to a song that always lifted her sprits. In a life where running helped her overcome every challenge, whether it was physical or mental or financial, she was finally recognized for her endurance through it all.
"I just wouldn't stop," she said.