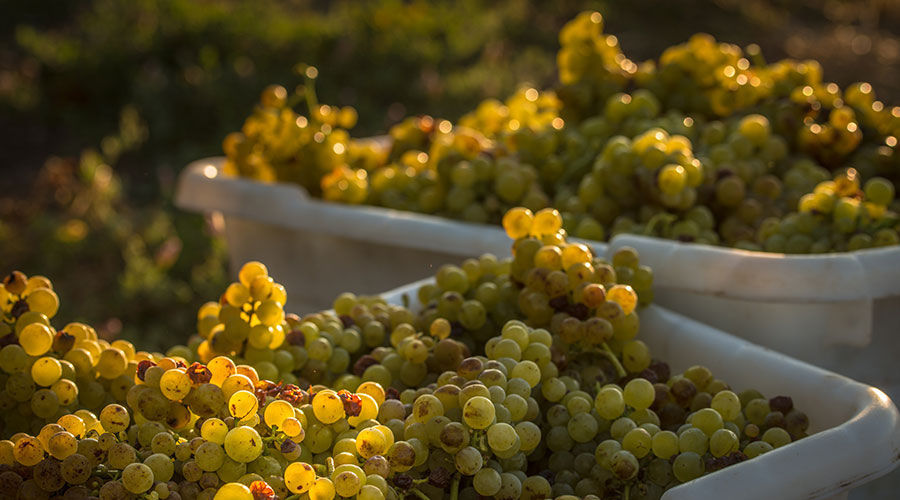 Cool temperatures continue to contribute to the slow, steady ripening of Napa Valley grapes.
The sauvignon blanc harvest is either complete or well underway, and some chardonnay and merlot blocks will be harvested this week. But when it comes to reds, most correspondents are in waiting mode.
"Ripening has slowed down, allowing time for judicious crop and canopy adjustments to be made," reports Bill Nancarrow of Goosecross Cellars. "While in the wineries pre-harvest sanitation and intern acclimation can continue."
Here's the latest installment of the 2016 harvest report, organized by American Viticultural Areas:
Calistoga – Matt Crafton, Chateau Montelena – "Last week brought a few select chardonnay picks from downvalley, but the persistent marine layer, onshore breeze, and generally pleasant temperatures in Calistoga have furthered the slow, steady flavor development in our Bordeaux varieties and zinfandel. We're keeping a close eye on the hillside and dry-farmed blocks that tend to thrive in this weather. Overall, I've been really pleased with how uniform the ripening seems to be and the possibility of picking at lower sugar levels."
Howell Mountain – Pat Stotesbery, Ladera Vineyards – "The first whites will come off this week but nothing in earnest. Reds are still waiting; and will be for some time to come. The vines look very healthy with no signs of any yellowing, so waiting is not a problem. Seems most of the predictions about another year like 2015 are not going to hold true but things still should be earlier than typical."
Chiles Valley District – Alexander Eisele, Volker Eisele Family Estate – "This week saw more sauvignon blanc and semillon being harvested with both varietals showing average to above-average yields with very nice clean fruit. Other varietals such as chardonnay and zinfandel look to be about a week to 10 days later than last year. With the ideal weather, sugars and flavors are progressing nicely. All yields look to be a bit higher than last year and a bit closer to the historical averages in our district."
Spring Mountain District – Stuart Smith, Smith-Madrone Winery – "With last week's cool weather and the next 10 days forecast for the same cool weather, it's pretty quiet on the mountain. Spring Mountain Winery has finished sauvignon blanc and is starting pinot noir. Smith-Madrone did a block of chardonnay on Saturday and was very pleased with the quality, but now we're waiting for a little more maturity from the other blocks. Stony Hill will start this week with some chardonnay, yet Keenan, Schweiger and Pride are thinking at least another week for their chardonnay."
St. Helena – Jacky Young, Young Inglewood Vineyards — "At Young Inglewood, harvest 2016 started early, with Aligoté on Aug. 10, and reds for our Vin Clair Rosé on Aug. 12. We are now enjoying a break, during a welcome period of cooler weather that is predicted to continue through the week. The fruit in all our five Bordeaux varietals is developing evenly, with pleasing varietal flavors. That development can proceed unhurried if the cooler days continue as forecast."
Ted Edwards, Freemark Abbey — "Thank goodness for our wet winter. Although it didn't relieve all of the drought symptoms, it helped to replenish our aquifers and reservoirs and stimulate more vine growth, bigger canopies and a decent size crop. From vineyard to vineyard we will see a lot of variation in terms of yield, mostly just short of average. But in some cases, such as our sauvignon blanc in St. Helena, we have what is called a bumper crop, i.e. a big yield. June and July saw moderate if not warm conditions, with a few days in the high 90s. A relatively dry spring pushed the ripening of the grapes on an early schedule. We began harvest on Aug. 11 — early compared to an average year, but 12 days later than last year (which was extremely early).
"At this point in time and with moderate weather in the forecast, I like to do what I call "cherry picking." Meaning, we strategically divide up the vineyard picking only those sections that are ripe, in the moment. For our first day we picked 10.25 tons, then waited a whole week before we picked anything else, wanting all the flavor development to occur with hang time and slow maturation."
Rutherford – Kristin Belair, Honig Vineyard & Winery – "Harvest really felt like harvest this past week with sauvignon blanc grapes arriving every morning at 6 a.m. With incoming quantities varying so much from estimates this year, there has been a lot of early morning reconfiguring of which press got used for what and which tanks the juice would go to. The team has been endlessly patient with all of the last minute changes, and each day has concluded with everything where it needed to be. Continuing moderate weather has been fantastic for fruit quality and we are tasting some phenomenal flavors in the newly fermenting juice. Heading into September, we anticipate a repeat of this past week, leaving us with most of the white grapes in by Labor Day. Our early samples of red varietals (cabernet sauvignon, cabernet franc, petit verdot and merlot) have us thinking that we'll see our first reds arriving at the crush pad as early as mid-September! Stay tuned!"
Oakville — Linda Neal, Tierra Roja Vineyard — "Last week the Oakville Winegrowers kicked off harvest with a Technical Committee meeting. Local experts, Michael Wolf of Michael Wolf Vineyard Services and Kris Lowe of Vinebalance Consulting, led an interesting exchange about irrigation. With so much of Oakville dedicated to cabernet it is not surprising that my pre-dawn survey of vineyards did not reveal any picking this morning. Wineries are active with tending the early sauv blancs and chardonnays, mostly received from other regions. Bottling is still active. The cold weather has brought the previously vigorous and early harvest to a crawl.
"Ken Howatt, Napa Wine Company, tells me they have 'completed about 12 percent' so far. Today they are receiving only 16 tons, where 300 would be more typical. They have a team of approximately 80 people who will be 'painting soon' if weather doesn't warm up. Mondavi winemaker Rich Arnold reports no fruit coming in today. 'The Tokalon SB harvest is complete, waiting for the ideal maturity of the semillon,' he said. 'Chardonnay just getting started, no reds as of yet.'"
Yountville – Bill Nancarrow, Goosecross Cellars — "Harvest activities have slowed to a minimum this last week with sauvignon blanc and semillon being picked at some locations. The current and forecast mild weather conditions ('feels like red wine drinking weather,' according to a noted local viticulturist) are ideal. Ripening has slowed down, allowing time for judicious crop and canopy adjustments to be made. While in the wineries pre-harvest sanitation and intern acclimation can continue. Still time to get a sampling of tasty Steamed Pork Buns at Redd."
Atlas Peak – Melissa Apter, Antica Napa Valley-Antinori Family Wine Estate — "We officially started off the season today, Monday the 29th, with a little bit of sauvignon blanc. The fruit looked and tasted great. We are now in the 'hurry up and wait' phase, as the rest of the fruit still needs a bit of time. The weather has been fairly mild and the mornings and evenings have been cool, giving us a slow and steady ripening period. The big question being whispered through the vines this weeks is 'Will we be picking on Labor Day or not?' Only time (and some more sampling) will tell."
Stags Leap District – Elizabeth Vianna, Chimney Rock Winery – "Foggy, cool mornings and warm daytime temperatures make for very happy winemakers. Although we still expect an early harvest, Stags Leap District is relatively quiet on the harvest front. Michael Beaulac, winemaker at Pine Ridge Vineyards, reports nothing is close on their estate. Marcus Notaro, winemaker at Stag's Leap Wine Cellars, is still playing the waiting game with their SLD fruit as well. Remi Cohen at Cliff Lede Vineyards reports they will be getting busy with some SLD merlot this week and they are already impressed with the promising color and intensity of the fruit. At Chimney Rock, we continue the wait, although our hillside merlot is getting close and may just make an appearance around Labor Day."
Mount Veeder – Sander Scheer, Hess Collection – "The cooler weather we saw last week has slowed things down here on the mountain. This should give flavors and sugars a chance to balance out a bit. The whites we're watching are looking to be the best we have seen in years. Definitely more of a buzz around the winery as we prep for crush."
Oak Knoll District – Jon Ruel, Trefethen Vineyards & Winery – "The harvest continues for white grapes, and the occasional early red, but with this mild weather, there has not been a sense of real urgency. The vines are happy and the grapes are continuing to develop flavors and approach phenolic maturity. If we see some heat after Labor Day, we will begin picking at a much faster pace."
Coombsville — Tom Farella, Farella Vineyard — "Perfect grape growing weather has been the theme for many weeks now – low to mid-80s with gentle bay breezes and fog rolling in around midnight. We picked sauvignon blanc on Friday and a few other SB blocks have been picked with chardonnay starting in earnest late this week."
Carneros – Chris Hyde, Hyde Vineyards — "Harvest is off to another early start in Carneros, with yields higher than anticipated, even slightly above average, and quality very high. Late August has brought cooling weather, and delayed picking for many wineries, as grape maturation has slowed, allowing for a longer hang time for the fruit."
Wild Horse Valley – John Newmeyer, Heron Lake Vineyard – "Despite fairly mild weather – and quite windy conditions – sugar levels continue to rise by a point every 4 or 5 days. Pinot noir is now above 22 Brix, and chardonnay above 20. We may start picking by mid-week."
For real-time harvest photos and updates, visit the Napa Valley Vintners' Harvest 2016 website at napavintners.com/harvest.