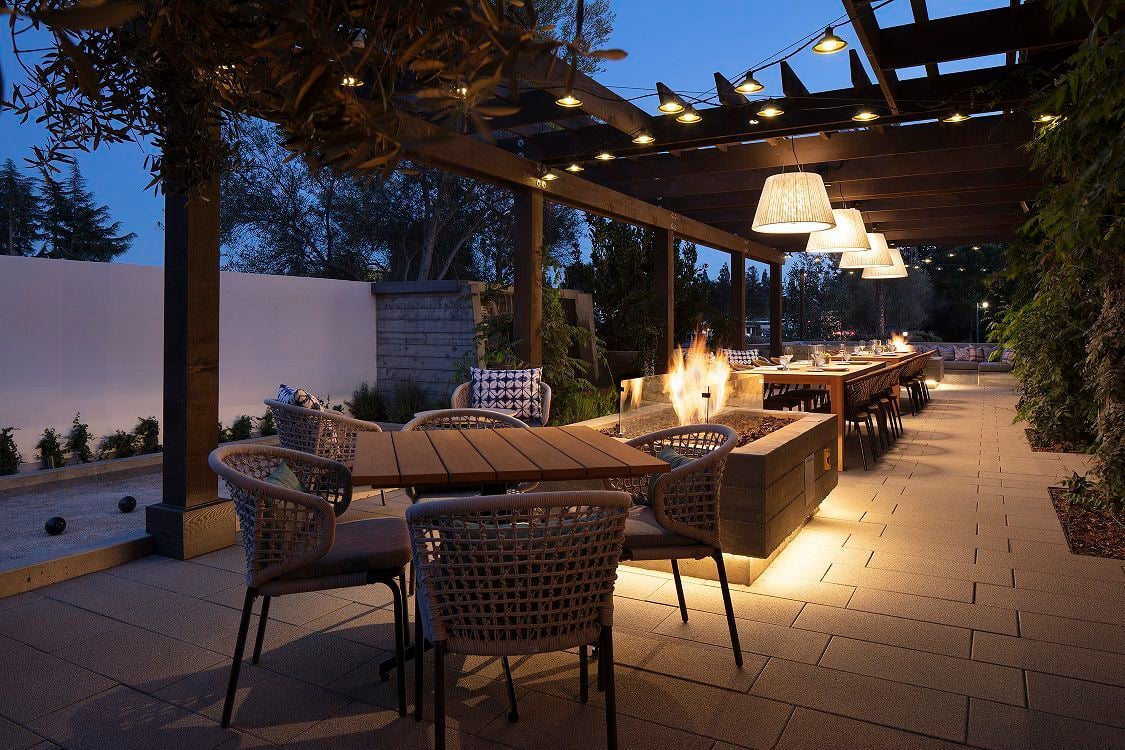 New from Michael Mina in Sonoma
Wit & Wisdom Tavern, a new modern American concept restaurant from chef Michael Mina, opened this week at The Lodge at Sonoma. 
Mina's first wine country restaurant is inspired by Jack London's collection of personal writings and essays of the same name. The Wit & Wisdom Tavern will showcase products from local Sonoma and Napa Valley artisans, hearth-oven cooking, and a wine list reflecting the area.
The menu will center on the restaurant's variety of open-fire cooking methods: a wood-fired pizza oven, Josper Charcoal Oven and wood-burning stove. Both the culinary and beverage menus have a focus on local – heavily using the incredible farms, purveyors, and wineries in their Bay Area and wine country backyards.
Wit & Wisdom Tavern will serve dinner from 5 to 10 p.m. daily. For more information, visit witandwisdomsonoma.com.
Supper at the CIA
The CIA at Copia serves night, prix-fixe family style suppers' from 5 to 9 p.m.
Here are this week's menus:
Here are next week's menus. You can also view the Wednesday Concerto Di Pasta and Brunch menus online.
-- Tuesday, Sept. 15, $48 per person
First course: Summer Squash Salad with crispy squash blossoms, cucumber, confit shallot vinaigrette
Supplement: Flatbreads with Fresh Figs, Roasted Cauliflower, Relish, and Seasoned Labneh, $20
Main: Grilled Swordfish with Lemon, Parsley, and Israeli Couscous
Dessert: Phyllo Cake with Almonds, Raisins, and Orange Glaze
Wednesday, Sept. 16, Concerto di Pasta $42 per person, no corkage fee
First course: garden vegetable antipasti with Sonoma County cheeses, salumi and crusty bread. Alternate: Caesar salad.
Main course: Three pastas are served at the table:
Thursday to Sunday, Sept. 17-20,
Catalan garden supper, $52 per person
First course: Grilled citrus and escarole salad with figs, olive oil and hard cheese
Supplement: Three Little Bites – grilled bread with Manchego cheese and sausage; shredded salt cod with tomatoes, olives and pickled red onion; fried potatoes with spicy tomato sauce
Main course: Catalan short ribs with fennel, orange and black olives and fingerling potatoes
Dessert: Honey cheesecake and walnut torte
Vegetarian alternative available.
The CIA also offers three, three-course, prix fixe Garden suppers to go nightly and serves brunch on Saturdays and Sundays.
For more information and reservations, visit ciaatcopia.com. The CIA at Copia is at 500 First St., Napa
Out the Blue Door at Angèle
Angèle is now open for indoor as well as patio dining in Napa. It's also offering a Wednesday supper to go. The Out the Blue Door dinner is packaged in a kit that you can assemble and heat up at home. This week's supper features braised pork shoulder and Silverado Trail strawberries.  You can also order a four-pack of their signature cocktails for your dinner, in addition to wine by the bottle with special pricing. 
Thomas Keller restaurants are open in Yountville
La Calenda in Yountville will celebrate Mexican Independence Day on Sept. 16 by serving Chile en Nogada, a festive traditional dish made of poblano chiles stuffed with a sweet and savory picadillo of pork, fruits, and nuts, bathed in a walnut cream sauce and garnished with pomegranate seeds and parsley- resembling the green, white, and red colors of the Mexican flag.
Bouchon and La Calenda have opened for indoor dining at 25% capacity and continue to offer patio seating as well.
Ad Hoc is also now open for indoor and outdoor service serving its four-course family style meals with a menu that changes daily. It's open 5 to 9 p.m. Monday through Friday. 
Addendum's hours have changed to Friday-Sunday 11 a.m to 3 p.m.
And, finally, the French Laundry has also reopened indoor dining with three tables available, for $850 per person for parties of 2 to 8. For those unable to, er, stomach the price, you may opt to dine outside for $350 per person.
The Davis Village Feast 
DAVIS —Every year, The Davis Village Feast celebrates the farm-to-fork season where the community gathers together to enjoy and honor the bounty of the region's local farmers. In past years the event has been an afternoon of dining at a communal table in Davis's Central Park.
This year, because of the pandemic, the entire event will be online, on Saturday, Oct. 17, from 1 to 3 p.m.
The Virtual Village Feast 2020 is free to attend and includes online auction and a live Zoom-hosted event, where participants will share their home feasts virtually, play Trivia games, and bid on auction items.
Participants will have several options for enjoying the Village Feast at home. Bella Bru Cafe will be offering ready-to-eat Provencal-inspired meals, which can be picked at three locations or delivered through DoorDash.
Be the first to know
Get local news delivered to your inbox!