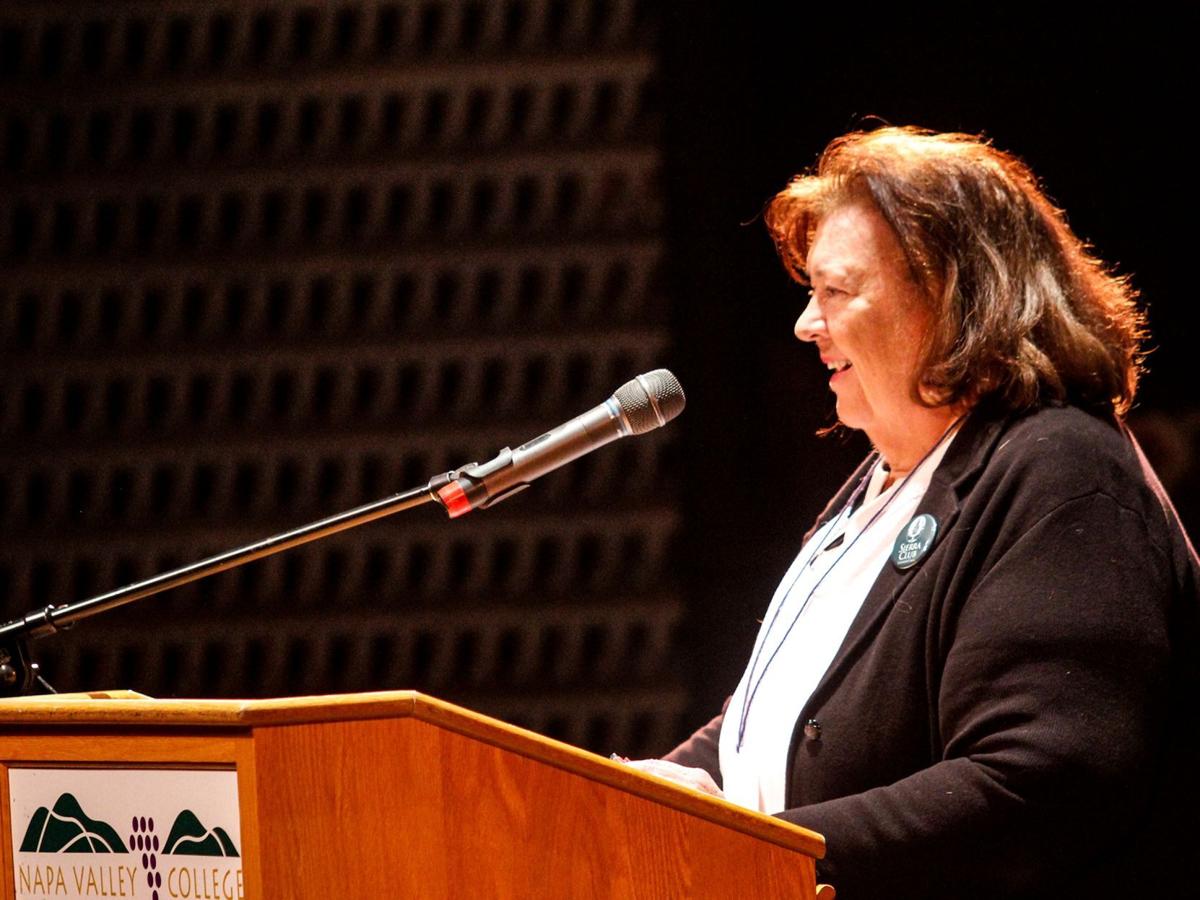 "We want to engage the general public in climate action because it's going to require everyone to resolve this," told her colleagues in the Democrats of Napa Valley Club. "So how can we reach out and make it an issue that they see as urgent?"
With that question, she spearheaded the organization of a countywide Climate of Action Symposium, which took place on Oct. 12, 2019 at Napa Valley College.
For her efforts, O'Kelley has been identified as one of this year's Climate Champions by Napa Climate NOW!, a grassroots group dedicated to supporting smart climate action based on the latest climate science. She was recognized for her efforts in the Community Activist category.
O'Kelley was moved to bring public attention to climate action because of her disappointment that climate change wasn't on the agenda in the 2018 national campaigns. Due in part to grassroots efforts such as hers, the climate did finally emerge as a major election issue in 2020.
O'Kelley's interest in politics and environmentalism began at an early age. She canvassed door-to-door for her dad's run for city council at age 13 in New Jersey. Her appreciation for nature grew from childhood summers spent in the pristine mountains of North Carolina.
"In the mountains I was immersed in nature and I saw how everything is connected," O'Kelley said. She and her husband worked on the "Save the (Chesapeake) Bay" campaign when they lived in Maryland and "Save the (Laguna) Canyon" when they lived in Newport Beach, California.
In 1996 she landed her dream job at the Sierra Club, eventually becoming the director of marketing at the organization's national headquarters in San Francisco. She saw that for environmental activism to succeed, "marketing is important, it's how you can reach people and engage them."
As a youngster visiting California on a family vacation, O'Kelley was blown away by the size of a drive-through redwood tree. She used this idea in a successful membership campaign, which featured a giant sequoia next to the Statue of Liberty. "That created an awe-inspiring image of nature for people who had never seen a sequoia."
She developed a line of clothing for the Sierra Club that was both environmentally-friendly and fashionable, a first at the time. This was showcased at a fashion show in New York City in 2000.
For the Climate of Action symposium, O'Kelley drew on her experience in putting together fun, large-scale events. At the same time, she was working with the Napa County UC Master Gardeners on how climate change could be incorporated into their workshops and discovered fascinating research being conducted by UC professors. Her gardening and political worlds meshed to provide inspiration for the symposium agenda.
The resulting day-long event, attended by more than 350 people, featured 12 notable speakers, starting with Carl Pope, former Sierra Club CEO and early environmental activist pioneer.
The speakers discussed issues on the national level (the Green New Deal), the local level (such as how wineries were reducing their carbon footprint), and the individual level (how changing our consumption patterns can make a difference).
"It was exhilarating", O'Kelley said. "People told me they felt reinvigorated and saw how Napa could be a model for a resilient, climate-smart community."
One result of the symposium was a workshop sponsored by Visit Napa Valley for local hotels about the green certification process. This was led by Dr. Aurora Dawn Benton, a symposium speaker, with whom O'Kelley has worked through her position on the board of Green Seal, a non-profit environmental certification program.
O'Kelley is also being honored for her work in engaging citizens in the political process. She has served as president of the Democrats of Napa Valley since 2017. Under her leadership, club membership has grown from 66 to over 350. In addition to working on political campaigns, the Club holds monthly public meetings delving into topics of general interest such as electric vehicles, gun control legislation, and police and community relations.
"I am a big believer in grassroots activism — that's the way things get done." For the 2020 elections, she and the club provided multiple ways for citizens to get involved at the local, state and national levels.
"The pandemic put me into hyper-gear," O'Kelley said. "Everything had to be virtual. We had to learn how to engage people virtually for meetings and for training. But we were also able to have candidates and volunteers from around the country zoom in. I even ended up giving text-bank training to groups in Norway and Sweden."
Her efforts helped activists reach more than 10 times the voters that were contacted in 2018 — more than 4.5 million voters were contacted this year. O'Kelley said, "This also allowed volunteers, homebound by the pandemic, to be purposeful and connected."
O'Kelley points out that embracing zoom technology will allow us to connect to the world, expand our impact, and engage more people for political work and for climate action. "We need to act locally, but look globally. We in Napa can be a catalyst for action."
Actions you can take
— Research the climate positions taken by your favorite elected officials.
— Get involved with the political party you feel best represents your climate positions.
— Subscribe to the Napa Climate NOW! newsletter (http://napa.350bayarea.org/subscribe) for information about upcoming climate education events to brush up on your climate knowledge.
Watch now: Understanding the Impact of Climate Change on Wildfires
Most-read police and fire briefs on NapaValleyRegister.com
Here is a roundup of other police and fire reports in Napa County.
Chris Benz is a retired winemaker and founding member of Napa Climate NOW!. Napa Climate NOW! is a local non-profit citizens' group advocating for smart climate solutions based on the latest climate science, part of 350 Bay Area. http://napa.350bayarea.org
Be the first to know
Get local news delivered to your inbox!