Nurses are special people. They care for us when we're sick or hurt; they care for us as we are born; they care for us as we die. They're in our schools, our homes, our hospitals, and all through our lives.
Since 1993, the American Nurses Association has celebrated National Nurses Week in the second week in May, winding up with the anniversary of the birth of Florence Nightingale, perhaps the most famous nurse of all.
There are some 4 million Registered Nurses in the United States, covering a wide array of specialties and areas of care.
To honor the nurses right here in Napa County, The Napa Valley Register decided to make an annual event out of honoring these standout members of our health care community. This is our first edition.
So how did we choose these five honorees? We ask the public, soliciting stories of excellence from friends, colleagues, patients, physicians, and anyone who had come in contact with these special people.
We received more than 170 submissions nominating more than 110 working nurses. They spanned a wide range of the profession, from our largest hospitals to small health clinics, from schools to hospices, in private care and public service. Every one of them had something special to offer.
It was a tough task to whittle them down, but our staff picked out 16 finalists, looking for people with notable stories of heroism, generosity, or above-the-average care and customer service. Many people on the finalist list were nominated multiple times.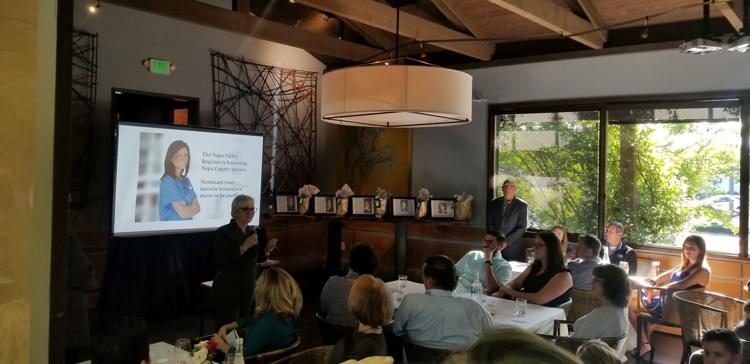 We honored these five at a reception on May 9 in Napa. Today, on Florence Nightengale's birthday and the culmination of National Nurses Week, we share their stories with you.
So congratulations to all our finalists – we appreciate your service and dedication and the care you show for us all in our times of need. Thanks to our guest judges and all of you who took the time to tell us about a special nurse who has touched your life.
Most of all, congratulations to all nurses in our community. We thank you and wish there was time to celebrate you all in the way you deserve.