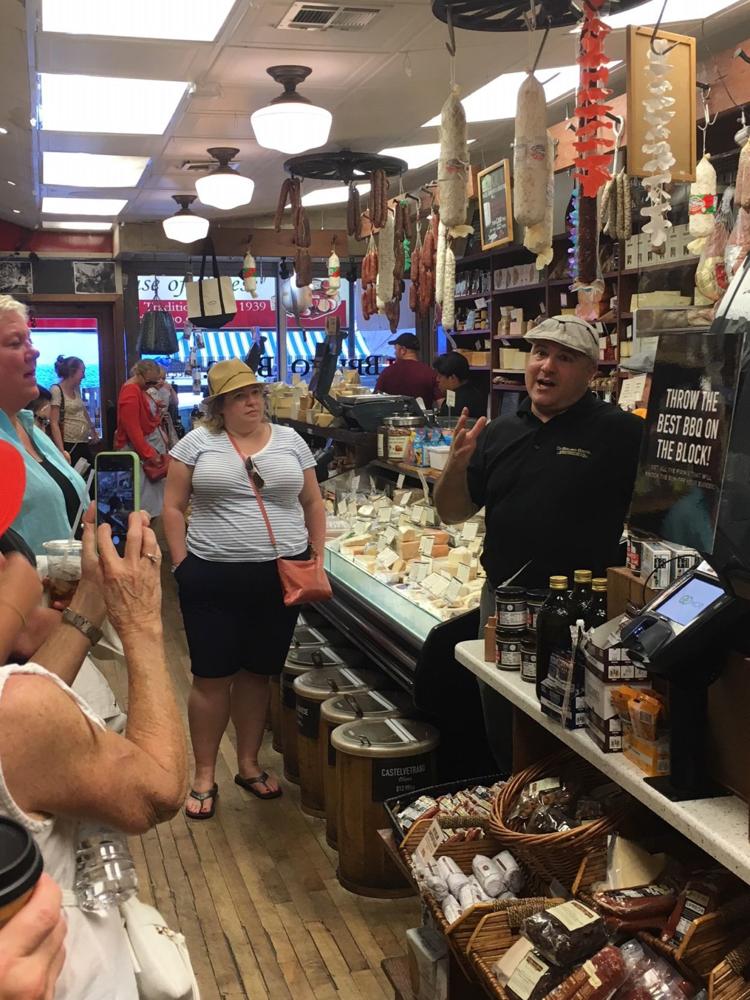 Southeastern Pennsylvania is America's breadbasket. Cheese Journeys, an outfit that takes turophiles on boutique tours of the world's great cheese-making destinations, offers a four-day tour of Philadelphia and Chester County designed to show the cheese lover Pennsylvania cheese from its creation, production, distribution and pairing.
Like American history itself, cheese culture here is complex and varied.
Day 1
At Philadelphia's storied Italian Market, Victoria and I meet Anna Juhl, the Cheese Journeys tour guide, and Tenaya Darlington, aka "Madame Fromage," who has written several books on cheese pairing, and blogs about all things cheese.
We walk into DiBruno Bros., an Italian grocer whose owner, Emilio Mignucci, tells the cheese tourists how his immigrant grandparents opened up this shop at a time when you might walk several blocks without hearing English. He still retails in the traditional foods of his ancestry, and discusses how, in the days prior to refrigeration, the family business sourced cheeses from as close to market as possible. We sample the shop's comte, gouda with nuts (exquisite) a cherry confit and a parmesan reggiano with aged balsamic vinaigrette.
Emilio takes us on a walking tour of the Italian Market. At one particularly fragrant doorway, he nudges us to check out an urban chicken coup, which may be one of the last places where you can pick out a live chicken without actually going to a farm.
Emilio recalls giving this tour to Anthony Bourdain for his show "The Layover" in 2012. Emilio is all smiles relating the kindliness of the departed celebrity chef, whose love for food, and the stories behind it, hopefully will continue.
My former location scout's eye tells me I have seen this section of 9th Street before. Indeed, Emilio points to the exact spot where a 30-year-old Sylvester Stallone was tossed a fruit during the training montage of the original "Rocky." (Emilio was there, he says.)
Lunch is a hearty affair at Ralph's, a Philadelphia staple that has been in the same family for five generations. Our family-style meal includes pescatore and veal mozzarella as well as spaghetti and shrimp served in a red sauce.
For dessert, so we amble over to Termini Brothers for cannoli. It's a century-old business whose decor boasts artifacts from the early 20th century to link modern eaters to that storied past.
Bidding Philly adieu, the tour heads into rural Chester County, where we will lodge at the Grace Winery. The rather appropriately named proprietor, Chris Le Vine, informs us the estate is named in honor of his sister, and there's also a more famous Grace in his family: Chris's mother, Lizanne, was the younger sister of Grace Kelly, who spent time in these parts when not, well, being Grace Kelly.
I was educated in California, and thus my predilections when it comes to East Coast wines are a tad provincial. However, Grace makes me sing the praise of Pennsylvania viticulture, as the Pinot Gris is a delight, and it pairs splendidly with the aged feta that has been set out by Sue Miller of nearby Birchrun Hills Farm.
In the old Quaker barn, appetizers are — what else? — more fromage. These include Mayfly, a bloomy-rind Camembert from the nearby Farm at Doe Run, a Tomme Molé from Birchrun Farms, and the Birchrun Blue.
For the "Dinner With Grace," a paired meal of housemade wines and local ingredients is prepped by Executive Chef Scott Megill. The beet salad has an earthy flavor redolent of the soil itself, and the "Dragonfly Red" pairs well with the spicy ragu sausage sauce.
At some point I hear someone say over dinner, "Pennsylvania is like France with bar food."
Day 2
In addition to writing about cheese, Tenaya, aka Madame Fromage, is a part-time college lecturer, and guides us through an interactive class on building and photographing a cheese board. For tasting, she recommends taking off the first layer of each cheese to remove the "plastic taste," and then instructs us how to taste the cheese by breaking it in half, and setting a small piece on the tongue. Take a deep breath so it melts slowly, she says. This allows for every facet of the cheese to be enjoyed.
On storing cheese, she says to remove the block from plastic wrapping and cover it with wax paper; if possible, keep it out of the fridge and in a cool, dark place.
We head to Victory Brewing Company. For the Cheese Tour, a pre-chosen flight entails a pils, sour, Belgian, seasonal "Summer Love" blond ale and American hopped.
After a rest and a swim at the winery, it's dinnertime in wine cellar. Chef Megill's three-course meal commences with mushroom risotto balls with creme fresh topped with grana padano cheese. Next is gazpacho, a cold tomato soup made with fire-roasted heirloom tomatoes and melon. The main is gnocchi with roasted green tomatoes, morel mushrooms and pan-seared scallops.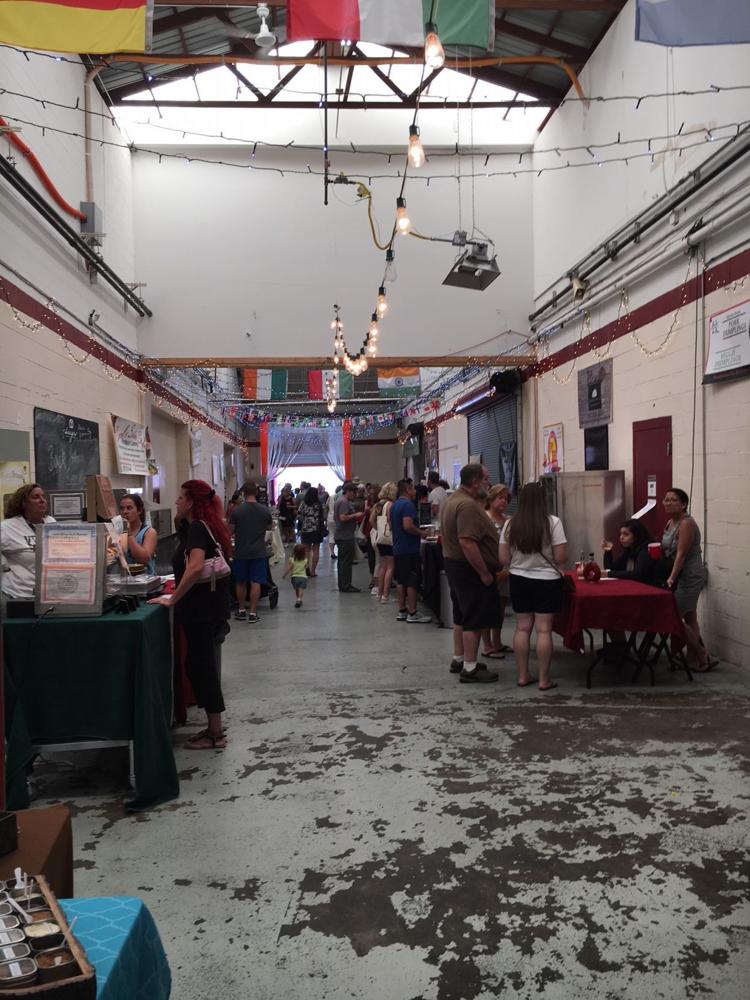 Somehow there is room for dessert, and panna cotta with a raspberry sauce with salt-roasted walnuts on top is the nightcapper.
Day 3
Not far from the inn is the Artisan Exchange, where local "food entrepreneurs" sell their wares. Frank Baldassarre of Golden Valley Coffee shows us around the facility where his company prepares shipments of sustainably grown coffee. Big Agra's practices can be extraordinarily destructive to the coffee ranches in South America, he says, but "knowing where your coffee comes from" ultimately helps the environment.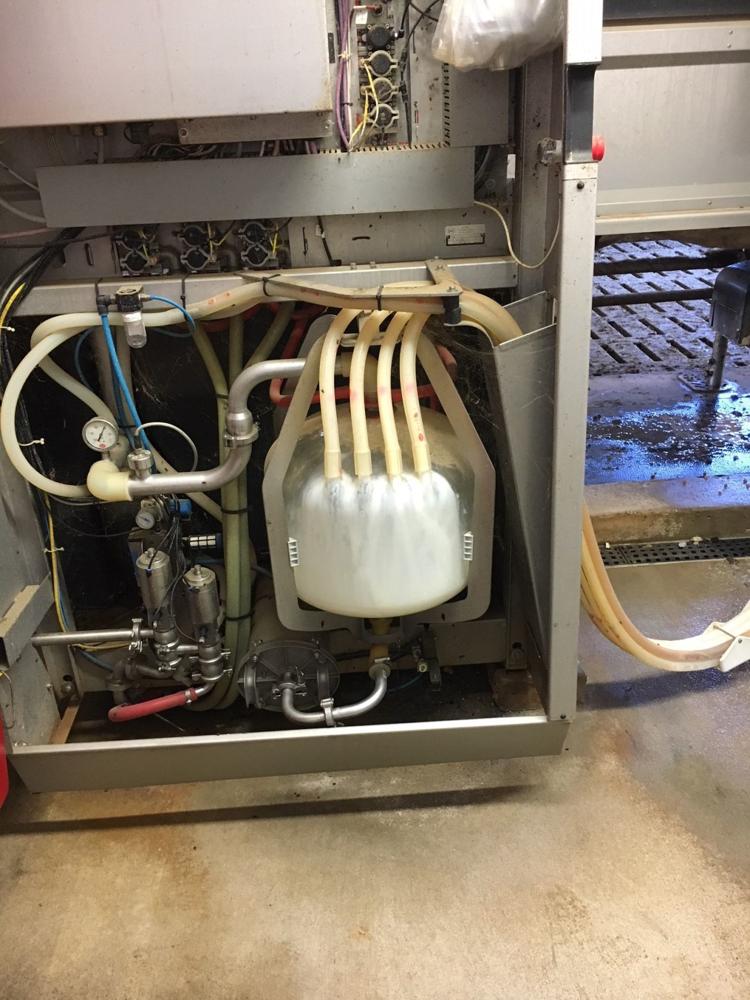 It's a perfect day for an outdoor picnic at Birchrun Hills Farm. Proprietors Ken and Susan Miller, and their grown sons Randy and Jesse, offer a tour of the milking facilities—the cows, unprompted, walk into the milking machine, with a multi-pronged instrument resembling bagpipes attaching to their udders to extract the milk.
A lovely picnic dinner of pulled pork, coleslaw, potato salad and homemade pies, all prepared by the Millers, is set out on the farm grounds, along with the cheese produced here onsite.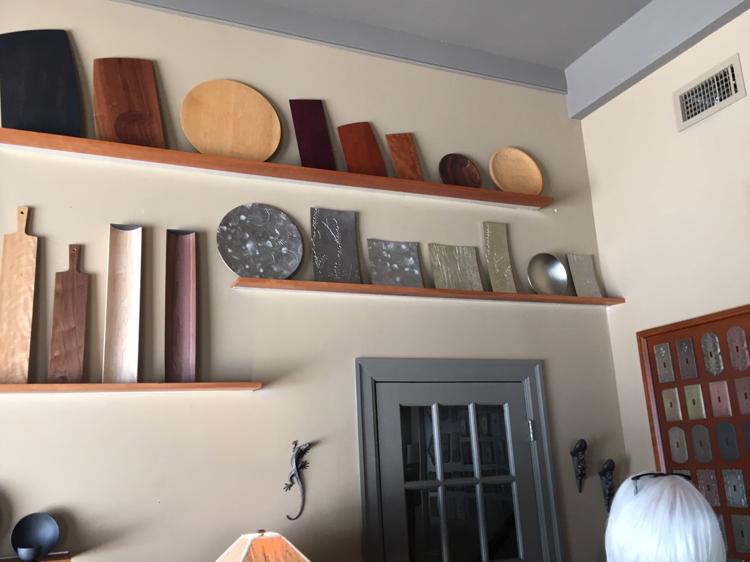 It's been a long day in the sun, and the tour group reconvenes for cocktails back at the Grace Inn, where Tenaya guides us through recipes from her book, "The New Cocktail Hour," co-written with Andre Darlington. A vodka tonic, old fashioned with rye bourbon and a gin-based cocktail fashioned from Pennsylvania's own Blue Coat gin are downed to complement the night's cheesy nightcap.
After checking out of the inn, our first stop is Phoenixville's Artifaqt Gallery, where owner John Luttmann chooses Pennsylvania lumber to transform into homemade cheese boards.
And then back to Philly's DiBruno Brothers, where we enjoy a feast of cured meats, stuffed olives and cheeses galore. Victoria and I pick up some olive tapenade and prosciutto, as well as Stilton Colston Bassett to take home.
Notions of good will among the cheese pilgrims are exchanged—the staple of any journey where an impromptu family has formed and must necessarily disperse.
If there's one thing we learned, it's to ask where your product comes from—as well as what is "ripe" at any given time of the year. For buying locally ensures that what you take home is as close as possible to what is produced by the farmers.
To learn more about the Cheese Journeys domestic and international excursions, visit CheeseJourneys.com.
"At some point I hear someone say over dinner, 'Pennsylvania is like France with bar food.'"