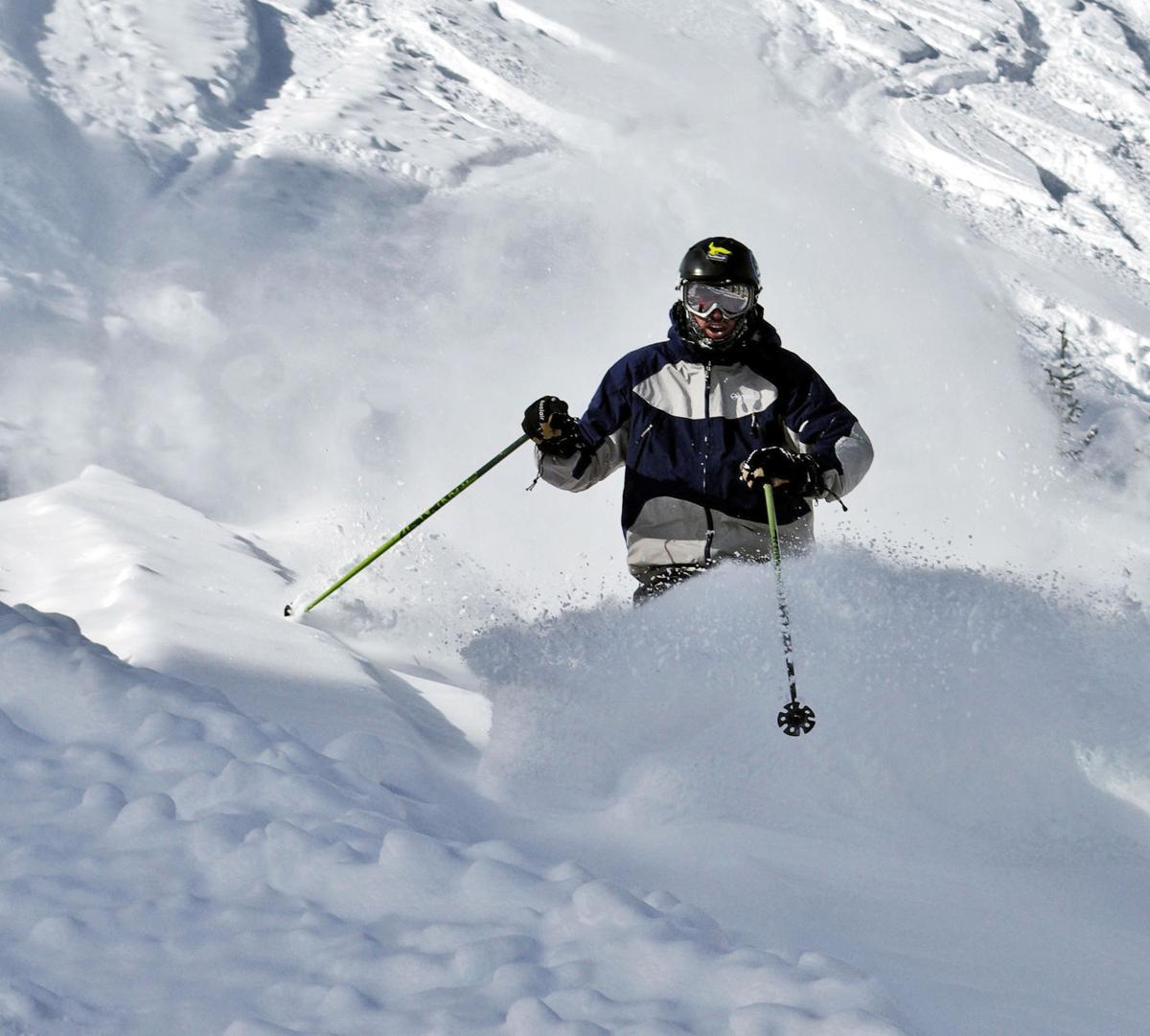 NORTH LAKE TAHOE, California — In mid-March, 2020, all North American ski resorts shut down due to COVID-19. Like so many other businesses, this severely hurt all resorts, who were hoping for a healthy spring season.
Well, it's finally late fall 2020 and the ski resorts are back in the game. However, the 20/21 ski season, as the rest of society, will be like no other in memory.
COVID-19 precautions will affect transportation, lodging, the number of visitors, dining and on-mountain activities. Yet it isn't all bad news, the cold temperatures aide snowmaking, snow has already been falling, the slopes will be uncrowded and the resorts will be glad to have you. Face coverings are required in all resorts, but most skiers and boarders are used to donning face masks, at least outside.
"Skiing has inherent advantages during these uncertain times — it happens outdoors in wide-open spaces with constant airflow. The experience will definitely be different this year, but for those who plan ahead and know before they go, it's undoubtedly going to be one of the most fun, healthy ways to spend time outside this winter," said Mike Reitzell, Ski California president.
Most California ski resorts plan on opening by early December. Check individual websites for up-to-the-minute information. Besides Tahoe resorts, one can still enjoy Mammoth or find superb skiing and riding in Utah, Colorado, Washington and Montana among other Western states.
"There's no doubt, this season is going to look different, but we're focused on doing everything we can to keep our guests, employees and communities safe and stay open all season long. If we all work together and continue to remain vigilant, we're going to have a fantastic season from start to finish," said Jessica Miller, senior communications manager for Park City Mountain and Crested Butte.
Some things have definitely changed this season, and are worth considering before planning a ski vacation. Here are items to consider this season when planning a ski vacation:
Travel
No foreign travel is permitted. For instance, forget about visiting the great ski resorts in British Columbia like Whistler or Big White or Alberta's Big 3. As of Nov. 21, all discretionary/optional travel to Canada for US citizens remains prohibited.
In addition, European ski destinations like Switzerland, Austria and France are not accepting US travelers at this time. Think stateside. On the plus side, airlines are begging for travelers and have some excellent deals on flights to ski destinations such as Salt Lake City, Denver, Boise and Jackson Hole.
"Colorado is the number one ski state in the country and the sport itself is going to be refreshingly the same this year, enjoying crisp mountain air on a pair of skis or snowboard. We encourage everyone to 'know before you go this year.' Do your research leading up to and even the day of your visiy. Check resort websites and social media channels or coloradoski.com to understand any policies and procedures that are in place and what is expected during your visit," said Chris Linsmayer public affairs director with Colorado Ski Country USA. Southwest in particular is offering some good winter flight deals. Try to fly on a Tuesday or Wednesday for the lowest prices.
Lift tickets/passes
The days of deciding to get up super early and heading to the mountains may be over, or at least for the foreseeable future. Most resorts want to severely limit the number of visitors, so are only allowing for pre-registered guests. Day-of walkup sales are not permitted at most places. Each and every resort will be managing capacity of visitors this season, so the recommendation across the board is to plan ahead and buy tickets in advance, online. Don't wait and try to purchase at the resort, because you may be out of luck.
Passes on the other hand, even one-day passes, are available, so consider purchasing online as soon as possible. The Icon Pass, Epic Pass, Powder Alliance and Mountain Collective are some of the major reciprocal season pass programs on the market. Read the fine print for blackout dates and other rules and regulations.
"The Epic Day Pass starts as low as $112 for a day of skiing or riding. The full Epic Pass continues to offer the best value and variety for skiing and riding in North America and is currently priced at $999," said Russel Carlton, senior manager for communications at Val Resorts: Heavenly, Northstar, Kirkwood.
Additionally, due to the uncertainly regarding future closures due to COVID-19, most passes have built-in credits allowing full or partial credit for unused passes. If you plan on enjoying the mountains for more than a day, or want to explore new resorts, a pass is certainly the way to go. Some of the early bird pricing is gone, but many deals are still available.
Dining
This season finding dining options may be limited to outdoor dining or take-out in California. For instance, the famed Manzanita Restaurant at The Ritz-Carlton, Lake Tahoe (located mid-mountain at Northstar California) will be serving daily, but only on the outside terrace under heaters. The best bet is to plan on cooking in your rental unit or getting take-out from the local spots. Utah's resorts are an exception; currently, indoor dining and bars in that state are still open, with strict social distancing, until 10 p.m. Each county, in every state may have different rules, so again, check in advance.
Safety/time
Things will likely take a little longer, so be patient. "Here's a specific example of how COVID-19 is likely to impact our operations: ski patrollers can't just pile into a troop carrier to its maximum capacity (as in the past) in order to be driven to their snow safety missions. Things like this will take longer, across the board," said Ron Cohen, president and Chief Operating Officer for Squaw Valley Alpine Meadows. "Please give our team the space and grace they will need to get the job done – no one wants to open the mountains for you more than we do."
Lodging facilities everywhere are all enacting preventative COVID measures such as extensive, top-to-bottom sanitizing, and increasing air filtration/circulation and HVAC replacement.
Lifts
Most resorts are reporting that to maintain physical distancing on chairlifts they will be seating related parties (guests skiing or riding together) or: two singles on opposite sides of a four-person lifts. Each gondola will have its own special guidelines.
Rentals
Most rentals shops will be up and running using proper COVID protocols. A good alternative, now more than ever is by renting off-site equipment from a specialized service, such as Black-Tie Rentals. They deliver everything you need to your condo, hotel room, ski slope or even your car. https://www.blacktieskis.com
Kids
Utah's 5th and 6th-grade Passport is back and a great way to get young folks (from anywhere) to try Utah skiing and boarding this season. For $45, 5th-grade participants can ski or ride all fifteen Utah resorts three times; 6th graders can ski or ride once at each resort. Significant blackout dates apply. This is an awesome deal to get your middle schooler on the slopes. www.skiutah.com/passes/passports/fifth-grade-passport-faq/index.html/#general-questions
The Idaho Peak Season Passport lets both 5th and 6th graders ski or board 18 Idaho mountain resorts for a fee of only $18. This program allows 5th graders to ride three days for free at all 18 Idaho ski resorts and offers 6th graders two days free days at 17 mountains. https://skiidaho.us/passports.
Again, these state programs are open to any qualifying child from any state or country. Restrictions apply. If you're planning on skiing with your 5th or 6th grader this season in Idaho, check out these deals.
Although this has been a challenging year, once out in the fresh alpine air, guests may finally find a welcome slice of normalcy that's been in short supply. Mike Reitzell of Ski California urged visitors to be understanding. "Resorts each have their own personalities, but this year they all want customers to have a really good time on the slopes. They are also encouraging patience and kindness toward employees and fellow guests."
Bob Ecker is a Northern California based travel writer.