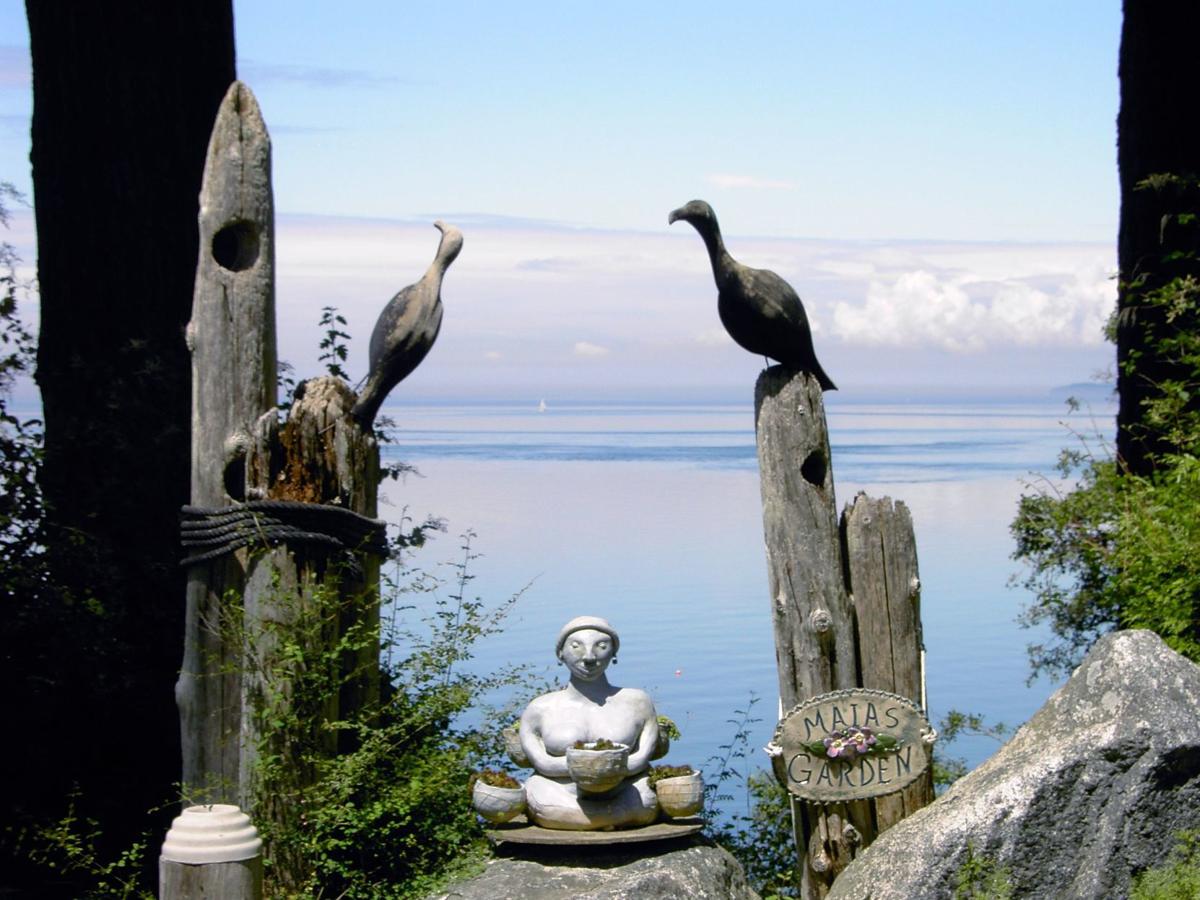 ORCAS ISLAND, WASHINGTON – On the biggest, artiest, hilliest island in the San Juan Islands, an evergreen archipelago halfway between Seattle and Vancouver, it's hard to tell which is more captivating on this island of 5,500 people: Nature or art.
A free organ concert takes place in the Moran Mansion, a teak parquet-floored, antiques-filled, mahogany-walled mansion (now part of Rosario Resort) built over a century ago by a wealthy Seattle shipbuilder, Robert Moran. The concert comes with a fascinating talk and slide show about Moran.
Born poor as the youngest of 10 children in New York, he became a philanthropist who donated land to Moran State Park, a heavily forested park that boasts the highest peak in the 172 islands, Mount Constitution at 2.398 feet. There, on a clear day (one of many: the islands get half the rainfall of Seattle), you can see snow-capped Mount Baker at 10,781 feet and British Columbia to the north.
Told he had two years to live by his doctor, Moran retired on Orcas in 1906. He died 37 years later at age 86, outliving all his younger siblings (and his doctors), and praising Orcas as "a wonderful place in which to forget one's troubles and worries and get back to nature in her happiest moods … a land unique and apart from anything else in the Western Hemisphere."
I'm always right by water here. In the village of Eastsound on fishhook-shaped Orcas, Main Street is just a few feet from the sea. At the delightful Outlook Inn on this street, I have a panoramic view of the sea and a green uninhabited island.
Orcas is also Oprah-approved: The billionaire media mogul bought a 43-acre estate on about 3,000 acres of shoreline on Orcas in 2018, plus several buildings housing cafes and shops in Eastsound, locals said. She's not the only billionaire to buy on the islands: Late Microsoft co-founder Paul Allen purchased 387 acres on Lopez Island, an island of about 2,300 people, back in 1996, and Allan Island, an uninhabited islet, before that. But you'd never know it. It's un-conspicuous consumption here, a slow pace and large houses hidden behind evergreens.
At Orcas Pottery, an artists' co-op of a dozen potters in a log cabin, a serene view of sea and wooded islands behind the studio's garden and treehouse tempts me away from the ceramics at the Pacific Northwest's oldest pottery studio. At another artists' co-op, in a red barn-like building in an ex-strawberry packing plant, built in 1936, I find 40 artists in mediums from wood, metal, fiber, jewelry and glass at Orcas Island Artworks. I admire "light-emitting sculptures" resembling stained glass (but made from flax fiber), shaped like pears, boats and butterflies, with lights inside.
Artist Shannon Belthor, who also built furniture in the Bay Area and Bali and designs architecture, such as curved tiny-house structures, came to Orcas for a house remodel a few years ago. After living in a seaside cabin at Doe Bay Resort, a funky resort of yurts, cabins and clothing-optional hot tubs (with an acclaimed music festival), for 10 days, she chose to stay.
A fan of under-the-radar places and an art lover, I then head to Tacoma, a glass-art destination, the birthplace of glass artist Dale Chihuly, reinvented from a former industrial city, once wittily described as "the city lost behind a hyphen" by a local columnist. (It shares Sea-Tac airport with far-better-known Seattle.) You reach Tacoma from the airport by the Capital Aeroporter Shuttle, or by a local bus that connects to a free light-rail ride to downtown.
I do a marvelous free walking tour of Chihuly glass, starting at the Bridge of Glass, a pedestrian overpass that extends to the Museum of Glass. The bridge's spectacular ceiling, which suspends over 2,000 vividly-colored pieces of glass, called the Seaform Pavilion, is just one of three different installations by Chihuly on the bridge. The Venetian Wall displays dozens of blown-glass vases in various shapes and colors behind a transparent partition, and the 40-foot-high blue Crystal Towers, which glitters with 63 crystals, round out the trio.
Tacoma's Hotel Murano helped educate me on 45 of the world's most famous glass artists. In the most remarkable art hotel I've ever seen, each guest floor is devoted to a different artisan, displaying their artwork, bio and photographs of their process, in addition to the lobby and restaurant. Three glass Viking-style ships, suspended from the lobby ceiling, by a Danish artist were just one of many works commissioned by the hotel, a veritable museum of glass.
My personal favorite: glass "corsets," where women are vacuuming, ironing and sewing in the engraved glass designs in the "embroidery" on the floor devoted to artisan Susan Taylor Glasgow. It seems her mother urged her to learn the womanly arts. She did, albeit in a transgressive "homemaking gone awry" that ended up in "sewing an unyielding medium … and stitching glass clothing no one can wear." Amen, sister.
In Union Station, the federal courthouse in the former train station, there are five huge Chihuly installations. One was a massive chandelier of red, yellow and blue curlicues; another, a round work in a window. Inside a bar known for local beers and live local music, eight Venetian-style glass pieces by Chihuly sit above the bar at the Swiss Pub, where the artist used to drink.
The Museum of Glass, which Chihuly co-founded, has daily glass-blowing demonstrations by artists and classes in its Hot Shop, inside a striking 90-foot steel cone. The Tacoma Art Museum, besides a permanent exhibit on Chihuly on every stage of his career, opened a new wing displaying 353 artworks from glass, sculptures to paintings, mostly from Pacific Northwest artists, in January 2019. Called one of the country's most prestigious private glass art collections, art in the Benaroya Wing was donated by Jack and Rebeca Benaroya.
But you can enjoy many Chihuly artworks for free by taking the free self-guided walking tour, or from the comfort of your home. Just follow the audio walking tour of 19 glass-art stops on your smartphone or the web that this art museum thoughtfully created (with audio/maps on its website), tacomaartmuseum.org/visit/take-a-tour/audio-tours/
Need to get away?
Start exploring magnificent places with our weekly travel newsletter.