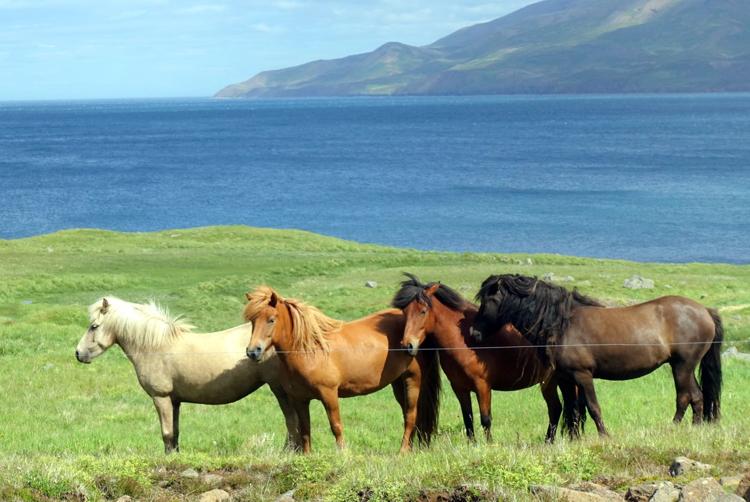 Visiting Iceland had always been a dream of ours, and last summer, we made it a reality. Travel to Iceland has become convenient and affordable, thanks to low-cost airfares. It has become a popular stop-over for those flying between North America and Europe. However, the affordability stops at the airport —travel within Iceland can be expensive, and the availability of accommodations limited. Booking early is paramount to a successful trip.
Iceland, located just south of the Arctic Circle, has a subarctic climate. Even in the summer, cool-weather gear and waterproof shoes are a must. Iceland is Europe's least-populated country (with only 338,000 people) with a culture founded in its Scandinavian heritage. The country was settled by Vikings around the year 900 AD. Due to its centuries of remoteness and isolation, it has limited biodiversity in plant and animal life.
Travelling the famous Ring Road is an excellent way to circumvent the entire island, although it requires a minimum of eight to ten days to complete. The Ring Road, also known as Route 1, is 828 miles in distance. It is mostly paved and has only two lanes for most of the journey.
There are secondary roads that lead off into the interior of the island for further adventure, but many of these roads require 4WD and summer temperatures. Remaining on the Ring Road, however, provides plenty of inspiring vistas and geological wonders, creating an epic experience for any adventure traveler.
Our journey started with a two-day stay in Reykjavik, the capital and largest city in Iceland. It is also the northern-most capital city in the world. The National Museum was the perfect place to begin to educate ourselves on the history and culture of Iceland.
Our next stop, just outside of Reykjavik, was the Golden Circle. It holds many of Iceland's natural wonders, including Pingvellir National Park, Geysir and Gullfoss.
Pingvellir National Park is Iceland's most historical site, as it is where the Vikings established the world's first democratic parliament in the year 930 AD. It is also a rift valley where the North American and Eurasian tectonic plates meet. Geysir is one of Iceland's most famous tourist's attractions. This geyser has been mostly active for 800 years and is the origin of the generic term "geyser." Gullfoss is Iceland's most famous waterfall and one of our favorites with its thundering double cascade.
On day three of our trip we headed eastward to begin the Ring Road journey. Waterfalls were abundant along the route, and many of them were worth a visit. Seljalandfoss and Skogafoss were worthwhile stops; the latter was our favorite. The hike and steep climb above Skogafoss was well worth the effort as we were rewarded with beautiful views of the southern coastline. Later that evening, the rain clouds cleared and we were afforded views of the Eyjafjallajokull glacier off in the distance.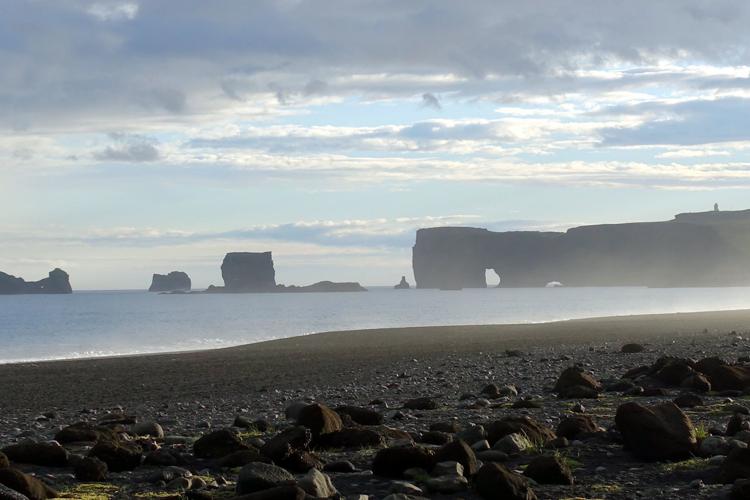 The next two days we stayed at a charming old stone cottage in the small village of Garbar next to the famous black sand beach of Reynisfjara. (Several scenes from "Game of Thrones" were filmed at this beach and on the hill behind our cottage.) We enjoyed this beautiful beach, with ocean and glacier views, in the glow of the red midnight sky that never turned entirely dark.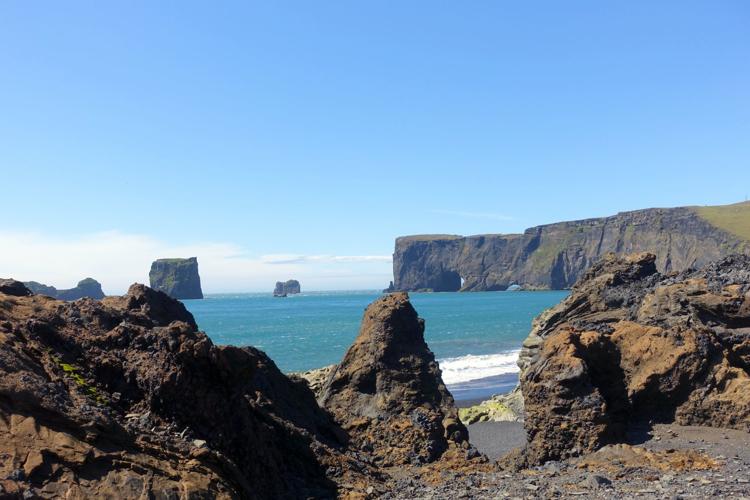 Near our cottage were the Dyrholaey Headlands, the southernmost point of mainland Iceland. This rocky plateau contains a huge arch which rises dramatically from the south coast. It is also a nature preserve where we were lucky enough to catch a glimpse of our first puffin.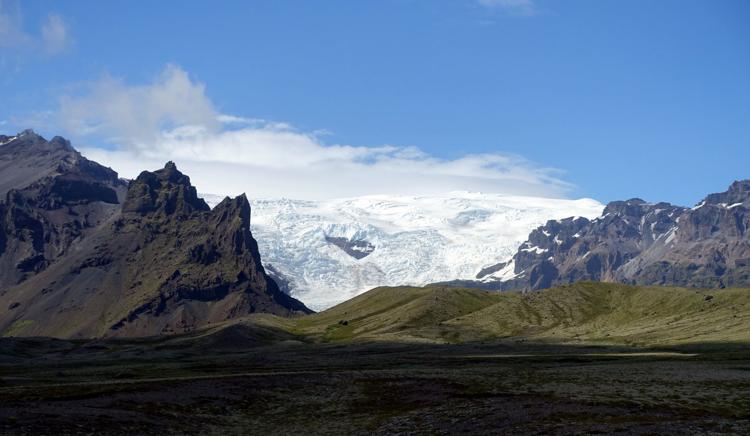 On day five, we drove the Ring Road north from the town of Vik and watched the Skatafell glacier slowly emerge in the distance. Driving this section of the road was very slow-going due to our many stops along the way to view and photograph the unlimited amount of spectacular scenery.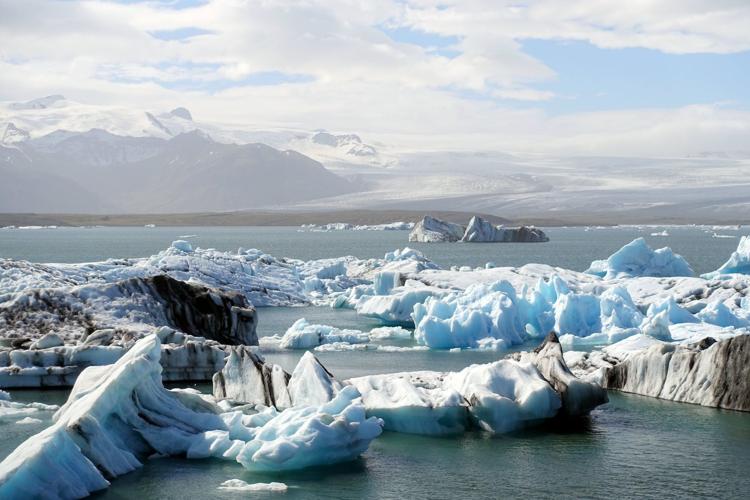 Later that day we stopped at Vatnajokull National Park, the largest national park in Europe — it covers 14 percent of Iceland. The park is filled with glaciers, waterfalls, and other natural treasures. Due to time constraints, we chose a short hike to Svartfloss, a waterfall flanked by geometric black basalt columns. This easy hike was idyllically located amongst the purple lupine and dwarf birch trees.
Our next stop was at one of Iceland's most magical and iconic sights, the Jokulsarlon glacier lagoon. This lagoon is filled with massive blue icebergs slowly drifting out to sea. These icebergs "calve" from the Vatnajokull glacier and can spend up to five years floating in the lagoon until they move out to sea.
On day seven of the Ring Road, we left another charming cottage on a sheep farm outside the town of Hofn and headed to sparsely-populated eastern Iceland. Driving along the steep-sided fjords filled with gorgeous mountain vistas, we choose to take a brief detour to the seaside town of Djupivogur in search of puffins, but, sadly, we saw none.
We ended the day with a side trip to the charming coastal town of Seydisfjordor, which is considered the most picturesque coastal town in Iceland. Made up of several multicolored homes and surrounded by snow-capped peaks and cascading waterfalls, this detour was (as almost everything in Iceland is) well worth the drive. We were lucky to find a table at the local pub to watch a world cup soccer match, a truly memorable moment amongst this international community.
Our eighth day on the Ring Road led us north and inland, skirting the interior highlands. Here, the scenery made some abrupt changes. It was no longer lush and green, but barren and grey. Our first stop was Dettifoss, the largest waterfall in Europe (by volume). At a height of 144 feet, the power and volume of this waterfall was so great that we were rewarded with vibrant double rainbows above the cascading water.
Northern Iceland is a volcanically-active area filled with steaming vents and craters. A visit to Hverir felt like another world. It is a lunar-like landscape filled with ochre-toned mud cauldrons and steaming vents. The belching mud pots filled the air with a strong odor of sulphur and made this trip a bit shorter than originally planned. However, due to its unique landscape, it was still a meaningful visit.
Northern Iceland also has its own much smaller version of the Blue Lagoon. This natural bath is called Myvatn and is much smaller (and much less expensive) than it's more famous counterpart. It has the same powder blue, gorgeous mineral waters in addition to panoramic views. Our last stop of the day was a visit to Godafoss, yet another beautiful and powerful waterfall close to the Ring Road. It was given its name to commemorate when Christianity was introduced to the island in 1,000 AD.
After a night in Akureyi, Iceland's second largest city (population 18,000), we took another detour off the Ring Road and drove due north to the remote Trollaskagi peninsula and a brush with the Arctic Circle. After driving along the scenic fjords, we stopped at the fishing town of Siglurfjordur along the Greenland Sea.
This town was historically the center of the herring industry in Iceland. Once a vital industry in the Icelandic economy, it all but disappeared in the late 1960s due to over-exploitation. Now the abandoned buildings and machinery have been transformed into one of the most interesting museums we have toured. While returning to the Ring Road on the west side of the peninsula, we were faced with gale-force winds and several miles-long, one-lane tunnels (with pull outs, at least). It was not a drive for the faint of heart.
On our last day driving the Ring Road, day ten, we leisurely made our way back toward Reykyvik. We stopped several times to see the Iceland horses. Although we saw them along the entire trip, they were more abundant as we drove down west Iceland. These gentle, beautiful, and friendly creatures actually arrived with the Vikings a millennia ago and have remained purebred. Another site we stumbled upon this last day was the Vidimyri turf church, only one of six that still remain and are still used. These churches have timber interiors but their roofs are made of turf, often covered in summertime flowers.
Beyond the spectacular natural beauty of Iceland, we were touched by the kindness and friendliness of the Icelandic people. It was so relaxing to visit a foreign country where personal safety was never a concern, rudeness was nowhere to be found, and, after driving over 800 miles, a police officer was never spotted. This amazing country definitely deserves a return visit.