There's no getting around the complicated history of Little Rock. The capital of Arkansas became the site of the pitched battle for civil rights during an experimentation with integration in 1957, and the ensuing half-century has seen progress both laudable (a presidential museum, revitalized downtown, brewing culture) and unfortunate (a crime rate bemoaned by locals).
But as Little Rock continues to march into the 21st century, "The Rock" keeps on reinventing itself, with a thriving downtown restaurant scene, innovation and repurposing as well as the renaissance of the banks of the Arkansas River, once considered a wasteland where none could — or should — tread.
That is, until a rather famous former resident of the nearby Capitol decreed the riverfront could use a boost.
There's much to see and do in this town founded not far from where French explorer Jean-Baptiste Bénard de la Harpe decreed a settlement in the 1720s called "la petite roche." But what if you only had one day to check out the sights? Here's a helpful 24-hour primer to experience Little Rock as I did.
Little Rock Central High School National Historic Site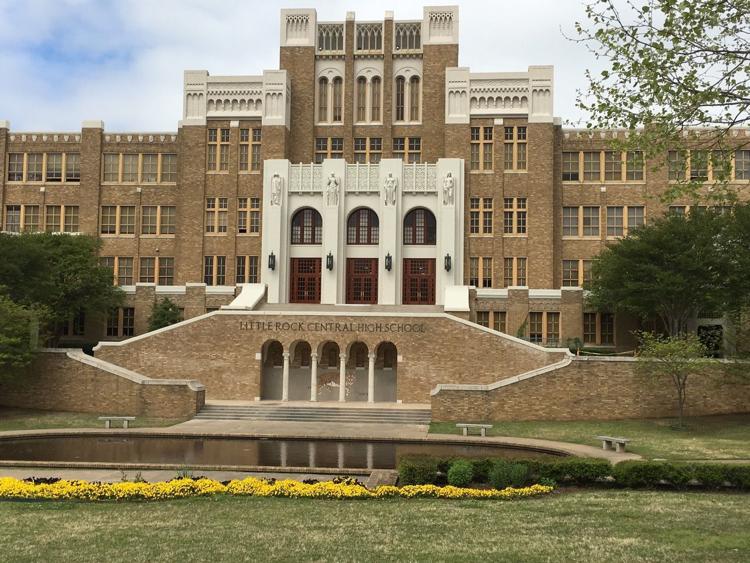 The Supreme Court had ruled "separate but equal" education was unconstitutional, and exhorted public schools—primarily, but certainly not exclusively—in the South to desegregate "with all deliberate speed."
One of the first major public battles in desegregation would be a standoff in September 1957, as nine African-American students sought to enroll at Little Rock Central High School. Some in the capital city were supportive, but opposition was vocal—so much so that Governor Orval Faubus ordered the Arkansas National Guard to keep the black students out due to "safety" concerns.
On Sept. 4, those same military personnel halted the so-called "Little Rock Nine" at the school's door. After being turned away, 15-year-old Elizabeth Eckford walked two blocks, enduring taunts and slurs the entire time. A famous photo taken moments later by Will Counts of the Arkansas Democrat newspaper shows a white woman, Hazel Brown, screaming behind Elizabeth's back.
Faubus and others yelled in the name of states' rights to defy the Supreme Court, but President Dwight Eisenhower, perhaps sensing the turn of history, finally ordered federal troops to assist in the difficult integration process.
Today, Little Rock Central High School, a National Historic Site, bears little of the acrimony of that tense week 61 years ago. It remains a working school, meaning guided tours depend on the size of group, mobility of participants and the school's schedule and events for the day.
But what began here cannot be overstated. Exhibits in the visitor center showcase photos and film footage from that difficult September, as well as how centuries of American history had led to this inevitable moment of enforcing the 14th Amendment's equal protection clause.
I then walk the grounds of the exterior of Little Rock Central, an impressive Gothic and Art Deco Revival structure built in the 1920s, and now the only working high school in the U.S. to be a National Historic Site. It's peaceful and quiet, but its unique place in American history remains ever present.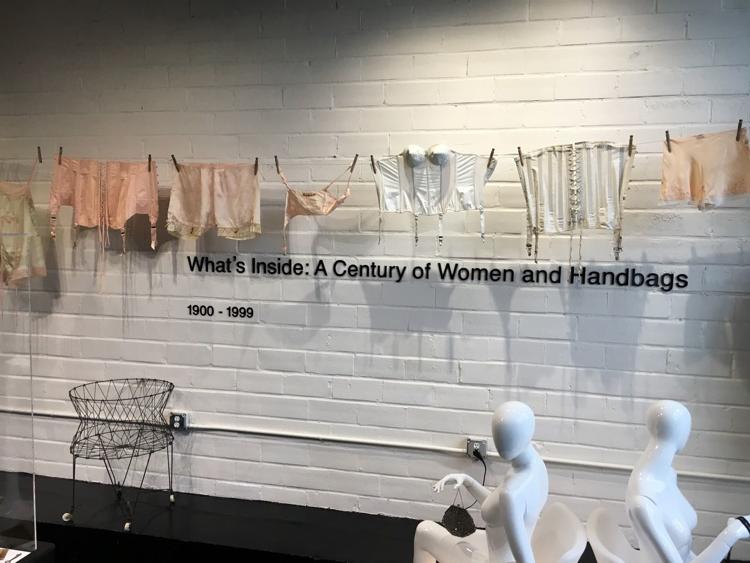 Anita Davis had been collecting purses and women's handbags for years when she was struck by the notion of reinvigorating Little Rock's neglected SoMa neighborhood. Esse, from the Latin verb "to be," is a combination shop and shrine to women's accessories from across the 20th century, with the exhibit "What's Inside" a love letter to handbags' changing styles over every decade of the last century.
Davis, a Little Rock native, shows me around an exhibit that, undoubtedly, I never would have sought out on my own. In 100 feet of exhibition space I am shown across a century of couture, from the flapper accessorizing of the '20s to the utilitarian purse designs of the Second World War. What women carried is as important as how they carried it, and Davis' displays from across the decades showcase how cosmetics were carted alongside evolving—and portable—methods of birth control, a "special carrying case" in the '70s and '80s displays for the favored powder drug of the era, and on up through now-Precambrian-looking cellphones of the 1990s displayed next to a Blockbuster Video membership card.
Each purse and its contents, Davis explains, makes a woman uniquely "her."
It's worth coming to SoMa to check out this most unique example of history and anthropology and art.
Lost 40 Brewing Company
I had assumed the name came from Interstate 40, which runs through town on the north side of the Arkansas River. Not so, as I learn when stepping into Lost 40 Brewing Company, opened in 2014 and fast becoming a player in Little Rock's happening microbrewing scene. As it turns out, the name in fact comes from the supposed last bit of 40 acres of untouched land in Calhoun County, located in the rural south central section of Arkansas.
After a tour of the canning facilities, I grab a seat in the dining and sampling area for a beer flight and various appetizers for lunch. The black eyed pea hummus and smoky jalapeno pimento cheese dips go excellently with tortilla chips, as does the even spicier jalapeno bacon cheese dip. (I am informed that cheese dip in any form was born in Arkansas in 1946.)
For suds, I am loving on the Honey Bock, a light but refreshing entry, and the Mango Cream Ale. A special treat is the Blackberry Wheat, with its complex profile of fruitiness combined with the wheatier profile of a hefeweizen.
Bill Clinton Presidential Library
They said he was crazy. Not long after leaving the White House in 2001, Bill Clinton walked across a speck of polluted, forsaken land along the southern banks of the Arkansas River, declaring this was the spot for his presidential library and museum.
True, it was but two miles from the capitol building where Clinton had served as governor before coming to Washington in 1993, but the entire riverfront was considered a lost cause, with decades of unchecked pollution scarring the Arkansas and its shores. Never mind, the former president decreed. This was the place, so clean it up.
Clean it up they did, and the LEED (Leadership in Energy and Environmental Design) -certified William J. Clinton Presidential Library and Museum opened in 2004 after tons of soil was removed and grass and trees replanted. The riverfront is healthy again, with the Clinton library anchoring a hip new area of museums, restaurants, bike paths and other innovative businesses taking advantage of this urban renaissance of the River Market District and Main Street Corridor.
While, yes, the edifice does have the look of a giant trailer from the outside, once inside, the museum's open, inviting floor plan allows visitors to take in the display nooks as a whole before diving into each one individually. Photos of the Clintons at work and at play—an "official" portrait of their cat Socks is given pride of place—alternate with placards touting both Clinton's accomplishments while not glossing over his many, uh, missteps.
Of special note are the president's daily log books, which detail his schedule throughout eight years in office. Long since declassified, you are free to peruse them to learn who he met with on which morning, where he was heading and at what time, and when he slept — which seems to be rather sparingly.
You could spend hours here, and enjoy a drink at the restaurant called 42 downstairs, learning about one of Arkansas' most famous sons.
If you have time, venture about a quarter-mile to the Heifer International Headquarters, a nonprofit hands-on education facility whose interactive displays have the goal of helping to end worldwide poverty. Take a walk among the gardens and learn about the animals being raised here as well.
Rock Town Distillery
As in many other states, Arkansas still had Prohibition-era laws on the books for decades for the sole reason that no one had bothered to change them. Rock Town Distillery is the first legal business of its kind in Arkansas since Prohibition, and proprietor Phil Brandon has been distilling whiskey and other spirits in Little Rock since 2010. Business has been so good that Brandon has had to expand into a new facility, complete with a bigger barrel room and tasting facility for visitors that will be opening soon.
Brandon utilizes Arkansas corn, wheat and rye to craft hometown bourbons, vodka, gin and rums. His wares have even been recognized at the venerable World Spirits Competition in San Francisco. Additionally, Brandon's single barrel whiskey was named 2015 American Micro Whiskey of the Year by "Whisky Bible" author Jim Murray.
The Pantry Restaurant
Traveling can be exhausting, and it's important to get enough rest and sustenance while on the road. Accordingly, Libby Doss Lloyd of the Little Rock Convention & Visitors Bureau recommends we dine together on hearty entrees at The Pantry, a local eatery proudly serving up Czech and German old country favorites.
For the appetizer course, the bacon-wrapped dates are an absolute must, with their meld of sweet and savory, and the truffled deviled eggs also whet the appetite for dinner alongside a house-made "Czechmate" cocktail.
For the main course, I am told I must have the Svickova, a Czech roast beef "stew" entailing sirloin steak prepped alongside vegetables and then garnished with spices such as black pepper and thyme. It's a feast for sure, and warms the soul with its heartiness.
All through dinner, Libby is adamant: I simply must return. One day in Little Rock is hardly enough to uncover the secrets of this little-known state capital, what with its great food, happening culture and revitalized waterfront. To say nothing of genuinely friendly people who embrace their past while ever looking toward the future.