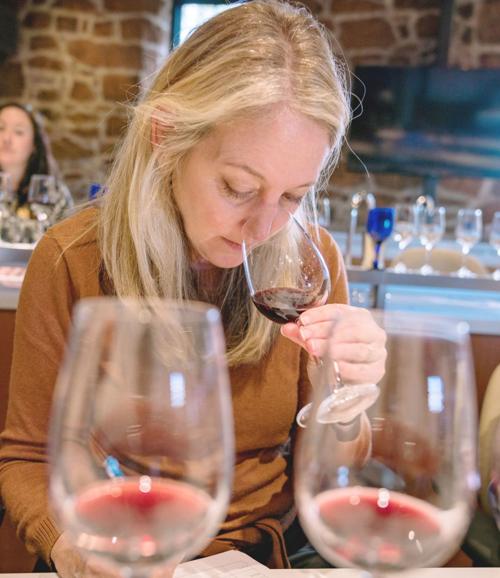 We may mourn the fact that we cannot attend musical concerts, or that in-person dining or wine tastings have been offered off and on this year due to COVID-19, but there is a silver lining to the virtual events that have taken the place of these and other events: The iconic people we really wish to see up close are there in front of us — no binoculars, or surprise glimpses, needed.
At Chappellet's Virtual Release Party and Live Concert, held in October on YouTube Live, the winery owners, winemaker, vineyard manager, a multi-platinum star musician, and two Michelin-rated Bay Area chefs, all converged online, in front of guests, for everything from vintage talk to food pairings, good music, and of course, good wine.
Foundational to the event was the celebration of the 2017 Pritchard Hill Cabernet Sauvignon, a vintage that marks this wine's 20th anniversary, and 50 years since Molly and Donn Chappellet founded the Chappellet winery.
The 2017 Pritchard Hill Cab fit in perfectly at the star-studded event: rich and complex, with layers of toast, herbs and spice wrapped around a core of deep black and red fruits.
The event, hosted by Cyril Chappellet (son of Molly and Donn), with numerous family members attending, and joined by winemaker Phillip Corallo-Titus and vineyard manager Dave Pirio, was an extended family affair, of not just the Chappellets but their team and family of wine club members and collectors. As guests signed into the virtual event, Cyril greeted guest after guest, with personal, warm welcomes.
Three-star Michelin chefs Kyle Connaughton of Single Thread in Healdsburg and Dominique Crenn of Atelier Crenn in San Francisco shared recipes that paired with the 2017 Pritchard Hill wine. Chef Connaughton started with a delectable dish of coal-roasted Wagyu rib eye with figs and turnips. The figs and turnips were cooked in multiple ways, adding to the texture, taste, and intrigue of the dish. Molly Chappellet, joined him for a discussion and tasting.
Chef Crenn of Atelier Crenn prepared a smoked egg yolk and grapeseed oil confit with mushroom consommé dish called Flower of Mushroom, and included cooking tips that kept viewers' eyes glued on the chef.
It's not easy being John Ondrasik
Rounding out the culinary experiences was the multi-platinum artist, John Ondrasik (stage name: Five for Fighting), the singer-songwriter behind the explosively popular song, "Superman (It's Not Easy)". Just as entertaining as his music were the stories behind his songs.
John shared that "Superman (It's Not Easy)", for example, almost never aired. It was turned down by studio after studio. But one studio, who had some success with an earlier piece of John's, agreed to play one more song of his choice. And that was Superman.
One of the funniest stories from John was regarding a gift from his wife. After returning from nine grueling months on the road touring, John's wife treated him to a retreat: a week's vacation to regroup, refresh and think creatively about future song ideas.
The location? An ashram. Initially, this sounded amazing to John: resting, swimming, and generally relaxing. John, however, was in for a much different experience. His first day would play over and over again throughout his time at the retreat: a 5 a.m. morning wake-up call followed by two hours of yoga ("I hate yoga", John shared); a 15-mile hike; weight class; swim class, and Pilates class. Two more hours of yoga would finish off the day's activities, but not before dinner. Starved, John expected to dive into a big plate of healthy Quinoa or such. His dinner, however, consisted of two carrots and an avocado.
He was not amused. John's hunger drove him to the head office, where he recounted the day's rigorous events. The management's reply? "Yes, that is why you received two carrots."
John's response is priceless: he immediately signed up his wife for two weeks at the Ashram.
Today, John has his own yoga pose, which he calls 'dead dog', and involves a glass of wine (Chappellet preferred) and a couch.
Virtual Events
These virtual events, whether they are from a chef's kitchen, music studio or wine country estate, give us so much more than we expect, and put us directly in front of iconic figures across many genres. Many of these events are free and open to all guests. The Napa Valley Vintners includes a list of ongoing winery events on https://napavintners.com/events/events_virtual
As for Chappellet, Happy 50th — and for the deliciously complex Pritchard Hill 2017 Cabernet Sauvignon, Happy, Happy 20th.
Catherine Bugué is a co-founder of the Napa Valley Wine Academy and teaches about wine on a regular basis, covering all levels of instruction from beginner through to the WSET Diploma's specialized program. She sits on the Napa Valley Vintner and St. Helena Star Tasting Panel, and writes locally about Napa Valley wine.