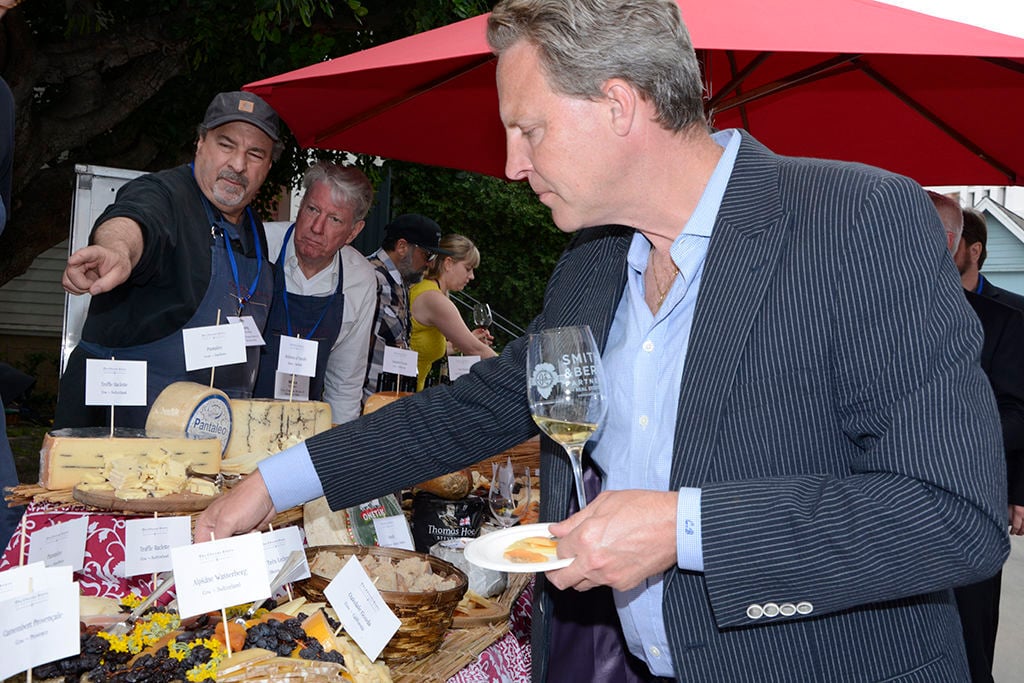 It is often asked, "What's so important about pairing just the 'right' wine with a dish being served. Why can't I just drink what I want with whatever I'm eating?"
The simple answer is that it's fine to drink whatever you fancy with whatever you're eating. But, with a little thought behind the pairing, you'll appreciate the ultimate expression of each, as they combine to enhance the total experience.
For thousands of years, wine has been an integral part of the meal but only recently, it has also been consumed on its own in a "cocktail" setting. Over the years, I've enjoyed many formal and casual meals where the wines were like a symphony with the food, and others where the pairings didn't work quite as well. Have you encountered similar experiences? Can you think of a great meal where everything seemed to work seamlessly? Why do you think that happened?
In 1989, my wife Barbara and I launched, "A Culinary Evening with the California Winemasters" – a charity walk-around wine auction and dinner in Los Angeles to benefit the Cystic Fibrosis Foundation's research and care programs.
Support local news coverage and the people who report it by subscribing to the Napa Valley Register. Special offer: $1 for your first 6 months!
A charity wine event was relatively new in the late 1980s with only the Napa Valley Wine Auction (later renamed Auction Napa Valley) as a model. Not being part of the Napa Valley winemaking community at that time, and without the dedicated ongoing support of its vintners, we had to devise another path to ensure the event's success.
During the planning stages, we looked at several iterations and quickly discarded most of them as having little interest. Then, it dawned on us to "step out of the box" and feature a range of dishes individually paired with the wines being poured at joint winemaker/chef serving stations. By incorporating a mutual emphasis on wine and food we were able to create an atmosphere that encouraged our guests to savor the parings as they bid on silent auction items before the live program began.
Throughout our 32-year history, the basic formula has not changed, and at each event, our guests rave about that year's food and wines as being the "best ever." But, even more gratifying is hearing from them, along with the winemakers, vintners and chefs, compliment the pairings for how they enhanced the evening's vinous and culinary delights.
For a pairing perspective, I look to the Old World (e.g. Europe) where local practices vividly define how the cuisine of an area developed based on the wine grapes grown there. Historically, individual grape varieties have shown an affinity to the soil, weather and other conditions (known as terroir) specific to a region. Although there's no direct translation from French to English, terroir refers to the grape vine's total environment.
Think about the bright whites along the southern Mediterranean coastal areas of France that complement their bountiful fish, the higher acid Sangiovese of Italy's Tuscany region pairing with traditional tomato-based sauces, the leathery and muscular Nebbiolo of Italy's northern Piedmont region that go so well with its hearty beef dishes, the sweeter more aromatic Rieslings of Germany with lighter meats, sausages and kraut, along with many other typical examples.
However, this historic relationship linking the bounties of local wines and food does not exist in the New World, where the cuisine developed on its own. Think about the classic dishes of New Orleans and how they differ from those of New England, many areas of the Mid-West, South or the Pacific Coast along with countless others found outside Europe.
In the New World, wine choices followed and were determined by the available selections from numerous growing areas around the world, rather than indigenous grape varieties grown locally and the cuisine that evolved to accompany them. So, the basis for wine pairings has actually been adopted from Old World practices tailored to individual palates that are now widely adopted.
There are no set rules for the pairing exercise like the old adage, "whites with fish and reds with meat" that has been generally discredited and largely ignored among today's wine lovers. Our pairing choices are best based on individual taste preferences and should relate more to the preparation of the dish (sauces, spices, textural components, etc.) and not necessarily the main component (fish, fowl, beef, etc.).
While Pinot Noir is a natural companion to a roast lamb loin or butterflied leg, Grenache or a Southern Rhone-style blend may better complement a braised lamb shank. Just as Zinfandel may be ideal with a grilled ground beef burger, Cabernet Sauvignon is a natural with steak and a cool-weather Syrah is excellent with short ribs braised in red wine.
You may choose to pair a bright white to cut through creamier sauces topping fish and fowl or a bold red to elevate the flavors of grilled meats. Slightly sweet wines such Riesling and Gewürztraminer can be the ideal match for spicy Asian cuisine. A sweet dessert wine with balancing acidity that is a natural with stone fruit-based desserts or heightened by a salty blue cheese to end the meal can also complement grilled foie gras at the beginning.
Even without any pre-set "rules" there are many well-intentioned and time-honored recommendations. It all depends on your taste and the pairing you want to enjoy. My best suggestion when pairing wine to food is to look first at the wine and then create the proper dish to pair with it. The wine is already in the bottle and not subject to modification, whereas the dish exists in the imagination of the chef who has a broad range of options in its preparation to create the best pairing. Wines first and the dish will follow!
The wine pairing experience should not be intimidating as there is no "ideal" match, only a broad range of remarkable options based on your personal palate and a little imagination. Wine Spectator Editor and Publisher, Marvin Shanken wrote in the just-released Sept. 30 edition: "I must admit there are times when nothing can replace a California Cab or a great Bordeaux, but few wines are as versatile as Pinot Noir. If you haven't had a Pinot with dessert, try it sometime. If you haven't had a Pinot with fish, try it sometime."
And the same could be said about countless other wines and foods. So experiment and enjoy!
Catch up on Napa County's top news stories
Get unlimited digital access to the Napa Valley Register for just $1 for your first 6 months! Enjoy every article without restrictions and find tons of subscriber-only perks, such as access to our daily eEdition. Click here for details!
Share your experiences with other readers by commenting on this article with an e-mail to me at allenbalik@savorlifethroughwine.com.
Allen Balik, a Napa resident, has been a wine collector, consultant, author, fundraiser and enthusiast for more than 35 years.