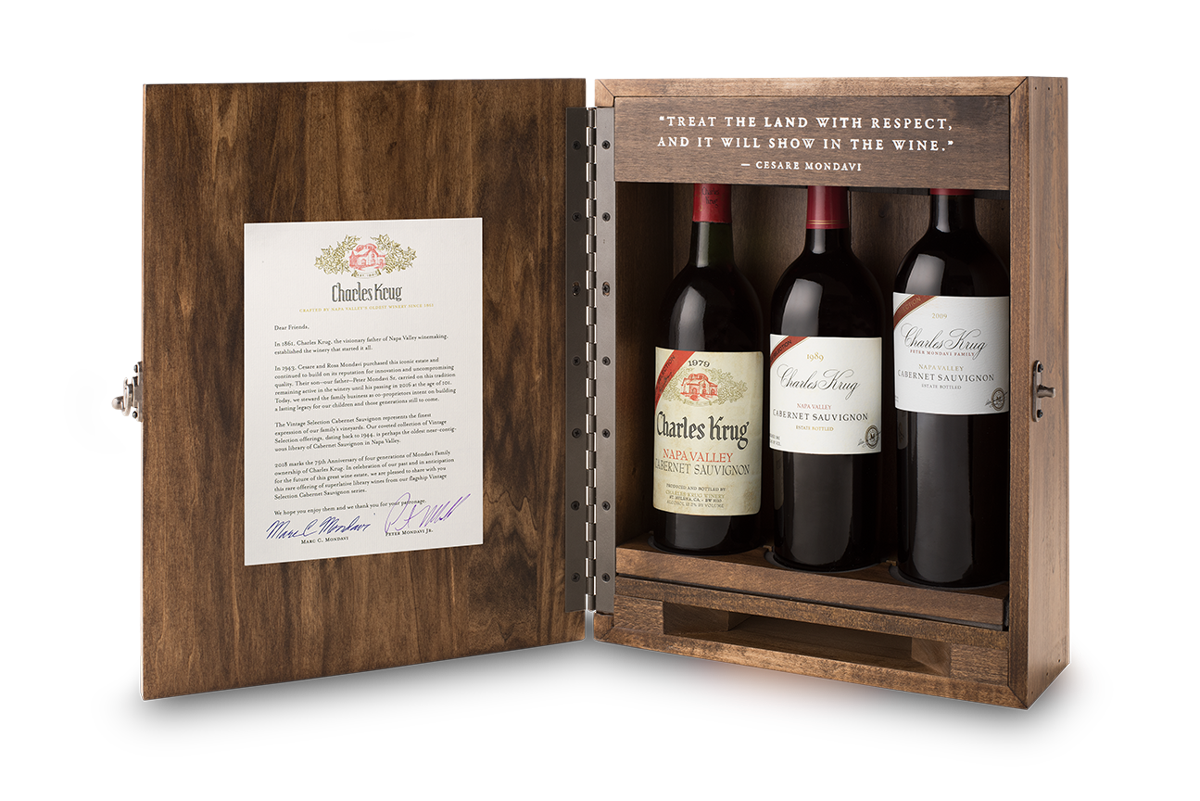 Charles Krug Winery has announced its second release of library wines from its collection of Vintage Selection Cabernet Sauvignon.
Housed at the historic St. Helena estate, the collection dates back to 1944 and is considered the oldest library of Cabernet Sauvignon in the Napa Valley. The 2019 release will include the 1979, 1989, and 2009 Vintage Selection Cabernets, all packaged in a limited-edition wooden case.
The Library Pack is available directly from Charles Krug Winery through their website and over the phone for $800. A limited amount will also be sold through the wholesale market. Only 60 units will be released.
"This collection of wines, taken as a whole, tells a thoughtful story about the Napa Valley and our family's great estate," said Peter Mondavi Jr., the third-generation proprietor of Charles Krug.
"The Library Release provides insight into what was happening during three distinct decades at the winery — from the winemakers working in the cellar at Charles Krug, to vintage conditions affecting the wine, to what was in vogue for label and bottle designs."
Charles Krug released its initial Library offering in 2018 to commemorate the 75th anniversary of Mondavi family ownership of the estate.
This original release featured a bottle of the 1974 Lot F1, 1991, and 2003 vintages of Vintage Selection Cabernet Sauvignon.
Now, the winery has announced that it will continue to offer brief windows of access to their historic library via these annual three-pack releases.
The Vintage Selection Cabernet was first produced in 1944, the year following the Mondavi's acquisition of the famed estate.
The wine was initially only produced in years where the vintage was judged conducive to crafting wines of distinction.
Be the first to know
Get local news delivered to your inbox!