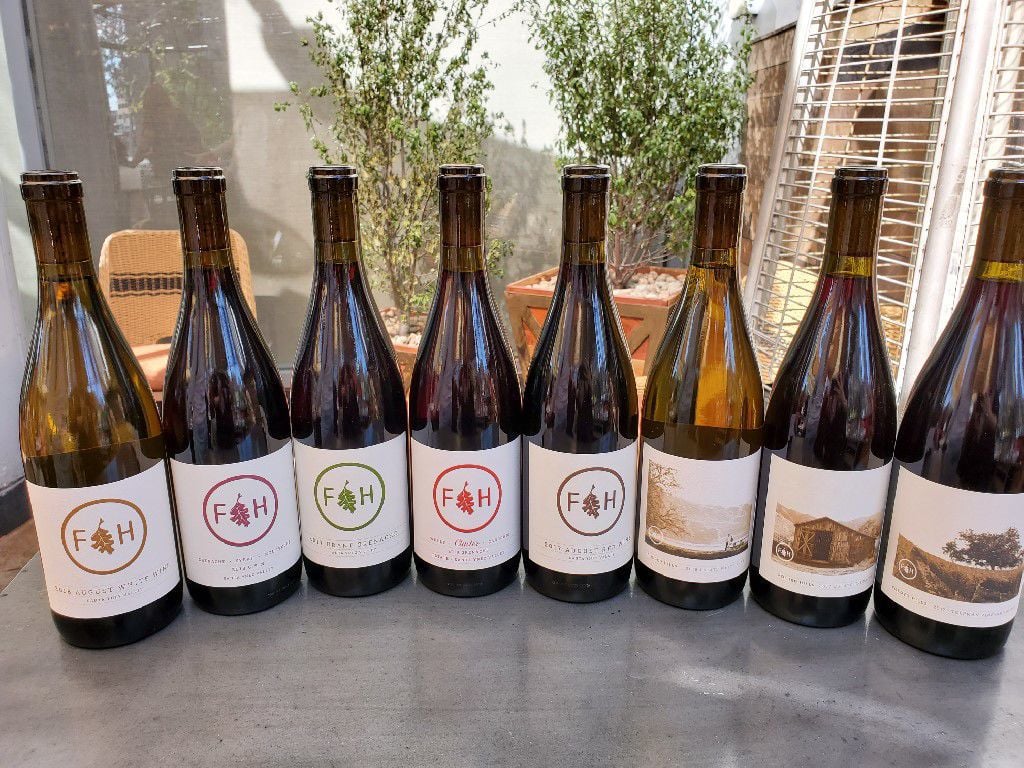 There are many funny famous quotes about wine. Rumi, circa 1200s, said "Either give me more wine or leave me alone."
In the 1930s, W.C. Fields said, "I cook with wine, sometimes I even add it to the food." Napoleon Bonaparte said, "In victory, you deserve Champagne. In defeat you need it."
In the 1500s, Martin Luther said, "Beer is made by men, wine by God." And one of the most famous quotes used by numerous winemakers around the world is that, "It takes a lot of good beer to make great wine."
That last quote is more than appropriate for Folded Hills Winery, a young brand in the Santa Ynez Valley. "The winery was built from the beer business," owner Kim Busch explained. It definitely took a lot of good beer to make this winery.
Folded Hills Winery was founded by Kim and Andrew Busch. Andrew Busch is one of the children of August Anheuser Busch Jr, the American brewing magnate who built the Anheuser-Busch Companies into the largest brewery in the world by 1957.
Andrew was raised in St. Louis where he helped run Grant's Farm, the family's home that was turned into a public animal park that is a refuge for more than 900 animals, representing more than 100 different species. Kim, a former model, and Andrew met in St. Louis. They fell in love with Santa Barbara in 1998 when Andrew served as Captain for the USA polo team at the World Cup. They moved from St. Louis in 2002 and bought their property in 2004.
The property is a 600-acre ranch located just off the 101 freeway, five miles north of the Gaviota tunnel, which is where the 101 freeway shifts inland from the coast. Folded Hills is located in the southernmost spot of the Santa Ynez Valley. Only four miles from the ocean, it is the closest vineyard to the ocean in the Santa Ynez Valley. However, despite its proximity to the ocean, it is a warmer area compared to the Sta. Rita Hills just north. With cold mornings and nights, as well as fog and wind, Rhone varieties seemed like the perfect fit, as opposed to Burgundian varieties typically found in the Sta. Rita Hills.
Kim and Andrew raised their family on the property that they share with Clydesdales, sheep, goats, KuneKune pigs, miniature donkeys, chickens, peacocks, zebras, llamas, camels and a miniature Jersey cow. Visitors can meet and feed the animals and there is a Farmstead on the property that offers organic produce from the property, as well as homemade baked goods and other local staples from small batch purveyors.
In 2014, the Busches planted 18 acres to Grenache, Syrah, Grenache Blanc, Clairette Blanc and Marsanne. And, in April 2017, Folded Hills Winery was launched.
Kim said they "did not know what we were doing." They started a new business at the age of 50 in an industry that they knew absolutely nothing about. But they have approached it with wonder, excitement and inquisitiveness. There is no pretense and they have focused on being "authentically ourselves," as Kim described it.
Part of their authenticity is in making friends. Andrew's father always said, "making friends is our business." Some of their friends include the female-dominant team they built, which includes winemaker Angela Osborne and General Manager Tymari Lore.
New Zealand-born winemaker Angela Osborne, who came to Santa Barbara to make Grenache and started her own label "A Tribute to Grace" in 2007, was a natural fit with Folded Hills. Aside from producing Rhone varieties, she follows the biodynamic calendar, hand-harvests using sustainable practices, uses no commercial additives, little sulfur and native yeasts for the ultimate goal of letting the grapes speak for themselves.
Folded Hills produces two different labels, one honors the family's heritage and showcases the land. The heritage label is modern and clean with the letters FH on the front. Each of these wines has a name of significant historical importance. For example, the Lily Rosé, a rosé of Grenache, is named after Lily Anheuser who was born in 1841 and the five generations of Lilys who have followed, including Kim's three-year-old granddaughter.
The August White and the August Red are named after August Sr. and August "Gussie" Busch Jr. The Grant's Grenache is in honor of Ulysses S. Grant who led the country through the Civil Way and was the original owner of the family's Grant's Farm in St. Louis. In contrast, the Folded Hills Reserve wines are not named after anyone but rather have visual images of the land on the label.
Folded Hills is currently producing 5,500 cases of wine and I had the pleasure of tasting most of their line-up:
— 2018 Lilly Rose—Rose of Grenache (12.10% alcohol), $26
This 100 percent stainless-steel wine spends 24 hours on skins and then direct to press. It spends four months on the lees resulting in a wine with bright watermelon and fresh wild strawberry notes and a light but nice texture on the palate.
— 2018 August White Santa Ynez Valley (13.7% alcohol), $32, 68 percent Grenache Blanc and 32 percent Roussanne; 66 percent of the wine spends 15 months in neutral French barrique, and the rest is in stainless steel, resulting in a wine with citrus and pear notes and delicate acidity. The wine was like a silk sheet covering my palate.
— 2018 Estate White (13.2% alcohol)—$65, 50 percent Grenache Blanc, 25 percent Clairette Blanche, 25 percent Marsanne; 15 months in neutral French barrique results in a fresh, light wine with notes of lemon, pear, baked apple and a touch of spice.
— 2017 August Red (13.9% alcohol)—$43, 67 percent Grenache, 33 percent Syrah, 73 percent whole cluster, 11 months in French barrique (5 percent new) result in a wine with red and black fruit aromas, as well as black tea and spice notes, and finishes with soft tannins.
— 2018 Whole Cluster Grenache (14.5% alcohol)—$34, 100 percent Grenache. This wine is 100 percent whole cluster carbonic maceration and spends 7 months in neutral French barrique. It is zesty and fresh with notes of red cherries, cranberry and savory herbs.
— 2017 Estate Grenache (13.9% alcohol)—$67, 100 percent destemmed.The wine spends 11 months in neutral French barrique resulting in a wine with perfumed aromas of bramble, brown spices and dried flower potpourri.
— 2017 Grant's Grenache (13.6% alcohol)—$38, 92 percent Grenache, 8 percent Syrah, 100 percent destemmed
The wine spends 11 months in French barrique, of which four percent is new, resulting in a wine with cherry, cranberry and pomegranate aromas, paired with tobacco and herbaceous notes, resulting in a fresh wine with sandy tannins.
— 2017 Stolpman Syrah, Ballard Canyon (13.3% alcohol)—$75, 100 percent destemmed
This wine spends 11 months in French barrique, of which 20 percent is new, resulting in an elegant wine with aromas of baking spice, bramble and plum.
— 2018 G.S.M. (13.8% alcohol)—$45, 40 percent Grenache, 40 percent Syrah, 20 percent Mourvedre, 100 percent destemmed
This wine spends 11 months in neutral French barrique resulting in a wine with aromas of red and blue fruits and a silky, smooth finish.
The saying "it takes a lot of good beer to make wine" is true. Folded Hills Winery is a young winery but one to look for.
Allison Levine is owner of Please The Palate, a marketing and event-planning agency. A freelance writer, she contributes to numerous publications while eating and drinking her way around the world. Allison is also the host of the wine podcast Wine Soundtrack USA. Contact her at allison@pleasethepalate.com.
Be the first to know
Get local news delivered to your inbox!