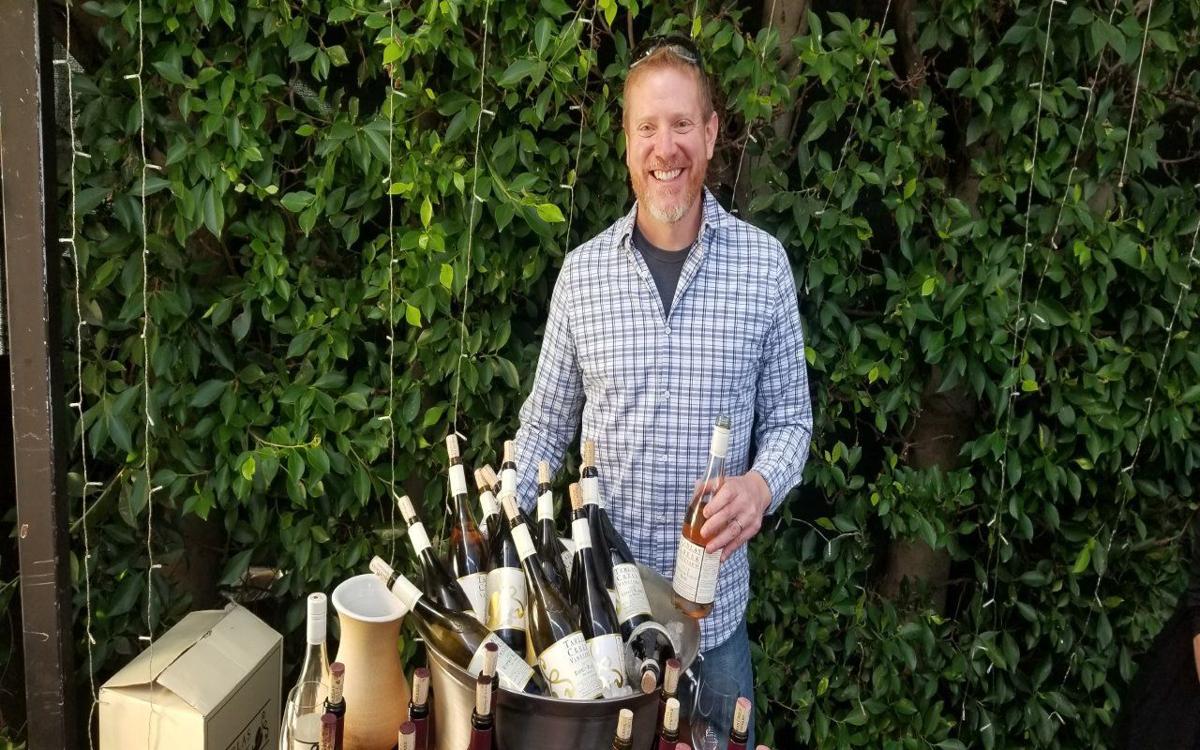 Located between San Francisco and Los Angeles, Paso Robles is a popular destination for wine travel. Today, there are more than 200 wineries in Paso Robles, which is primarily planted with Cabernet Sauvignon, Merlot, Zinfandel, Syrah, and Chardonnay. It is hard to believe that only 30 years ago, Paso Robles was a relatively undiscovered region in the middle of nowhere.
Thirty years ago, a partnership was formed between importer Robert Haas and the Perrin family of Château de Beaucastel in Châteauneuf du Pape and they established a winery, Tablas Creek, in Paso Robles. Not only was Tablas Creek one of the original wineries in Paso Robles, but they are one of the pioneers of the California Rhone wine movement.
Robert Haas, who founded Vineyard Brands, was an importer on the East Coast for six decades. In the 1960s, he was responsible for introducing Famille Perrin Château de Beaucastel in Châteauneuf du Pape to the U.S. market and a friendship developed. Jacques Perrin and his sons would come to the U.S. to sell their wines and they would travel with Haas for the day to Napa and Sonoma to see what they could find. Robert Haas had always been an early believer in California as a wine industry, having worked with wineries like Kistler, Phelps, Ridge, Spring Mountain and Chappellet in the 1970s and having launched Sonoma Cutrer in the 1980s.
Robert Haas and Jacques Perrin came to two conclusions. First, California is a place for world-class wines. This was a rather impressive statement coming from a French wine family, especially in the 1970s and 1980s. Second, California was growing Cabernet Sauvignon, Merlot, Chardonnay, Sauvignon Blanc, and Pinot Noir. But California, like the Rhone Valley, is a Mediterranean climate, and yet no one was focusing on grapes such as Syrah, Grenache, Mourvedre, Viognier, and more. Haas and Perrin knew that if they could find the right spot with the right soils, the climate would be the right place to do Rhone varieties for a Châteauneuf du Pape-style project.
Over the next 10 years, Haas and Perrin traveled around California looking for the perfect spot for a joint project. They had looked from the Mendocino Coast to the hills outside Ventura County. In 1985, they put the money together and in 1989 they purchased 120 acres in West Paso Robles. It was a former alfalfa farm and cattle ranch in the middle of nowhere that was deemed perfect.
Located 11 miles west of Paso Robles, Tablas Creek was actually outside the boundaries of Paso Robles until the western boundary was moved farther west in 1994 to include them. While friends did not ask them if they were crazy, they did wonder why Haas and Perrin would not pick a place less challenging. But there were reasons they picked the spot.
First, there are the limestone soils. This highly calcareous absorbent soil is similar to the bedrock found under the rounded river stones that are famous in Châteauneuf du Pape. This limestone soil could only be found in the Central Coast, where it runs along the Pacific plate, from the Santa Cruz mountains to Lompoc, and is within 20 miles from the ocean.
Second it was the climate. Paso Robles is warm and sunny enough to ripen Mourvèdre and Roussanne but moderate enough to keep Viognier and Syrah fresh. Third, the region gets enough rainfall that they could dry farm. As Robert Haas's son, Jason Haas, explained, "It was typical of my dad. If the raw materials were there, the rest was about persistence."
To plant Tablas Creek, they imported new cuttings from Châteauneuf du Pape. They started in 1994 with the main Rhone grapes: Grenache, Syrah, Mourvedre, Counoise, Roussanne, Marsanne, Viognier, and Grenache Blanc. Over the last 30 years, they added more varieties, such as Picpol, Picardan, Clairette Blanche. And now there are three new varieties coming this year: Cinsault, the first Central Coast planting of Bourboulenc, and the first planted outside of France of Vaccarèse. They have also grafted Muscardin. Today Tablas Creek has 270 acres, of which 125 is currently planted and they have been biodynamically certified since 2017.
Tablas Creek's first vintage was in 1997, and until 2000, they only made one red wine and one white wine. In 2001 they created their flagship wines, Esprit de Tablas Creek Blanc and Esprit de Tables Creek Rouge (these wines were called Esprit de Beaucastel Blanc and Esprit de Beaucastel Rouge until 2011) chosen from the cellar's best lots. Modeled consciously on the Chateau de Beaucastel red and white wines, these flagship wines are selected from the top 15-20 percent of the estate-grown lots each vintage and then aged in 1,200-gallon foudres for an extended period to allow the wines to integrate.
General manager Jason Haas grew up alongside Tablas Creek. As a child, he accompanied his family on yearly European wine-buying trips and he spent two summers working at Château de Beaucastel. He was a sophomore in high school when his father bought the property and officially joined Tablas Creek in 2002, working with his father, Robert Haas, until he passed away in 2018 at age 90.
In honor of their 30th anniversary, Jason opened a vertical of Esprit de Tablas Blanc and Rouge, going back to the first vintage it was made. It was an honor and a privilege to sit down and taste through these wines, understanding the vision the Haas and Perrin families shared, the success of Rhone varieties in Paso Robles and the aging potential of these specific wines.
Esprit de Tablas Blanc is based on Roussanne, with additions of the best lots of Grenache Blanc and Picpoul. The Roussanne, prone to stress-related issues, is the richest variety with notes of honey, spice, baked pear and herbs. It is also an age-worthy wine. The Grenache Blanc, now a leading grape, offers good body and acid and sweet spice. The Viognier provides floral and stone fruit notes. The Marsanne, which is gentler than the Roussanne, is lower alcohol and provides elegant floral and honeydew notes. As we tasted through six vintages, from 2001 to 2017, the common factor was the minerality that shines through these wines.
—2001 Esprit de Beaucastel Blanc (44 percent Roussanne, 22 percent Viognier, 18 percent Grenache Blanc, 16 percent Marsanne) – The first vintage made of this wine, it has lovely rich honey notes yet is still bright on the palate. Additional notes of green apple, pear, and honeysuckle and finishes with crisp acidity that hits top of the tongue.
—2005 Esprit de Beaucastel Blanc (70 percent Roussanne, 25 percent Grenache Blanc, 5 percent Picpoul Blanc) – Picpoul was added to the blend, adding citrus notes and acidity to this wine that also as notes of stone fruits, white flowers, petrol, and minerality on the finish.
—2010 Esprit de Beaucastel Blanc (60 percent Roussanne, 35 percent Grenache Blanc, 5 percent Picpoul Blanc) – The grapes ripened slowly in this vintage and the resulting wine has aromas of ripe pear, apple, and citrus and an intense mineral finish.
—2012 Esprit de Tablas Blanc (75 percent Roussanne, 20 percent Grenache Blanc, 5 percent Picpoul Blanc) – This vintage marked the start of a five-year drought but there was still residual water in 2012. This was also the first year of the name change and the first year the wine was made in the foudres. It has notes of ripe green apple, spiced orange, candied pineapple, and is round in the mid-palate surrounded by delicate acidity.
—2015 Esprit de Tablas Blanc (55 percent Roussanne, 28 percent Grenache Blanc, 17 percent Picpoul Blanc) – This wine was made during the depth of the drought but 2015 was not a hot vintage. More Picpoul was added for acidity. The wine has pretty floral and fruity notes, and delicate acidity. The wine has less weight and texture on the palate but was more elegant.
—2017 Esprit de Tablas Blanc (68 percent Roussanne, 17 percent Grenache Blanc, 7 percent Picpoul Blanc, 4 percent Picardan, 4 percent Clairette Blanche) – The year the drought broke, 2017 brought 43 inches of rain, double the typical amount. The young wine has fresh notes of citrus, stone fruits, jasmine, honey and spice and has a saline mineral note on the finish.
—Esprit de Tablas red is based on Mourvedre, with additions of the best lots of Grenache, Syrah, and Counoise. Mourvedre, once the most widely planted grape planted in the Mediterranean, prior to phylloxera, hits the mid-palate with chewy, earthy, meaty, and velvety notes. The Grenache hits the front of the palate with juicy floral notes and higher alcohol. The Counoise is high in acid and brings out the flavors in the other grapes. The Syrah finishes the wine with dark fruit and tannins. The wine is fermented in stainless steel, closed-topped for Grenache and Counoise and open-topped for Syrah and Mourvedre. The grapes are pressed to barrel and lot by lot is tasted to select which go into to Esprit de Tablas before blending into the foudres.
—2000 Esprit de Beaucastle (35 percent Mourvedre, 26 percent Syrah, 25 percent Grenache, 14 percent Counoise) – This wine is gorgeous with dried leather and dried lavender notes.
—2003 Esprit de Beaucastle (50 percent Mourvedre, 27 percent Syrah, 16 percent Grenache, 7 percent Counoise) – This wine has deep earthy and black fruit notes and is more focused on the mid-palate.
—2006 Esprit de Beaucastle (45 percent Mourvedre, 28 percent Syrah, 22 percent Grenache, 5 percent Counoise) – The second of two consecutive wet years, the 2006 has a brighter, more open nose and on the palate the wine is juicy and mouthwatering.
—2009 Esprit de Beaucastle (40 percent Mourvedre, 28 percent Syrah, 27 percent Grenache, 5 percent Counoise) – The first vintage after the 2006-2009 drought, this vintage also experienced frost. The wine has a nose of dark fruits, brown spices, cocoa and licorice and is lush on the palate.
—2014 Esprit de Tables (40 percent Mourvedre, 35 percent Syrah, 20 percent Grenache, 5 percent Counoise) – A luscious wine with dark fruit, floral, licorice, and lavender aromas and grainy tannins.
—2017 Esprit de Tables (40 percent Mourvedre, 35 percent Syrah, 20 percent Grenache, 5 percent Counoise) – Red currant, cocoa, licorice and meaty notes give way to a mouth-coating wine with soft tannins.
Reflecting on 30 years, Jason Haas commented that "it's hard to believe it's been 30 years. Thirty years marks the end of the beginning. We are through the formative stage." It is exciting to think about the future of Tablas Creek, the pioneers of the California Rhone wine movement.
Allison Levine is owner of Please The Palate, a marketing and event-planning agency. A freelance writer, she contributes to numerous publications while eating and drinking her way around the world. Allison is also the host of the wine podcast Wine Soundtrack USA. Contact her at allison@pleasethepalate.com.