True wine lovers have eclectic palates and love wines in many forms, almost irrespective of grape variety.
I believe you can't really claim to love wine if you adore one or two grapes and disdain most others. Real wine lovers see no rigid hierarchy in which one grape is "better" than others.
(Still, some of us harbor biases. Mine is Riesling. Readers who think I'm daft will get a chance to heckle after an upcoming column in which I explain Riesling with lore and fawning adoration.)
Today we look at how one rare grape can make great wine when people pay attention to its character. That grape is one of the least well-understood in the vinous firmament. It is Gamay Noir – one of the oddest to make it onto any list of quality varieties. Here's why:
— Almost none of it is planted in the United States – fewer than 400 acres of it nationally.
—Even in its native France, it's widely disparaged.
—Its agricultural classification is weird. It's listed officially by a name that isn't even a wine grape! Ag reports call it "Gamay (Napa)."
Bizarrely enough, despite drawbacks that would doom any other varietal, Gamay flourishes, albeit in small amounts. There's a wine festival in Oregon dedicated to it and roughly two dozen wineries nationally make it into a varietal wine.
Gamay Noir can make wines that are aromatically fascinating, with aromas of juicy dark cherry, pomegranate, trace amounts of herbs, occasional pepper, and it has a succulence rare for red wines. Tannins are usually moderate.
In that respect it's like a cousin to Pinot Noir, to which it's often compared.
In France, as "Gamay Noir a jus Blanc," it thrives in a Burgundian subdistrict and is mostly seen as Beaujolais. In that form, most of it is swigged alongside paté, fromage, and boudin, all consumed in diesel- and gauloise-malodourous cafés avec le chien beneath an adjacent table.
In such settings, Gamay is the ultimate French jug wine – a pushy, tie-less ruffian who's never invited to the dinner table.
But late every November, the new wine of the recent harvest – Beaujolais Nouveau – is released (on the third Thursday, with confetti) in time to be companioned with belt-breakers like Thanksgiving.
Nouveau is made rapidly. Its main goal is to be consumed faster than its assembly. Thus it's rarely expensive. Late every November, Parisian cafés and smoke-filled wine bars proclaim "Le Nouveau est arrivé," implying we must swig it instantly, before it withers.
Treated with more respect, Gamay is nobler. It approaches respectful status as Cru Beaujolais, an exalted category. True wine lovers can buy Cru Beaujolais from 10 different high-class zones, from sublime Brouilly to rich Morgon and Fleurie, to the elegantly romantic St. Amour, and the age-worthiest, Moulin-a-Vent.
Even though the top Crus rarely exceed $30 a bottle, they can be delightful, even though snobs remind us that this is, after all, "just" Gamay, dooming them in connoisseurs' minds.
But ask the right people and you'll hear that Gamay is a delight. One reason is that the only people making it are zealous devotees, like Kate Norris of Division Wine Co. in Oregon.
"I love to drink Gamay," Norris says unabashedly. "It grows really well here in Oregon, and it may only be the prince to the king (Pinot Noir), but its acreage is growing and you can find them in a whole range of price, from the low $20s to the $40s.
"… occasionally it'll be blended into Pinot when bad weather hurts the Pinot Noir crop."
One reason for the confusion about this grape's heritage is that for decades it was called Napa Gamay. It was used through the 1980s by some to make a Beaujolais-styled red wines, such as the real Charles Shaw. The resulting wine often was called Gamay Beaujolais.
Native Beaujolais-ites were bent out of shape about this, but the status remained quo until the early 1980s. In 1981, Hop Kiln Winery in Healdsburg released a 1978 red that was powerful, inky-dark, and had 14.8% alcohol.
It was called "Gamay Beaujolais."
I called the owner, the late Marty Griffin, and said, "That wine is very nice, but it has nothing to do with Beaujolais." He agreed, and asked, "What do I call it?"
In an ampelography book, I found the name Valdiguie listed a synonym for Gamay Noir, so I suggested Griffin rename his wine. He did — and raised its price! Our federal government never tried to determine what grape it was.
At about that time, unknown to Griffin and me, Myron Redford of Oregon's Amity Vineyards, a true Gamay lover, got vine cuttings from Beaujolais and began the arduous process of quarantining and getting official clearance (through Oregon State University) for U.S. use of the French grape material.
Redford planted vines from the French clones in 1984 and in 1988 made the first American Gamay. Within four years, others were planting the French Gamay in Oregon.
Over time, the resulting wines displayed a violet and black pepper aroma, and took on remarkable properties with a few years of aging.
Redford's first commercial Oregon plantings of imported Gamay vines were at Evening Land Vineyards in Oregon. That winery still makes a Gamay from its own 2.2-acre parcel (since expanded to 3.2 acres after it was re-planted in 2003 from Redford's original cuttings.
Under Evening Land's Seven Springs' label, the winery makes a Gamay ($35) that usually shows that distinctive black pepper aroma. (Winery/internet only.)
Many other wineries also make small amounts of Gamay. An Oregon brand with national distribution, Harry Peterson-Nedry's Ridgecrest makes a stylish and richly flavored version ($30).
Another respected Oregon producer is Brick House, whose 2018 Gamay "Due East Vineyard" ($38) reflects the passion for Gamay by Brick House's Doug Tunnel. He was one of the first after Redford to plant the true French Gamay, in 1992.
Vintages matter for this cold climate-loving grape. In 2019, many Oregon producers suffered from a vintage so cold that acids never dropped as low as most preferred. So some Gamays had more acid than usual. I will probably love them!
Norris pointed out that cool years "let us hang it for a really long time," making flavors that are much more interesting.
One of the nation's best Gamay Noirs is from Chateau Grand Traverse on Michigan's cold Old Mission Peninsula. Chateau Grand Traverse's 2017 Gamay ($16) is dramatically flavored and structured.
In Berkeley, Steve Edmunds (under his Edmunds St. John label) makes a wine he calls Gamay Noir, a jus Blanc using fruit from El Dorado County. Edmunds calls his 2018 version ($23) perhaps the best he's made.
A huge supporter of Gamay in Sonoma County is Pax Mahle, who produces three different Gamays. Mahle believes in the variety's excellence. I asked him if it's a hard sell.
Mahle, whose tasting room is located in The Barlow shopping district in Sebastopol, said, not if you taste it. People often show up seeking "something a bit different." Some ask about Pinot Noir.
"It's usually a fun conversation," he said, "especially after they taste the Gamay." He said structurally, Gamay and Pinot aren't that far apart, "and many people have heard of Beaujolais…"
One longtime Sonoma County producer of Gamay is Duxoup in Dry Creek Valley, owned by Andy and Deborah Cutter. A half-acre of Gamay is planted on a cool north-facing slope in Dry Creek Valley. Duxoup's Gamay ($16) is a stylish, often long-lived red wine. It's nationally distributed.
There remains some confusion about the two grapes Gamay and Valdiguie. The latter is thought to be from the south of France, not Beaujolais. Though possibly unrelated to one another, the two grapes appear to be similar.
One of the state's most successful Valdiguie wines is J. Lohr's bright, fruit-driven "Wildflower" ($10). It is made exactly like a Cru Beaujolais(!) and, like that wine, is intended for earlier consumption.
Several true Gamays from New Zealand are available here, notably the delightful, elegant Te Mata ($18), the rustic Easthope ($23), and from Rippon ($42).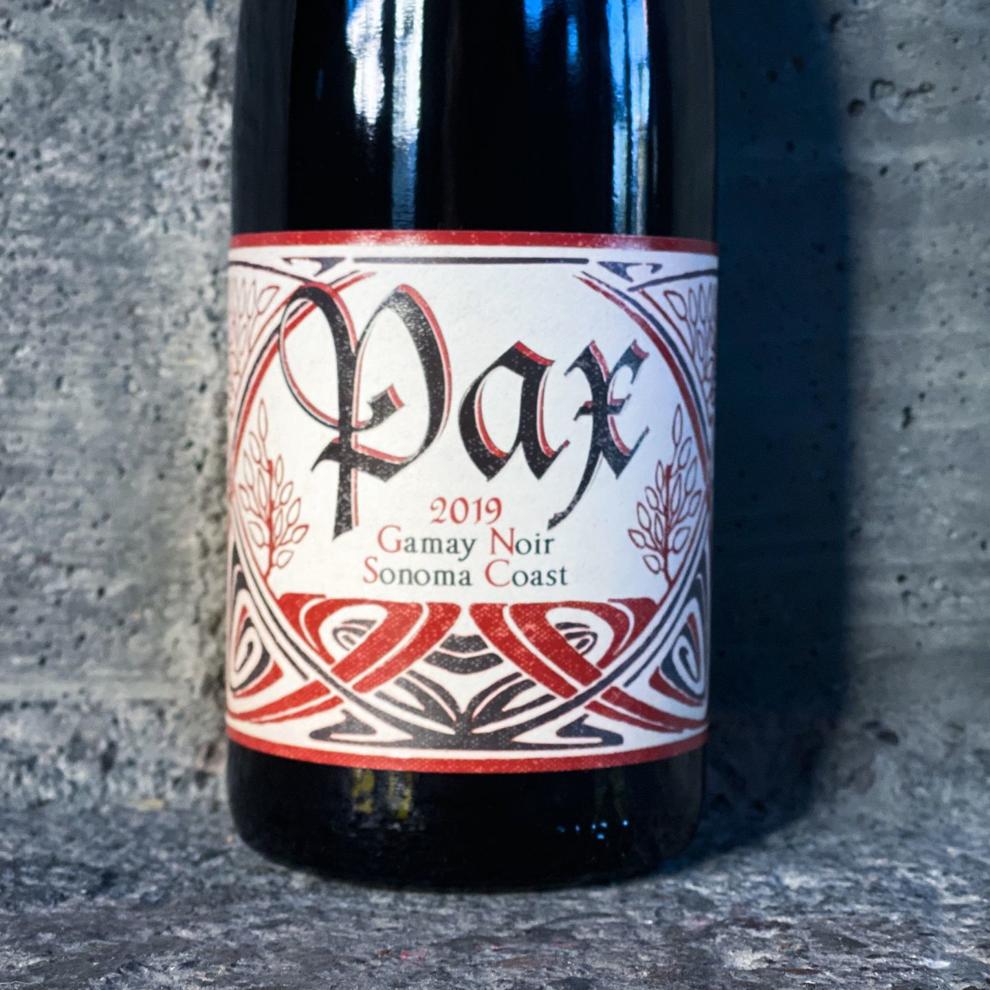 Wine of the Week: 2019 Pax Gamay Noir, Sonoma Coast ($40) – Off a windy, cold, volcanic plain, the fruit for this wine yielded a classic example of the variety that exceeds even the best of Cru Beaujolais. The aroma is deep and rich with black berry fruits and the mid-palate surprisingly balanced and fruit-driven for such weight – even though the alcohol is a modest 13%. Another Pax Gamay, Alpine Peaks ($30) is hugely fruity and approaches Cru status because of impeccable use of the French "carbonic maceration" technique. https://paxwine.com/current-release.
Dan Berger lives in Sonoma County, Calif., where he publishes "Vintage Experiences," a subscription-only wine newsletter. Write to him at winenut@gmail.com. He is also co-host of California Wine Country with Steve Jaxon on KSRO Radio, 1350 AM.