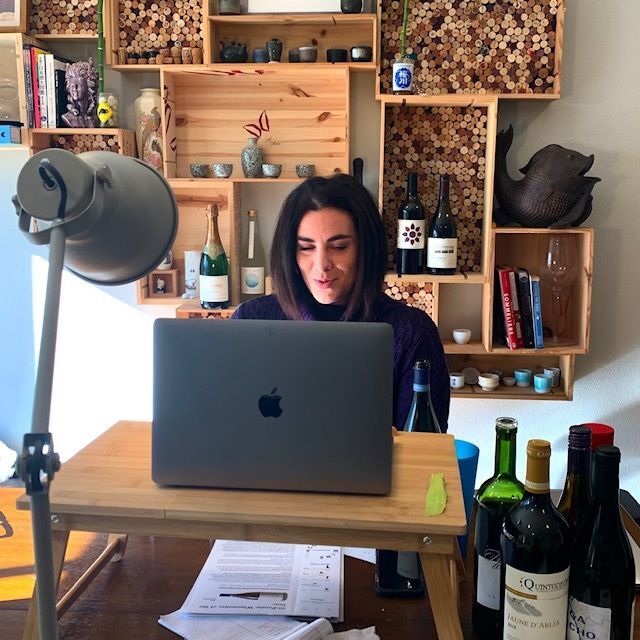 While the past few months have required us to stay at home, we cannot deny we are more connected than ever. The advancement of technology has provided us with endless ways to connect virtually. From online work meetings to virtual friends' happy hours, we have found unlimited resources to connect with winemakers and producers.
"We have been very lucky to have a growing number of virtual tastings, which have allowed us to continue to connect with consumers," winemaker and vineyard manager Steve Matthiasson from Matthiasson Wines said a few days ago.
Virtual tastings make up for the irreplaceable void left by restaurant closures during the pandemic. Many producers like Matthiasson rely on the sommeliers to guide patrons through the many wine choices, introducing them to new producers. Fortunately, social media and virtual tastings have opened the doors to continue bringing the stories behind the labels to consumers.
The opportunities are endless to engage with the millions of people seeking to learn more about their familiar wines or find their new favorite.
One of the early adopters that continues to engage with followers is none other than Jean Hoefliger, winemaker and consultant for a number of brands like Michel Rolland, AXR, Alpha Omega and The Debate. His format is simple and entertaining. Initially utilizing Facebook, he would log in almost daily to talk about all aspects of wine production. Jean is also part of an exciting tasting experience pairing football star Joe Montana with AXR, proving that the sky's the limit.
This shift has not only been for producers. One of the world's leading publications, Wine Spectator, has pivoted from primarily written content to virtual videos, featuring such beverage icons as Robin Lail (Lail Vineyards) and sommelier Tonya Pitts (One Market). This has given the means to connect wine professionals with a large number of people.
Saint Helena author of "The Wine Bible," Karen MacNeil, has also maintained activity with a series of live tastings featuring various producers from around the world.
I have really enjoyed hosting a series of live streams on Instagram along with Master of Wine Vanessa Conlin. The line-up of guests has included some of my favorites like Philippe Melka, Heidi Barrett, Aaron Pott, Jonah Beer (Pilcrow and Frog's Leap), from Sicily Antonio Benanti and Carlo Mondavi (RAEN). During these live conversations, we cover a variety of subjects from the obvious like winemaking and farming but also music, pairings and surfing.
Another engaging and exciting format has been virtual events. I had the pleasure of attending an online event organized by Michelin Guide. It was as excellently executed as one might expect. The program included home-delivered cocktails and small bites with live descriptions from the chef and a musician who curated a playlist to enjoy with each course.
Aside from the public virtual events, a number of wineries and companies have created a way to interact personally, whether it is a family or friend affair or a corporate gathering.
Some I've experienced, both as host and guest, include small tastings led by an expert who could be a sommelier, winemaker or tasting room employee. The guests receive the wine and a link to meet. The experience can range from educational and technical to whimsical and fun. Either way, the connections are strengthened between wine drinkers and wine as well as one another.
In-person gatherings and tastings used to be one of the strongest ways to interact, learn and share ideas and now, thanks to creative outlets and technology, we can fulfill that need.
Adaptation is one of our strongest traits as human beings, and virtual gatherings are proof. Staying connected and engaged, whether it is via phone, social media, or Zoom certainly helps to stay sane in our current situation.
As someone said "Apart but never closer," which in my opinion really speaks to the fingertip availability of thousands of live streams, podcasts and virtual events that make us feel more connected than before.
WATCH NOW: ALMOST 30,000 JOBS LOST IN RESTAURANT AND DINING SECTOR
CHECK OUT CORONAVIRUS COVERAGE FROM THE NAPA VALLEY REGISTER
Complete coronavirus coverage from the Napa Valley Register, St. Helena Star, and The Weekly Calistogan: Fall/Winter 2020 edition
This webpage contains all Napa County coronavirus coverage as featured in the Napa Valley Register, St. Helena Star and The Weekly Calistogan. This page will be updated  as news comes in. Please bookmark this page to stay on top of local developments.
Catch up on Napa County's top news stories