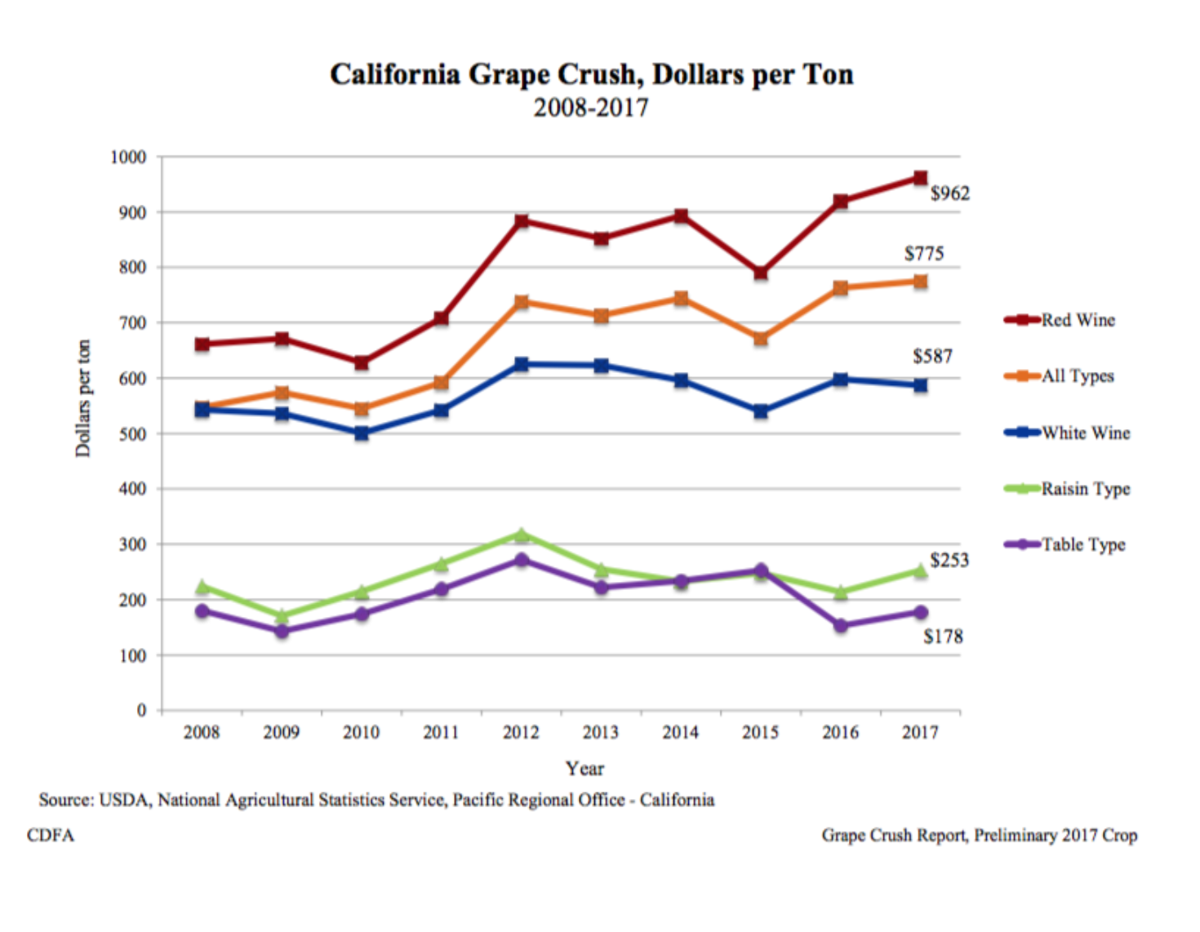 In 2017, of the 19 million grapevines that nurseries sold to grape-growers in California, a staggering 37.4 percent were Cabernet Sauvignon, according to the reputable Allied Grape Growers' annual survey just released. To put this in perspective, in 2011 the percentage of Cab planted was 13.2 percent. Why the big jump? Growers are chasing consumer trends and the money.
The trend now is toward red wind blends, such as The Prisoner, which was launched in 2000 by winemakers Orin Swift and Dave Phinney and eventually made its way into the hands of the mega-wine corporation Constellation Brands. They purchased the roughly 25,000-case virtual winery for $285 million in 2016.
The Prisoner had launched with a dark and brooding label that matched its content, a strange mix of primarily Cabernet Sauvignon and Zinfandel. Now Constellation is rumored to be revamping what was Napa's iconic Franciscan Estate Winery, morphing it into what is to become a virtual theme-park winery centered on The Prisoner brand and other "big" red blends.
Head down to Constellation's Mondavi Winery and get what I imagine is the "To-Kalon Cabernet Sauvignon Experience Tour," where a stream of Brooks Brothers-wearing, well-tanned and traveled crowds gather in relative peace and quiet to learn about what it was like back when it meant shedding your day job in order to become a vintner or grapegrower.
Besides the trend to red blends, the price per ton of Cabernet Sauvignon is just way too tempting for most growers to pass up. Even in the last year, the price of red grapes in the Napa Valley and beyond continued its steady climb skyward as the recently released Preliminary Crush Report compiled by the California Department of Food and Agriculture highlighted.
Of interest is that the Napa Valley Cabernet Franc price spiked the highest in 2017 — 11.4 percent compared to Cabernet Sauvignon's 8.4 percent surge. Historically, Cab Franc has been used as a component of many Cabernet Sauvignon-based blends in Bordeaux, France. It is one of the legal blenders for Bordeaux wines that include Cabernet Sauvignon, Cabernet Franc, Petite Verdot, Merlot, Malbec and the rarely used Carmenere. The higher price likely reflects increased demand for this grape as a "meaty" blender but also because a few vintners are bottling it on its own, finding that consumers are willing to pay high prices for something new and different.
But, of course, only a tiny fraction of grapes planted yearly are in the Napa Valley. And as the numbers suggest, the trend toward planting more Cabernet Sauvignon throughout the entire state is linked to an overall increase in demand.
There are roughly 325 million Americans. The most recent Gallup Poll finds that 62 percent of the country's inhabitants consume alcohol. Of these, 40 percent prefer beer, which is down 3 percent from 2016 but still ahead of wine, which is now at 30 percent, down 2 percent from a year earlier. In a big jump, spirits lurched from 20 percent preference in 2016 to more than 26 percent in 2017.
Take 325 and multiply it by 62 percent and we get 201 million people who drink alcohol. Thirty percent of those — 60 million — prefer wine. Are you with me? OK.
Each Cabernet Sauvignon grapevine can produce about 6 pounds of grapes (caveat: for those farmers in the Napa Valley, I know that such a vine might only produce 2 to 3 pounds, but remember, most of the planting is in the Central Valley, where they might average 8 or more).
It takes about 2 pounds of grapes to make one bottle of wine, so that makes about three bottles per vine. There were 7 million vines of Cabernet Sauvignon sold/planted in California in 2017, which means there will be roughly 21 million extra bottles of Cab coming onto the market in the next three to four years.
Well, Tim, you say. That doesn't sound like too big a stretch, about a third extra bottle of Cab per wine drinker per year. But, remember that just over half the wine drinkers prefer red, and you also need to consider that for the last half-dozen years this planting trend has been about the same and now you are up to nearly a few bottles of extra wine.
But wait, aren't at least some of these newly planted vines to replace older vines? Sure. But those older vines were likely not Cabernet Sauvignon.
There will be more Cabernet Sauvignon flooding the market just as wine consumption is slowing, as is the recent slowing rate of consumers rushing to purchase wines over $20. This is at the same time that a shifting of preference toward spirits and legal marijuana are growing. Also, if you think that exports might help out, Rabobank is reporting that the sale of exported American wine was down by 11 percent in 2017. Couple these downward forces on wine consumption with instability in the market and you have a recipe for — if not disaster — then some pretty strong competitive pressures.
The Napa Valley is poised to feel the pain more than other growers in California because as the price of Cabernet Sauvignon grapes increases per ton so, too, does bottle price, pushing even more consumers away.
So there you have it. Yes, if you are a grapegrower in the valley at the moment, things are looking rosy and you probably have just planted more than one vineyard over to Cabernet Sauvignon. The bank lent you the money based on projections of ever-increasing prices and the winery you sell your fruit to just can't get enough for now. If that describes you or someone you know, I recommend taking a breath and doing some math. You might also want to look back at the history of the Napa Valley's grape market. Think 2008, late 1990s or the early to mid-1980s and let me know what you find — I am all ears.
Be the first to know
Get local news delivered to your inbox!