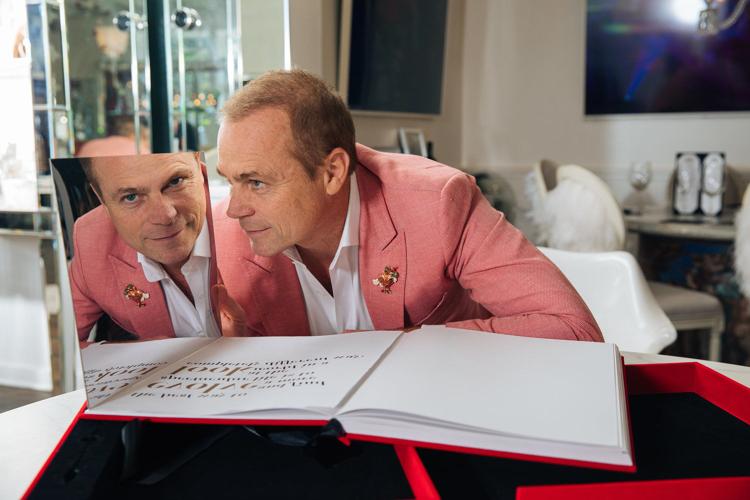 1. The chemistry of the Middle Ages and the 16th century, now usually connoting the pursuit of the transmutation of baser metals into gold and the search for the elixir of life.
2. A seemingly magical process of transformation, creation, or combination.
The Oxford English Dictionary
Jean-Charles Boisset, the Napa Valley's ebullient Frenchman, often seems like the magician of the valley. One never quite knows what he will produce next: a wine, a museum, jewelry, a bubble-filled tasting room, candles, perfumes, an atelier filled with sumptuous foods and angels painted the ceiling, a winery for dogs.
This time, it is a book, done in the inimitable Boisset style — lavish. wildly imaginative and slightly larger than life, or, at least, larger than the average book.
The Alchemy of the Senses, arrives in a black velveteen box, about one meter square and weighing in at 10 pounds.
Inside the box is an enormous red velveteen book, the title and author in gold letters. It's accompanied by a delicate gold pendulum, in its own compartment in the black box. The first inside pages are flocked leopard skin.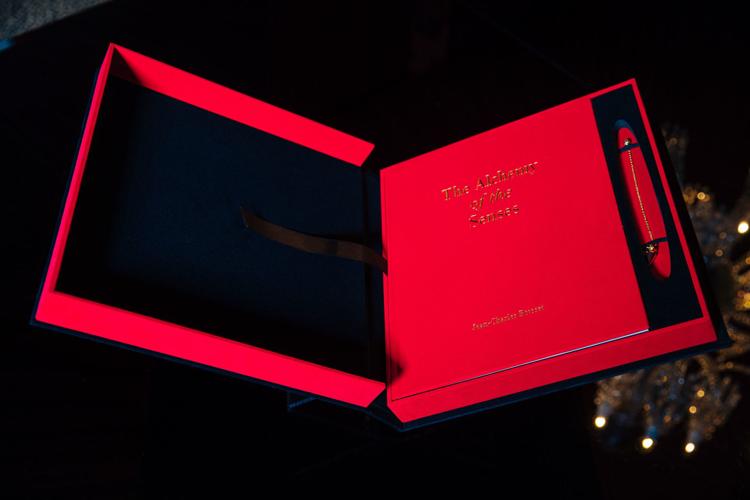 The next pages, in gold letters on shiny black paper, describe the vision of the book: "to enlighten, inspire, surprise and transport people to destinations they've never before imagined."
Three years in production, "The Alchemy of the Senses," is really the work of a lifetime, Boisset said as he embarked on a book tour.
He had long had it in mind to write a book about wine, he said, and he promises that after reading the book, "a glass of wine will never again be just a glass of wine."
As with many things Boisset, wine is just the starting point — in this case for a phantasmagorical flight with Boisset as the guide.
"Wine is the foundation on which it is built," Boisset said, and in "The Alchemy of the Senses" he writes, "Wine is the transformative elixir that transports us into another dimension,"
"The Alchemy of the Senses" is a kind of kaleidoscope in book form, a magical mystery mix of autobiography, philosophy, metaphysics, and recipes.
Boisset explains: "This book will challenge you to explore your fantasies and their unlimited possibilities."
Like a fantastical pop-up book for grown-ups, it includes mirrors, secret messages, a Ouija board, and special pockets (in this case to containing tabs with different scents, and those always amazing lenticular images, the ones show two different photos depending on how you tilt them.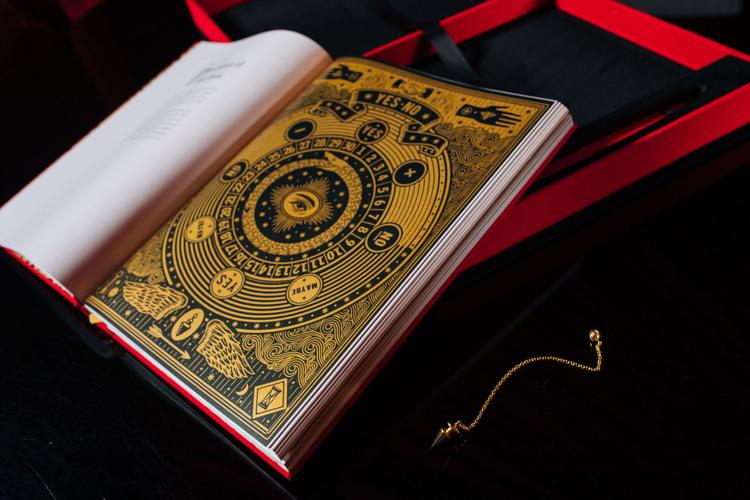 You have free articles remaining.
On one page, you are reading about Boisset's charming and influential grandmother, who kept a pendulum with her. Farming advice, Franco-American relations and the importance of cheese are covered in between other pages that are filled with mysterious, elaborate drawings in black, gold and red, that evoke medieval-renaissance works: the houses of the zodiac, bubbling flasks on ancient flames, madonnas, rabbits and staring eyes.
You will also find gold paper pockets with samples of scents, and even at the end a postcard to share your own dreams as you've discovered them, preferably while sipping a glass of wine.
But with a price of $395, (discounted for wine club members), the question arises: who is this book for?
"It is really a work of art," explained Patrick Egan, Boisset's assistant, who confirmed, understandably, that the production costs were considerable.
But with the possibility of a paperback version a doubtful option, it seemed worthwhile to ask Boisset if this means that his message — to fully embrace all the senses, to dream and discover the full gamut of passion — is only for those wealthy enough to buy his book.
"No," he said emphatically, adding that there are many ways to discover and explore the ideas he presents; for example through activities organized for his book tour in the U.S. — not your ordinary book signings.
The Last Supper Dinner
Running throughout this multi-faceted book is the question of "the meal I would want to enjoy if it were my last on earth." Boisset asks, "What would your last meal be?" And he shares his own menus and recipes for "the creation of the most decadent feast of all time (that) brings together all the gracious elements of our galaxy. This fairy tale of the senses expresses the entirety of the human spirit: folly, mind, dream, heart, taste and the overall dialectic experience."
His ideas are shown in giant photographs of exquisite foods, wines and roses, and a giant, fold-out centerpiece illustration shows the people whom he would invite to his Last Supper meal — an eclectic group that includes Salvador Dali, Thomas Jefferson, Lady Gaga, Gandhi, Mickey Mouse, Christopher Columbus, Martin Luther King, Mother Teresa, and Walt Disney and his wife, Gina Gallo.
Boisset hosted his first Last Supper dinner and book launch at his home on Wappo Hill in Napa. It is a palace of surprises, a Surrealist art museum in which one might find an octopus-shaped chair, a stuffed lion, and faux tiger skin hassocks beneath drapes of purple velvet, fake swan and many chandeliers.
For the evening, it had been transformed into stations of the senses: for sound (music by the grand piano upon which sat a wine bottle in bondage), touch (a collection of furry things), smell (object to sniff, including Boisset's new perfumes), taste (circulating servers with platters of prawns, oysters and quail) and sight (anywhere you looked, including two tables, one of Baccarat crystal and one of Boisset jewels).
Guests were encouraged to explore before sitting down at tables around the indoor pool to a dinner of quail eggs with caviar, delicate fish, wagyu beef, fabulous cheeses (French), and chocolate drenched eclairs, all accompanied by Boisset wines, both French and domestic. These included a Domaine de la Vougeraie Clos de Vougeot Grand Cru from his family's Burgundy vineyards, which, oh my, which could make you believe every extravagant thing Boisset says about wine. Boisset had designed Baccarat glasses, used for all the wines.
It was a heady mix that reminded this reporter a bit of the last days of the Roman Empire, but it should be noted that no one was fed to lions and no one fell in the pool.
In the center of the room, "The Alchemy of Style" rested on a pedestal, that brought to mind, "Fantasia" and Mickey Mouse as the Sorcerer's Apprentice, sneaking a peak at a volume of arcane knowledge, mysterious secrets.
Opinions to just exactly what the book is, one suspects, will be a varied as the people who open it and turn the pages.
"Sometimes, the best way to evolve and find a more spectacular way of life is to look at the world in a completely different way," Boisset writes.
But one thing emerges from the gold and velvet: magus or not, Boisset certainly knows how to have a good time.