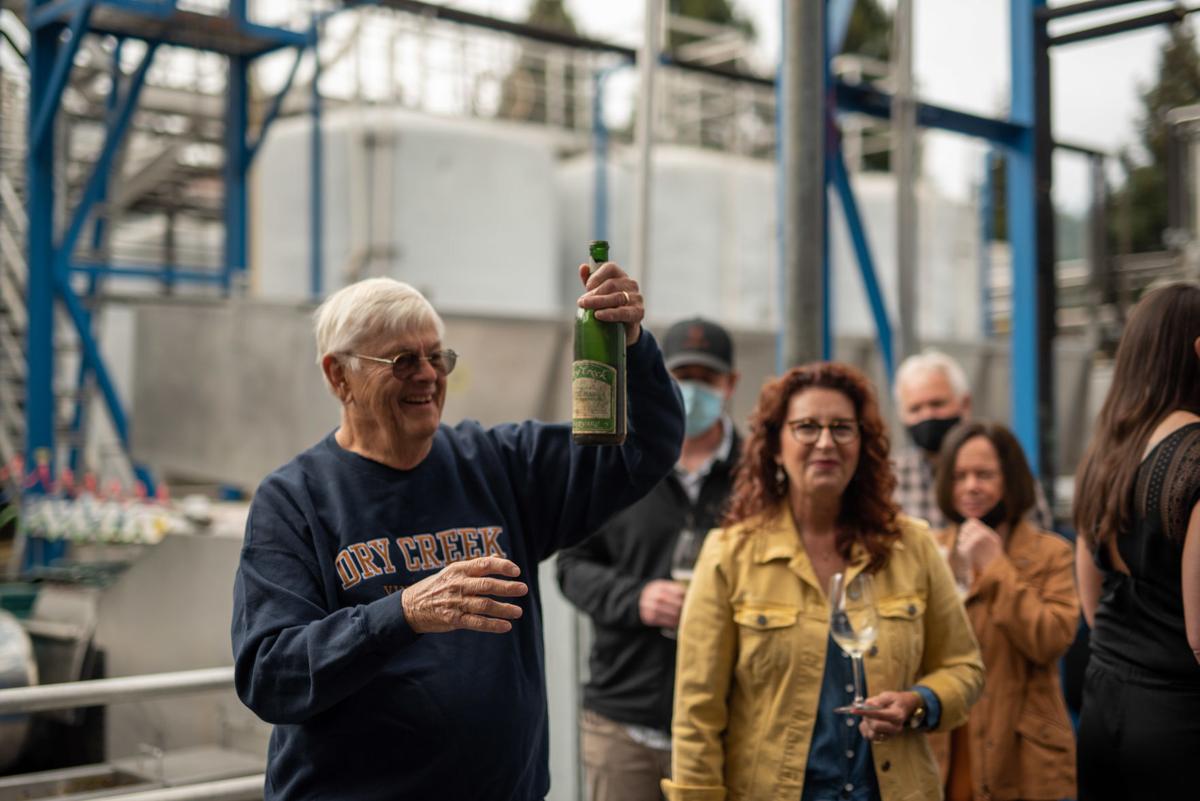 HEALDSBURG — Dry Creek Vineyard started out as little more than a dream for David Stare, a graduate of MIT who had a passion for the white wines of the Loire Valley.
Stare and his daughter, winery president Kim Stare Wallace, and nearly 40 winery personnel gathered on the crush pad here on Wednesday under leaden skies to celebrate the 50th harvest of one of the nation's top producers of Sauvignon Blanc and numerous other wines.
The festive occasion started with a celebratory toast with the obligatory sparkling wine (Roederer Estate; Dry Creek doesn't make a bubbly) and then Stare spoke briefly about that first vintage.
He said he used a nearby grower's Sauvignon Blanc fruit since his own vineyard had yet to bear.
Also on hand was winemaker Tim Bell, who said the 2021 harvest has begun auspiciously. Not only is the crop of moderate size, implying high-quality grapes, but the weather for the last two weeks has been extremely mild, especially during the mornings.
The grapes that were dumped into bins at 9:45 a.m., headed for the presses, had been harvested about 3:30 a.m. during a cool night of temperatures in the high 50s. The rest of the morning was overcast and very cool, a far better situation than had existed earlier this month when morning temperature rose quickly.
To make the best quality wine, grapes ideally should come into the winery while they are still very cool. Grapes that warm up quickly potentially could interfere with the fermentation, producing unwanted flavors and aromas.
Stare commented about his first vintage of Sauvignon Blanc grapes in 1972. The vintage turned out to be an almost complete disaster for the red wines that are later harvested. Late rains were devastating for almost all reds.
"But almost all the whites had been harvested by then, and it was a very good vintage," said Stare.
"We didn't have a winery yet," he added, "so we (processed) all of our fruit over at Cuvaison (in Calistoga)," one of few facilities in the Napa Valley that had space for other wineries.
That first day of harvest in 1972 for Dry Creek also turned out to be a logistical headache at Cuvaison because not only was Cuvasion winemaker Tom Cottrell also making wine that day, but two other Napa Valley wineries were there as well — Spring Mountain with its winemaker, Chuck Ortman, and Clos du Val, with owner-winemaker Bernard Portet.
Dry Creek's first Fumé Blanc (which was and remains 100% Sauvignon Blanc) was made from fruit grown by Joe Rochioli. That wine had only 12.9% alcohol. Because Stare wasn't entirely sure what style he would eventually make, the wine was aged for two months in new American and French oak barrels.
Before pouring that bottle of 1972 wine into the hopper, to be incorporated as a tiny fraction of the 2021 wine, Stare, his daughter, Bell, and several others tasted the ancient white wine, to see how it had held up.
"You can actually tell what varietal it is," said Wallace, who admitted that the oxidation level was just a bit high — not really a surprise for a 50-year-old white wine that was never intended to be aged this long.
However, the varietal flavors in the mid-palate and aftertaste were surprisingly interesting.
Wallace said the 2021 Fumé Blanc, when it finally is released, will be in a dramatic commemorative package that features a label that incorporates both the modern-day label as well as a depiction of the original 1972 label.
Dry Creek's 1972 Fumé Blanc actually was the second wine the winery released. The first was a 1972 Chenin Blanc, another white wine that reflected Stare's passion for whites of the Loire Valley.
"After I released that Chenin Blanc," said Stare, "I went to Sacramento to see if Darrell Corti (then California's premier wine merchant) was interested in it," Stare recalled. "He asked me how much it was and I said it sold (at retail) for $3.25.
"And Darrell said, 'No Chenin Blanc is worth that.'"
Wine of the Week
2020 Dry Creek Dry Chenin Blanc, Clarksburg ($15) — Melon and kiwi fruit aroma, and just the barest amount of sweetness marks this gorgeous dry white wine that has been in the winery's lineup for 50 years. Several years ago, Stare found that Clarksburg in the Stockton Delta grows some of the state's finest Chenin fruit. This wine is often discounted.
Catch up on Napa County's top news stories
Get unlimited digital access to the Napa Valley Register for just $1 for your first 6 months! Enjoy every article without restrictions and find tons of subscriber-only perks, such as access to our daily eEdition. Click here for details!
Dan Berger lives in Sonoma County, Calif., where he publishes "Vintage Experiences," a subscription-only wine newsletter. Write to him at winenut@gmail.com. He is also co-host of California Wine Country with Steve Jaxon on KSRO Radio, 1350 AM.