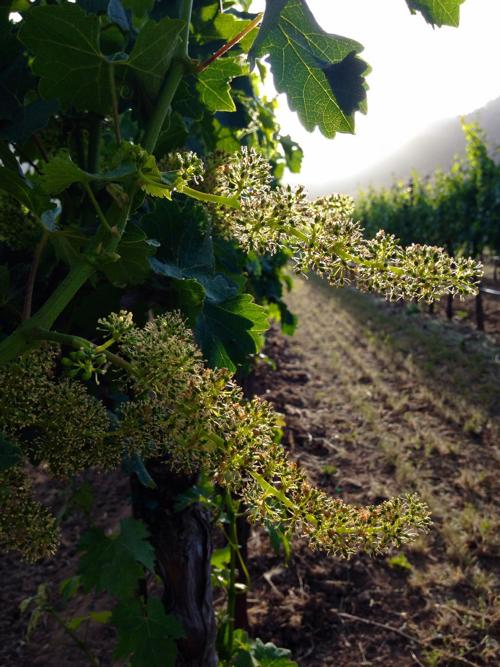 An early bud break followed by warm weather and spring rains brought a rapid start to this year's growing season in Napa Valley.
Tiny flower clusters emerged from grapevines marking the bloom period in which grapevines become pollinated and fertilized allowing these flowers to eventually become grape berries.
Grapegrowers are pleased with what they are seeing thus far. "The 2016 vintage has taken off at a fast and furious pace," said Brittany Pederson, viticulturist at Silverado Farming Company and a member of the Napa Valley Grapegrowers (NVG). "With recent and semi-regular light rains this spring, rapid shoot growth is more than consistent throughout the valley in all varieties. Bloom is well underway in most varieties as well and moving into set and BB-sized berries in some early varieties."
Matt Reid, winemaker at Benessere Vineyards and NVG member, agreed. "Our vineyard is looking beautiful after the recent rain. We had a very early bud break, when the vines emerge from dormancy and new shoots grow. Abundant March rains have led to vigorous growth, and maintained a full soil moisture profile."
During these critical early stages of berry development, grapegrowers are busy actively maintaining vineyards by managing vines, fertilizing, preparing irrigation and treating the soil.
In order to regenerate the soil and set the vines up for success, growers have planted winter cover crops such as legumes and grasses. These are then plowed under in spring so they don't compete with the vines for soil moisture later in the season.
"We mowed and disked in our cover crop of favas, peas and fescue to reduce competition for that water, and now we are watching the end of the bloom period. Sangiovese was our first variety to bloom. Merlot and cabernet sauvignon are finishing now," Reid said.
Shortly after bloom, grapevines enter a stage known as fruit set in which the hundreds of tiny fertilized flowers form berries. Only a portion of these flowers will develop into berries. The vines naturally drop many of their flowers, keeping only what its available resources can support without risking the survival of the plant. Other factors can affect fruit set in grapevines as well such as unfavorable weather (low temperatures, rain and wind), water availability and essential mineral nutrients.
"Fortunately, the gentle rains we had during this period did not harm the flower clusters, and the set has been great," Reid explained. "We expect a larger crop than in 2015, and it is looking to be excellent."
Looking ahead, Pederson added, "It's still a little too early to guess on vintage yields with bloom still lingering, but it won't be long."