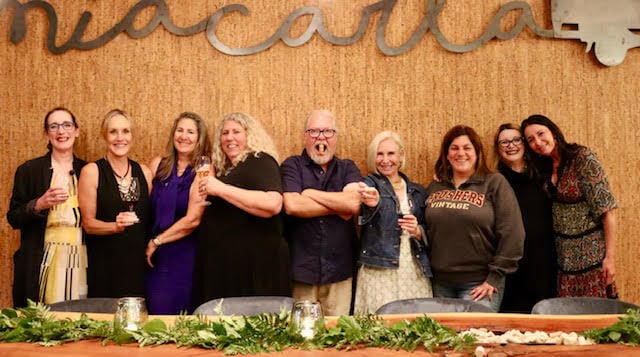 Before you roll your eyes and ask, "Not another tasting room in downtown Napa?" I'd like to share my own observations. 
Mia Carta, the newly opened collective of premium, small-lot, Napa Valley family-owned and operated wineries, offers the opportunity to discover six lesser-known producers of wines from Napa appellations. With the active participation of the winery owners themselves, guests have the opportunity to visit with the creative individuals behind the wine glass.
And a "room" is one thing, but a "lounge" is something else. In the Mia Carta lounge, one can truly sit and enjoy in a relaxed, and almost lazy way. It's easy for time to pass quickly in the easy,  sensory vibe.
Designed by the Interstice architecture firm, the venue itself is worth a visit. Preserved and exposed brick from the original 1914 structure is surrounded by a three-dimensional two-story milled walnut wall map of the city of Napa, 15-foot stamped tin ceilings and a floor-to-ceiling corked wall.
Soundproofing behind the metal ceiling adds to the relaxation quotient, as does the warm lighting. Striking photography and artwork, contributed by Napa artists Dona and John Bonick, sets a tone of depth and creates a mood that works perfectly.
The folding glass window façade creates an indoor-outdoor, open-air feel for guests who can mingle at the oversized handsome communal table or one of their private tables. The refined wood details of the lounge add warmth to the inviting experience, including the full-length walnut tasting bar. A private tasting room is also available.
Modern technology adds to the comfort and wellbeing of guests, with the interior air filtration system that passes through both HEPA and a UV sanitizer. The Crysalli water system is another area of sustainability, supplying both sparkling and still water without having to use disposable bottles.
What immediately catches the eye in the tasting lounge is "Millie," sitting centerstage. Millie, a vintage Piaggio "Ape del Vino" (wine bee), was born in the 1970s on the streets of Italy and retrofitted as a mobile bar, able to serve wine on tap at special events. Millie will soon be "on-call" for activities beyond the lounge.
The vintners
What strikes me about the vintners in the group is their genuine support of one another. Having had the opportunity to meet most of the participants in the past, I realized that this was a special group of collaborators.
On a visit to Mia Carta, I'd be tasting the wine of one of the group and they were making sure to tell me about another friend they had that also made amazing wine, and an introduction would be made.
The tasting lounge itself may be new, but the friendships are not. What you can't help but notice when you get these folks together is the spirit of community they share.
From Sciandri Family Vineyards, in the Coombsville region, annual production is roughly 30 barrels. Estate grown Cabernet Sauvignon, Coombsville Cuvee, Rose, a field blend called "Nello" and a Savignon Blanc make up their portfolio. Producers since the early 1990s, and with their own label since 2006, the family likes to say that their hope is "that their wines be used as a vehicle to bring together family and friends for years to come." With ancestors making wine for generations, Sciandri strives to bring this history to their wines.
Ilsley Vineyards has seen four generations of farming and more than 100 years of history in Napa Valley. The Ilsley estate wines are perfect examples of the beautiful balance of Stags Leap fruit. The Ilsley family hopes that their wines will carry their family legacy into your cellar. With Cabernet Sauvignon, Reserve Cabernet Sauvignon, and Seis Primas (blending Malbec, Cabernet Sauvignon, and Merlot), at Ilsley Vineyards, the label "Family Winery" isn't a marketing strategy, it's their way of life.
In 2017 an energetic and enthusiastic group of friends based in Calgary, Alberta, Canada, with a deep affection for the wines of Frank D'Ambrosio's Essere Napa, purchased the winery.
With backgrounds in business, science, engineering, and marketing, the enthusiastic team focuses on producing great wines from great grapes grown in the Oak Knoll, Yountville, and Coombsville AVAs.
The founders behind Mia Carta believed that their community-driven approach and friendships with all of their fellow vintners reflect the true essence of Napa Valley. "Great wines, great friends, laughter and Essere Sani (be healthy)."
At Rarecat Wines, Sharon Kazan Harris combines the American sensibility and love of the land with a Bordeaux palate and a winemaking education focused on Old World traditions. A graduate of the University of Bordeaux oenology program, Harris builds on a philosophy of a joie de vivre life and the joy of people connecting around a table with a glass of wine. In addition to Rarecat Napa Valley Cabernet Sauvignon, visitors may also taste a Cremant de Bordeaux, St. Emilion Grand Cru and the very fun cocktail, "Garneto," with sparkling wine and an orange slice.
Lisa Redmon has lived in the Napa Valley for almost 50 years, and her dedication to helping people discover the wines that they will like best comes from personal experience. Having grown up in a household where wine was never on the table, she came to the world of high-end wines as a beginner herself. Her first vintage was in 1999, created from fruit grown on a property her father purchased on a whim. Two decades later, Redmon wines produces Chardonnay, Merlot and Cabernet. Sharing her wines and her history is her way to express the love she feels for the place she was raised.
Last, but certainly not least, you'll also have the opportunity to discover Art House Wines, if you haven't already. The aforementioned John and Dona Bonick have their wine roots solidly planted in the terroir of the Carneros.
Their description says it best, "that weird and wonderful region at the south end of the valley known for its cool air, the steady cycle of sun, moon and fog. A wine region like no other. Its unique climate offering a perfect space for creating intuitively expressive wines." They have truly discovered a way to merge their artistic passions and their love of great wines, including Pinot Gris, Rose, and Pinot Noirs.
Mia Carta is not just for visitors to the Valley who want to get off of the typical tourist route, it's a place where locals will feel at home. Where friends and family can meet and where the legacy of the Napa Valley is important to share.
Even if you wander in just to check out the fascinating three-dimensional hardwood wall map, and meet "Mille," plan to stay and lounge around and enjoy a glass of wine at 1209 First St., Napa. You'll be glad you did. These folks are fun.
As they are known to say:
"That's a terrible idea. When do we start?" – Shaun Mesher, Essere Wines
"Artists drink way more wine than vintners buy art.".– John Bonick, Art House Wines
"Italian's not just my heritage. It's my attitude." – Rebecca Sciandri, Sciandri Wines
Catch up on Napa County's top news stories
Get unlimited digital access to the Napa Valley Register for just $1 for your first 6 months! Enjoy every article without restrictions and find tons of subscriber-only perks, such as access to our daily eEdition. Click here for details!