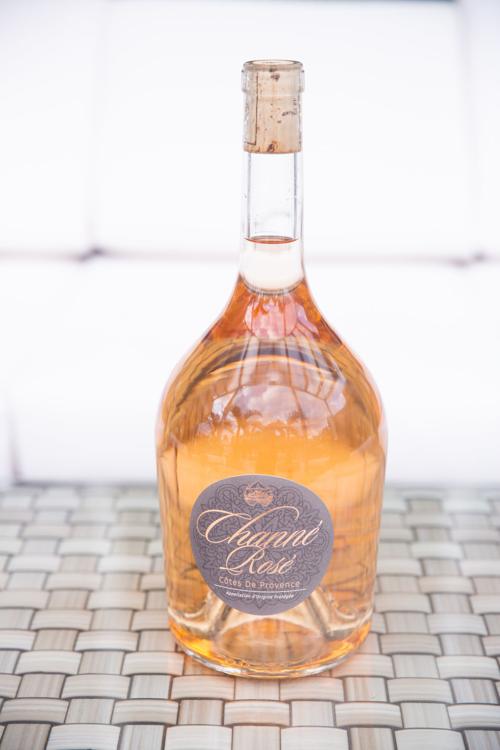 Wine grapes cannot be cultivated in Florida, but that wasn't going to stop entrepreneur Kavita Channe from trying. The London-born sportscaster of Indian descent relocated to Florida as a young woman, where she initially pursued a career in front of the camera and interviewing celebrities for Miami red carpet events.
But she felt something was missing: Her adopted home needed a wine of its own.
"My love of wine began with my parents. They even started a wine club and would save corks and labels from all over the world," said Channe of her formative experiences in England. "Their exposure carried through to my sisters and I, so we were the kids in college enjoying a glass of red instead of a rum & coke."
Channe was working the sidelines of Jacksonville Jaguars games and contributing segments to ABC's all-female "The Chat" when she took a trip to France, Italy and Monaco. It was there and then that she fell in love with rosé.
"Prior to this, I just thought of rosé as a 'pink drink.' I wasn't a huge fan," Channe now says. "After tasting true French rosé wines, I was sold. I knew I wanted more of that here in the States."
But making rosé in Florida's humid climate, with seawater all but assured to seep into any grape roots, was impossible. To make her "Florida rosé," Channe would have to make it in France and then import it to the Sunshine State. Accordingly, she sources the juice for her Channé Rosé from Grenache, Cinsault and Mourvèdre grapes from Côtes de Provence, situated 40 kilometers outside St Tropez. The grapes are grown in soils comprising clay and limestone, which gives rosé its specific taste profile.
"In 2017, I went to France and met with over 100 winemakers and found our match," Channe said of her brand. "We would joke about my last name rhyming with 'rosé,' and one day it just stuck."
Furthermore, Channe was certain she wanted to source grapes from France versus California, Oregon or Washington.
"The color from those [Western] regions is too rich and dark" for what she was seeking for her own rosé, she said. "France is still far superior in that varietal, in my opinion."
Channe decries labeling rosé as little more than "a pink drink for women." Instead, she prefers to think of it as "red wine in white wine clothing."
"Our recent vintage is made from all red grapes, so it really has a wider appeal than wine drinkers realize," she said. "White wine drinkers love chilled wine, which rosé is, and red wine drinkers love red wine — which rosé also technically is."
When meeting with the French winemakers, Channe told them it was her mission to make an everyday rosé that could be enjoyed with a meal or without. Channe said her rosé can be enjoyed just as easily with steak as oysters or lobster.
"Lobster Bar in Fort Lauderdale and Miami pairs Channé Rosé with steak tartare parisienne as well as broiled New Zealand lamb lollipops," she said of just one such example of Florida cuisine marrying with her wine.
Despite being the brand's founder, Channe said that she will often be mistaken as a mere spokesperson when pitching her product to restaurants and shops. Much of this can be chalked up to sexism, she believes, adding that when she worked as a broadcaster, another male-dominated industry, she encountered many "doubters" there as well.
"As a female entrepreneur in business, there were doubters. Being a female in the winemaking industry, there are doubters. Does it bother me? Yes," she said. "Sexism is a real thing [but] I choose to focus on achieving my goals more so than what others think of them."
"It makes me so excited when I see young girls coming up with amazing ideas to change the world and to start businesses. And I'm sure this comes from seeing female role models achieving big things," she said.
This mission statement is important to Channe, who has children of her own. She envisions a future where biological sex will be unimportant for any type of vocation.
And on that score, Channe said there's no reason that men too can't enjoy rose, which still carries a stigma as being a "woman's drink."
"Rosé is actually rather sexy in the hands of a man," she said, adding in her Londoner patois, "and it's bloody delicious."
Channé Rosé was awarded a silver medal in the 2018 vintage category at the Concours Général Agricole, managed by the French Ministry of Agriculture and considered one of the world's most important wine competitions. Channe said there are only 200 cases of this award-winning vintage, made with 60 percent Grenache and 40 percent Cinsault. Channé Rosé was one of about 4,000 wines submitted from the Provence area, of which only 334 earned medals.
Channe currently retails her wine in Florida and Georgia through her distributor, Republic National. She is hoping to expand to more states as well as engage in direct-to-consumer sales.
"I love when I see people — male or female — go after their dreams without letting their fear of failure paralyze them," Channe said. "This is our life to live and experience and enjoy."