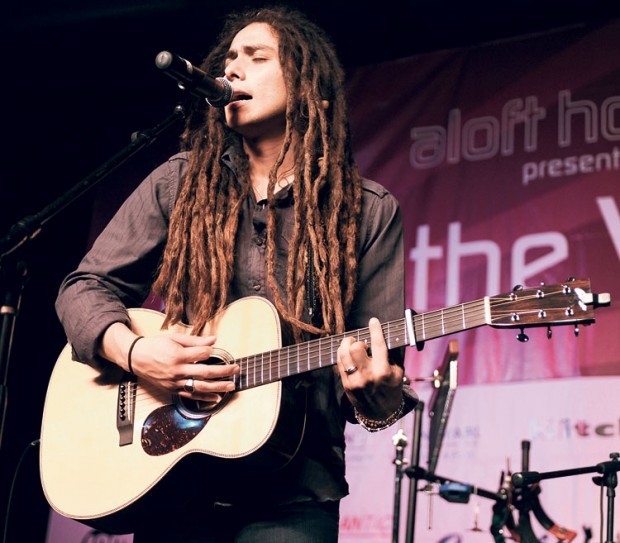 A few years ago, Bobbii Hach-Jacobs phoned good friend and fellow record promoter Claire Parr from wine country with a rave review of her visit.
She was enjoying an "incredible" food and wine pairing at Chalk Hill Vineyards and wanted to share the experience with her longtime record industry associate.
The setting was perfect, Hach-Jacobs informed her friend, and the wine-themed dinner couldn't have been better. "I'm in heaven with one exception — there's no music," she recalled telling the person on the receiving end of the call.
That experience, that brief conversation, eventually served as catalyst for launching a new promotional effort the two women call "Live in the Vineyard."
Held twice a year in the Napa Valley, "Live in the Vineyard" is a private, quite exclusive music showcase that spotlights both emerging recording artists and already established marquee bands.
Conducted for a maximum of 250 invitees, performances take place at Silverado Resort and, on a scaled-down basis, at wineries throughout the valley.
Tickets for the intimate gatherings can't be purchased. They must be won through radio station promotions and online contests, as well as through special promotions conducted by title sponsor, Aloft Hotels. The hotel group also promotes a giveaway on Facebook.
Prizewinners are flown here for a weekend, housed, fed and invited to a series of performances and events that spotlight music and promote Napa Valley and its wines. Although a number of winemaking operations support the effort, Miner Family Vineyard was the only cellar on board when Live in the Vineyard was launched nearly three years ago.
While various bands will appear for mini-concerts at Aloft properties throughout the year, the main showcases are held here every April and November.
Last weekend, headliners performing stripped-down acoustic sets at Silverado Resort included Train, Theory of a Deadman, Macy Gray and Backstreet Boys, with rock royalty's Melissa Etheridge performing abbreviated sets for two small groups assembled in the wine caves at Miner Family Vineyard on Monday afternoon.
Also on the bill were American Idol runner-up Jason Castro — who's just released his first recording and launches a five-week tour this weekend — retro Motown stylist VV Brown from London, Norwegian singer/songwriter Marit Larsen, Canadian singer/songwriter/guitarist Serena Ryder, New York-born singer/songwriter Ryan Star and reactivated rock band Tonic, which will release its fourth album next month.
Bobbii Hach-Jacobs isn't the only wine enthusiast on board at Live in the Vineyard.
Her partner, Claire Parr was married in the caves at Pine Ridge Winery 15 years ago, with a post-nuptials reception focusing on recent releases and library wines from the Pine Ridge collection.
Both record promoters for a variety of labels over the past two decades, the two women said Live in the Vineyard grew out of a desire to add some rock 'n' roll to the Napa Valley music scene — a valley both of them enjoy visiting as often as possible from their respective homes in Colorado and Texas.
Self-described as "the ultimate soccer moms" and "winos," Parr and Hach-Jacobs said they've been consulting for and promoting a number of up-and-coming rock acts.
"But we've also been promoting the Napa Valley along with these bands in 95 markets around the country," Parr advised during a break in the music last Sunday night. "We're aiming for the 25-54 demographic. Primarily, we've been promoting all aspects of Live in the Vineyard and the contests on 95 radio stations from coast to coast (including several in the Bay Area). And we lucked out by having Aloft Hotels join us as title sponsor."
"This event ties into our target customer DNA," added Brian McGuiness, senior vice president of Aloft Hotels, a recently launched division of the Starwood Hotels & Resorts group. "Music is part of our overall guest experience."
You have free articles remaining.
McGuiness was in Dubai last year, opening up a new property, when he learned of Live in the Vineyard. "I flew into the Bay Area and attended as a guest last year," McGuiness said. "I felt this venue is amazing — Napa Valley is spot on — we needed to be part of this."
While there's no Aloft hotel here (although Napa's Westin Verasa is one of Starwood's holdings), McGuiness was still interested. "This event is dynamic enough — we don't have to have a property here to be a part of it." He did reveal that the firm is investigating the possibility of locating an Aloft property near San Francisco International Airport in the near future.
McGuiness is pleased that cross-promotional events, such as concerts throughout the year billed as Live at Aloft, keep the hotel brand associated with the current music scene.
"We're pleased to be a presenting sponsor because this is the music that's enjoyed by our guests — it's our target market. 
"These are the right partners. We're the right hotel brand. This is the right location and these are the right artists."
While Aloft Hotels helps to underwrite costs associated with the intimate music showcase weekend, one had to wonder about artists' fees. According to the Live in the Vineyard founders, the performers' record companies take care of the artists as part of their respective promotional budgets. Most of the artists that performed here last weekend, for example, have a new recording set for release at present.
Dave Miner first learned of Live in the Vineyard from a wine club member who worked for a record label.
"He knew Bobbii and Claire because they'd helped promote his artists," Miner said in his winery office following Melissa Etheridge's performance earlier this week. "He knew we're big music fans, that I'm into guitar big time. So he told Bobbii and Claire and they approached us about getting involved.
"It sounded like a lot of fun and it would help promote more music in the valley. I was impressed that they had a lot of passion (for music and Napa Valley)."
Miner Family Vineyards has taken part in all five Live in the Vineyard showcases to date and, for the first time, hosted a small music showcase at the Oakville district winery. "This is the first time we've actually had performances in the caves," Miner noted, "although we've poured wine every time. In addition to Melissa Etheridge playing here, we had a small gathering for record company executives and VIPs where Jason Castro and Serena Ryder performed."
In addition to Miner, other wineries that signed on early and have provided event support include Spring Mountain, Pride Mountain, Viader, Trefethen, The Girls In The Vineyard, Faust/Illumination and Diogenes.
Taking part in last weekend's tasting program in addition to the founding winery and aforementioned producers were Trinchero, Leviathan, Nicholsen Jones, Pahlmeyer, Domaine Chandon, Hartwell, Regusci, James Cole, Myriad, Etude and Yates Family Vineyards.
The producers said that Napa's ZuZu Restaurant had also signed on early as an event supporter, and that restaurateur/chef Greg Cole gave last weekend's guests a cooking demonstration during their stay.
Music lovers invited to Live in the Vineyard are winners of contests conducted on radio stations around the country. Participating in the program in this area are four radio stations — San Francisco's K101; KMHX (104.1 FM) and KSXY (98.7 FM) in the Santa Rosa area; and in Sacramento KZZO (100.5 FM).
Live in the Vineyard returns to Napa Valley with a new artist roster and 250 more lucky music lovers come November.