Napa Valley is full of transplants from all over the U.S. and beyond who have relocated for the pursuit of grapes. But how did a team of guys from everywhere but Napa come to settle here to make spirits, not wine?
They wanted to be close to wine barrels.
"As I was developing the idea for a distillery, I was looking for the place that would have the best access to high quality barrels," said Loch & Union founder Colin Baker.
If it seems odd, that's because it is. Loch & Union is using wine barrels to age whiskey, something that they haven't seen done in the spirits industry before, at least not at this level. Many distilleries use lower-quality wood barrels, which are often completely charred over the fire, not toasted. Baker has chosen instead to source both new and once-used French and American oak barrels from high-end wineries and local coopers. The latter can be found right next door to their American Canyon facility.
"So much of the character of the whiskey comes from the wood. Why wouldn't you use the best wood you can possibly get? The wine industry does and they treat it so well," said Baker.
"Aging in wine barrels is something that no one is really doing 100 percent," said chief distiller and winemaker Gian Nelson. "Sometimes they'll finish the whiskey in a wine barrel, but we're doing it 100 percent in wine barrel. To us, what's really going to be fun is the marriage between the whiskey we put in, and the wine flavor profile that might come off the barrel."
Loch & Union is one of two distilleries currently operating in Napa Valley. The other is Napa Valley Distillery. The first distillery to open locally since Prohibition, they are a much smaller craft production and unlike Loch & Union, have two locations where they can host tastings. But just as breweries seem to be popping up left and right in Napa, Baker said there's not only room for spirits in wine country, but that they also pair well with the region's dominant industry.
"I think it complements what we already have in the valley, especially with us using wine barrels," said Baker. "It's something that can still be related to the wine industry, and we take a lot of inspiration from the wine industry and winemakers."
Part of that inspiration is coming from Napa Valley's history of disrupting old world wine traditions. The team at Loch & Union is hoping to do the same in the spirits industry by experimenting with new techniques and maybe even paving the way for a Napa Valley version of Kentucky bourbon or Tennessee whiskey.
"Napa Valley has this very pioneering spirit. It's, 'Why can't we do this? We should try this. We can fail,'" said Nelson. "When I jumped on this project as a startup, I was thinking that we can pioneer so many things in our industry in distilling, almost like what Napa Valley did to the wine industry in the United States. We love the old world traditions, but we're definitely more progressive in perfecting those old world traditions."
On quitting is day job
Though Baker is only 31 — and the the oldest on the team of six — this wasn't always his dream or career path.
"In a past life, I used to be an accountant. I really didn't like my job and I didn't think it was right for me. At the same time that I was developing this dissatisfaction for my job, I was also becoming obsessed with home brewing," said Baker. "I thought that I might as well do something I love with my life, so I started looking for opportunities, quit my job, and moved to London to start working at a craft brewery."
In order to stay long-term in the UK, Baker decided to go back to school there so that it would be easier to obtain a work visa. It was at Heriot-Watt University in Edinburgh, Scotland that he took on yet another career change —though this shift was much less dramatic.
"While I was there, I kind of became obsessed with Scotch Whiskey and switched my focus from brewing to distilling," he said.
But he wouldn't end up staying in the UK for long. The concept for Loch & Union was born on a plane home during winter break in 2014. Baker named the distillery after his two favorite spots at Heriot-Watt: the student union and the loch he walked across each day on his way to class. He soon assembled a team of friends and experts from Southern California, Canada, Chicago and Maryland.
"We've got three guys with Masters degrees in distilling, plus a winemaker," said Baker.
Baker and co-founder Matt Myer relocated to Napa and got to work in the fall of 2015. The rest of the team joined in 2016, but it's taken nearly three years to get the American Canyon facility ready for actual distilling, in part because this isn't your average distillery.
The mother of all distilleries
In the same way that the Napa Valley wine industry is constantly pushing boundaries with new technology and building expensive, state-of-the-art winemaking facilities, Loch & Union has built the mother of all distilleries.
The facility includes first-of-its kind process control systems, which enable them to control everything under the sun from one panel, like steam and flow rate in the stills. This includes an ability to monitor water chemistry with a reverse osmosis water system, which not only gives them the quality of water they want so that they don't have to rely on the city's water — water is hugely important in the distilling process — but also helps them significantly reduce their water usage.
"This is basically something that you'd see more often in a pharmaceutical plant, not here, and certainly not in a craft distillery," said Baker. "In addition to the people we have that have the expertise to distill, we have the equipment to support it and the systems to support it."
And then there are the three enormous copper stills, which were custom built in Germany by a company named CARL exactly to the specifications in Baker's own designs. Having three stills enables them to be making whiskey, gin and brandy all at once, without having to switch back and forth, which can mess with the consistency of the product.
"These are something that you really won't see anywhere else in the country, and really, anywhere else in the world, a set of stills like this," said Baker, a self-identified control freak. "A big goal with this distillery is not to just make product, but to be responsible with it. In the long term, it makes sense to make things as efficient as possible. Yes, it does cost a lot more money to have systems like this. But at every point, we had these decisions where we could spend a little more money and do it the right way, or not do it the right way and it wouldn't be as efficient and the product would suffer too."
The goods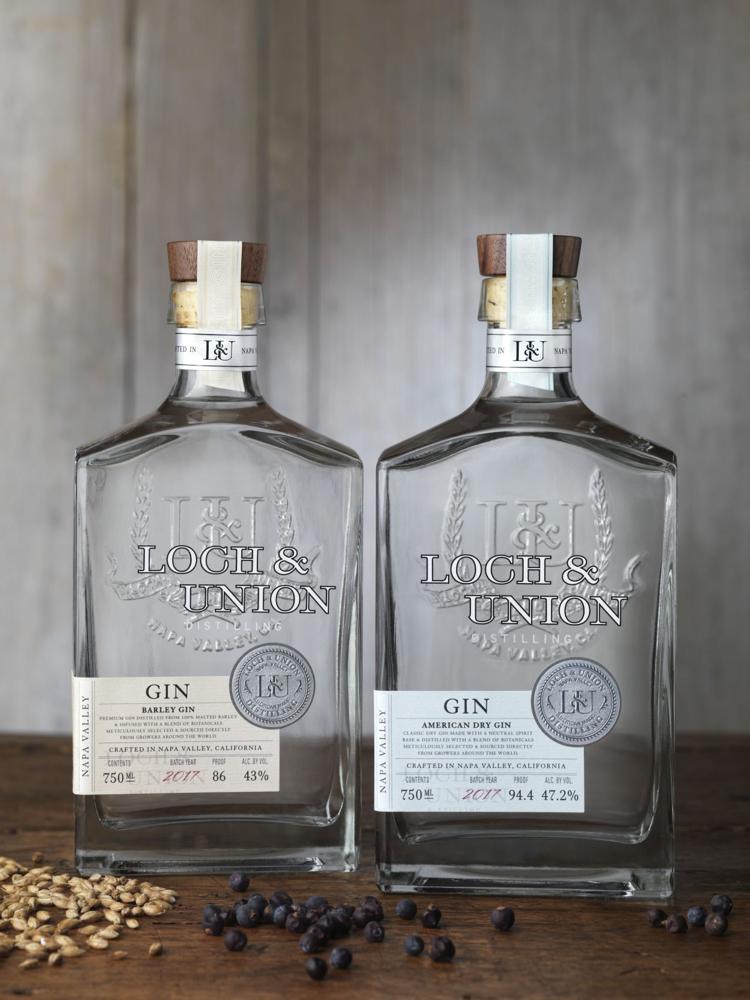 First to market for Loch & Union is a pair of gins, an American Dry Gin and a Barley Gin. The American Dry Gin, like most gins, is crafted with a neutral spirit base. But for the Barley Gin, the team has created their own spirit base made from single malt. This doubles the process, as they essentially first need to make the single malt spirit base, and then make the gin, using the same botanical profile as the American Dry Gin. The result is added complexity, more mouthfeel, a heavier body and creamier characteristics.
Think of the Barley Gin as their reserve wine.
Going back to Baker's "control freak" tendencies, developing their gin recipe of botanicals took more than a year. Their goal was to source the best example of each botanical, so they tested hundreds of samples, both individually and blended with others. In the end, the recipe features 12 botanicals, like juniper, coriander, chamomile and angelica root, from 10 countries.
Locally, the Loch & Union gins can be found at restaurants in Napa Valley, such as Morimoto, Goose & Gander and Napa Palisades Saloon, with more distribution on the horizon.
Currently in production is their whiskey, some of which is already in wine barrel. So far, so good, said Nelson, who is in charge of the barrel program and blending.
"I always try to relate to other industries how we do things, and the way I see our process is how when chefs use fresh ingredients and organic ingredients, it makes a better dish. It's the same with our whiskey," he said. "It's good already, but when you put it in a barrel, it's going to get better. Sometimes when we go to age something, it's to smooth it out, but with ours, we don't believe in that. We're just trying to concentrate those flavor profiles that we really want to be able to blend together with other barrels. It's kind of an opposite reaction for us."
And after the whiskey, maybe brandy, maybe something else.
"We have the capability to do whatever we want," said Baker. "Brandy is something that I really want to get into seriously. We'll do whatever we have fun with. That's the point, that's why we got into this."