There are winemakers, then there is Matt Parish. The former director, officer, and chief winemaker at Constellation U.S., Treasury Wine Estates Americas, and NakedWines.com, Parish has come into his own with a professional life he describes as "a return to my hands-on winemaking, doing it myself instead of managing process and people."
Because of his involvement in multiple winemaking and consulting projects in the U.S. and abroad, as well as family commitments, he is a moving target, difficult to pin down. However, a couple of Zoom interviews, a set of written questions and answers, and an afternoon spent with him and his family revealed the breadth and depth of what it is like to be Matt Parish.
Parish, from New Zealand, has been connected to wine throughout his life through his father, who was in the liquor trade.
"I have grown up in the 'business' with wine always part of the discussion and on the dinner table," he said.
Early on, he spent vacations working in vineyards, warehouses, wine shops, and wineries. During summer vacation after his first year at university, he was working in a wine shop, where "a fun and enticing buzz in the store from customers and staff" lured him into wine once and for all.
Subsequently, he would complete a master's degree with honors in viticulture and winemaking, and his family would buy land and develop their own vineyard, later launching a brand named Dunnolly, with his father, the wine grape grower, and his sister, the winemaker.
Parish began his career working in the vineyards and cellar, then as a flying winemaking and consultant in Europe and Australasia for 10 years until he moved to the U.S.
By age 40, he had been the director and chief winemaker at Constellation Brands and Treasury Wine Estates. He was the chief winemaker and wine officer at nakedwines.com during which time created his premium brand, Matt Parish.
He currently produces and sells around 15 wines through nakedwines.com in the U.S. and the United Kingdom, including a couple of rosés, Cabernet Sauvignon, Cabernet-based blends, Garnacha, Pinot Noir, and Zinfandel, sourcing grapes primarily from the Napa Valley, as well as Contra Costa, El Dorado, Mendocino, Santa Barbara, Montsant (Spain), and Douro (Portugal).
Why did he choose to make and sell his wines through this channel?
"The angel funding is huge and for me, wine should be all about pleasure – not pretentious and stuffy – but good fun and inclusive," Parish said. "The most rewarding part of the job outside of winemaking is hearing and interacting with people enjoying my wines—which is a great feature of the nakedwines.com platform."
In 2016, Parish departed nakedwines.com as an employee and founded Vinture LLC, his consulting business, where he continues his winemaking adventure.
One of Vinture's projects is Anderson Valley's Lula Cellars, where he has been the winemaker since 2017. "I have always loved Anderson Valley Pinot Noir, and when the opportunity was presented to work with a small relatively unknown brand called Lula, I jumped on board," he said.
There, he makes mostly Pinot Noirs, rosé and whites from the Lula Vineyard and Anderson Valley, a Zinfandel from Mendocino Ridge AVA, and a Cabernet Sauvignon from Pine Mountain Cloverdale Peak AVA.
COVID-19 hurt Lula's tasting room and direct-to-consumer business. However, nakedwines.com selected Lula as one of its $5 million COVID-19 fund wineries, a venture in which the company is helping "buoy the efforts of independent winemakers and wineries around the globe," as reported in the April 25 the Napa Valley Register.
Vinture's other major project is Parras Wines in Portugal. Parish works with this large producer to help them "premiumize" and grow their export business in the U.S. and around the world, including consulting on a new state-of- the art vineyard and winery in Alentejo.
As if that were not enough to keep Parish busy, earlier this year he joined Azur Associates as the managing director of winemaking and production.
"Throughout my career, I have always recognized the importance of balancing the art, science, and business for success. While all my projects incorporate this mantra, with Azur Associates the focus is very much on the business, supporting clients in strategic and financial advisory, mergers and acquisitions, market insights, and route to market," he said.
With all of this on his plate, Parish's "COVID-19 life" as a father and husband, winemaker, and consultant is "one big juggling act to be honest," he said. "Family, the kids' schoolwork, clients, Zoom tastings, bottling, vineyard checks, harvest preparation, and everything and anything else, depending on the day."
His wife, Sam, who is a principal for a major firm specializing in forensics, is booked solid with calls all day most days, which means they both "try and schedule the week around what the kids are up to and work demands."
Two to three days per week, Parish is at the wineries and visiting vineyards. The other workdays, he is in his home office (the kitchen table), where he begins around 6 a.m. and finishes around 3 p.m. so he can spend time with his two children.
"I can finish around mid-afternoon — then go biking, swimming or something else with the kids. To keep them amused, I recently set up the backyard with ping pong, volleyball, and badminton—then it is dinner time," he said.
While Parish is involved in the business of wine, it is the enjoyment of wine and food about which he and Sam are most passionate. One of his favorite wine regions is the Douro in Portugal, which he described as, "unbelievably awesome and picturesque – carved into steep hillsides overlooking the river. The fact that there are so many elevations, aspects, soil types, and varieties makes it truly inspiring—for both white and red wines."
Parish also enjoys making rosés from different grape varieties, like Mourvèdre, Carignan, and Pinot Noir. "The growing and making of rosé is relatively simple, but the few decisions such as pick timing are so important. I love the delicacy, refreshing balance, and pristine aromas and flavors when you get it right," he said.
He also has a zeal for making Pinot Noir: "The variety is so responsive to the site and the approach taken in the vineyard and winery. The aromas, flavors, balance, textures, intensity, and finishes – when you get it right or someone else does – are amazing."
Regarding favorite wines and food pairings, Parish is especially fond of gamey dishes paired with Barolo and Barbaresco. "I love the unassuming power, acidity, and complexity, aging ability, and evolution in the glass. And who doesn't enjoy visiting the regions with its beautiful countryside, towns and of course food," he shared.
Below is Parish's own wine-brined, pan-fried Kurobuta pork chops paired with a few of his Matt Parish and Lula Cellars wines.
Wine-Brined, Pan-Fried Kurobuta Pork Chops
with Tomato Relish and Couscous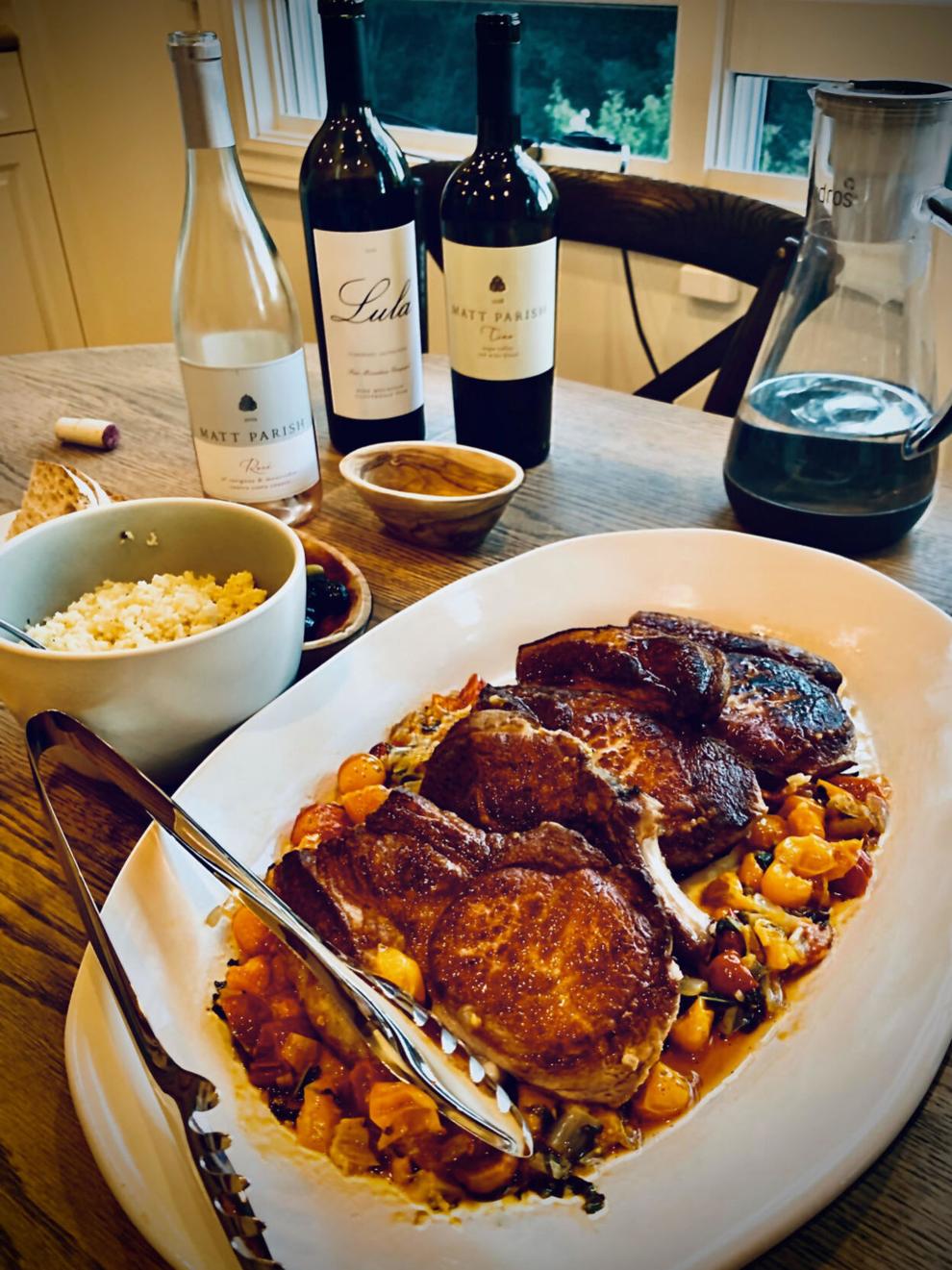 Wine pairing recommendations
Parish: "When cooking, the 2019 Matt Parish Rosé of Carignan and Mourvèdre, Contra Costa County, or the 2019 Matt Parish Rosé of Pinot Noir, Carneros, Sonoma County. Both are refreshing and will set the scene nicely. With the pork chop, I would pair the 2018 Lula Cellars Lula Vineyard Pinot Noir, Anderson Valley, or the 2017 Lula Cellars Fashauer Vineyard Zinfandel, Mendocino Ridge. Both have good acidity to balance to play off the richness and gaminess of the pork."
White Wine Pork Brine (10 minutes)
3 cups of good white wine
6 cloves of garlic smashed
1 cup of fresh Basil chopped
1/4 cup fresh Oregano chopped
3 tablespoons of brown sugar
Combine ingredients to make brine and soak pork chops for 2-4 hours in refrigerator. "You can leave them for longer but I like a subtle flavor," Parish said.
Pan Fried Pork (20 minutes)
Paper towel dry 4 pork chops and let sit until they are at room temperature.
When ready to cook, put very light olive oil on pork chops (just enough to get them going as there is plenty of fat in the pork)
Pan fry the pork chops in a pre-heated cast iron skillet set to a high temperature for 4 to 5 minutes per side depending on how well-done you prefer them
Rest for 10 mins before serving.
In a nonstick fry pan, sauté a finally chopped white onion in a good amount of olive oil.
When the onions are translucent, add some finally chopped garlic and continue to sauté for a couple more minutes. Then add a punnet of yellow or red cherry tomatoes, cut in half and a couple pinches of salt.
Continue to cook on a medium heat until tomato skins blister and juices flow. When the tomatoes are breaking down add 1/4 cup of chopped basil, reduce heat and continue to simmer/stir for 5-10 minutes.
Salt and pepper to taste then serve.
Bring to boil 1 cup of water and 1 cup of chicken stock in a pot with a nob of butter and couple of pinches of salt. Remove pot from heat and add 1 1/2 cups of plain couscous, stir and cover. After 5 minutes, add a tablespoon of finally chopped pine nuts, fluff and serve.
Watch now: A new release from Matt Parish