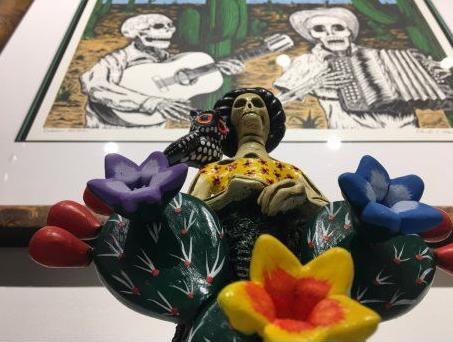 SAUSALITO — Madrigal Family Winery Tasting Salon & Gallery is celebrating its 20th art and wine series show with "El Día de los Muertos," an exhibit featuring Mexican artwork from regional artists. The installation is on view through Dec 13.
El Día de los Muertos is a Mexican and Latin American holiday full of festivals and celebrations with friends and family while honoring the dead. Much of the art at the winery features traditional colorful skulls, skeletons and masks, all from regional Mexican artists. Several of the pieces are by a family from Michoacán, the Madrigal family home town, generations ago.
The exhibition has been curated by Shiva Pakdel, and Back to the Picture Gallery has contributed its collection of Latin American art. The exhibit also displays prints, silk screens and ceramics of skulls and figurines by various artists.
Featured Latin artists include Carmen Lomas Garza, Juan Fuentes, Calixto Robles, Josephina Jauqin, Ester Hernandez, Emmanuel C. Montoya, Alfonso & Luzmilla Joaquiza and Michael Roman.
A reception celebrating the exhibition is on Saturday, Oct. 28, from 6-8:30 p.m.
The Madrigal Sausalito Tasting Salon & Gallery, 819 Bridgeway, Sausalito, is open from noon to 7 p.m. daily. For information, contact wine salon manager Patricia Gatti at (415) 729-9549 or pgatti@madrigalfamilywinery.com.