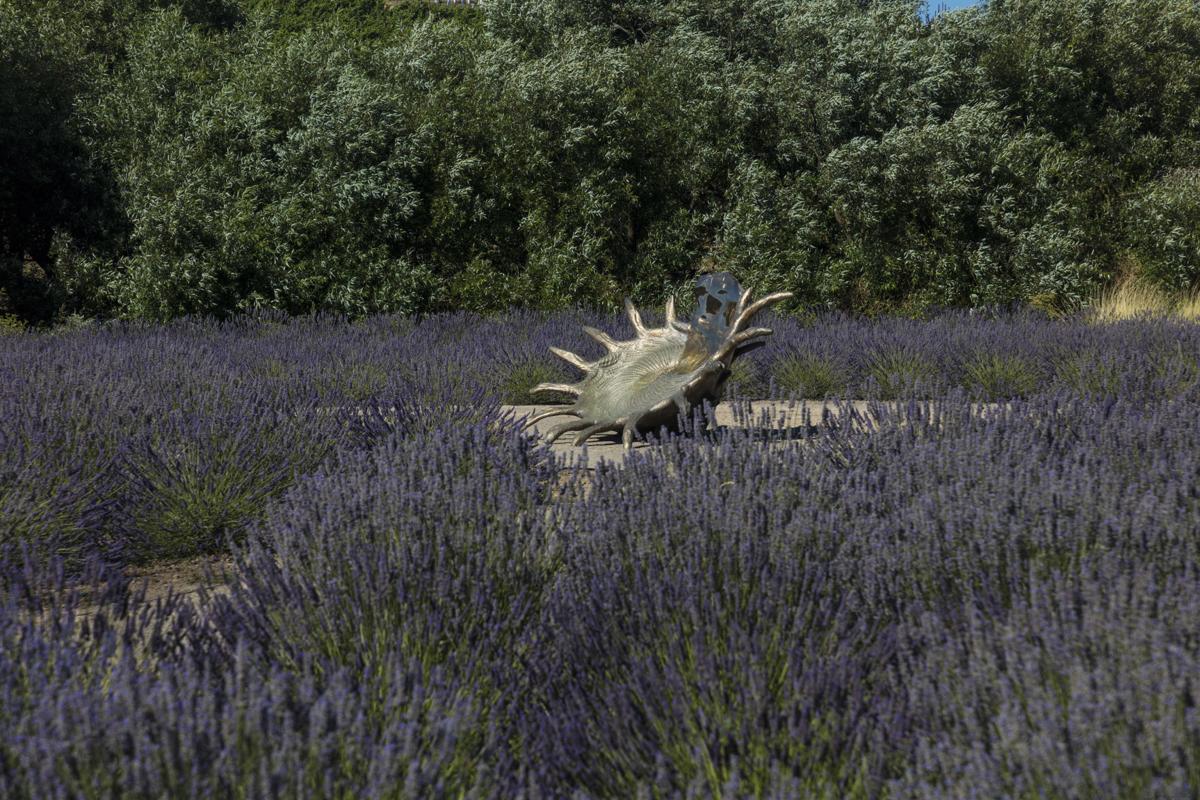 Art walks at Donum
The Donum Estate in Carnero is offering open-air sculpture walks available with a reservation. Donum's sculpture garden features over 40 works by artists, including Yayoi Kusama, Zhan Wang, Elmgreen & Dragset, Tracey Emin, Subodh Gupta and Louise Bourgeois.
The walks are guided by a Donum's host for groups of six or less and can be combined with other groups. The estate is open for the walks by appointment only Monday through Thursday, 10 a.m. to 3 p.m., and Friday through Sunday, 9 a.m. to 4 p.m. for $50 per person.
Donum's members are allotted one complimentary visit for up to four people. No wine is to be consumed on site, but the portfolio will be available for purchase to take home.
Domaine Chandon reopens Domaine Chandon has reopened with new hours of operation, Thursday through Sunday, from 11 a.m. to 6 p.m., and by reservation only.
Service has been adjusted to meet the requirements of California and Napa County Phase 2 re-opening guidelines; and as drinks-only service is not currently permitted, all experiences must be accompanied by food.
Guests can make a table reservation or book a picnic on the lawn. Guests are asked to observe social distancing and wear protective masks while on the property until recommended guidelines suggest otherwise.
For questions, email concierge@chandon.com or call 707-204-7461, Thursday through Sunday, from 10 a.m. to 5 p.m.
Parallel Napa Valley relaunches lunch
Parallel Napa Valley has resumed its private wine pairing lunches at Brasswood in St. Helena, that started on June 1. The Parallel Wine Pairing Lunch features a menu of four seasonal courses paired with four Parallel Wines, made by Philippe Melka, including Napa Valley Chardonnay, Napa Valley Cabernet Sauvignon, Black Diamond Reserve Cabernet Sauvignon and a pour from Parallel's Library Selection.
Strict protocols are in place for hygiene and social distancing. Tables are spaced six feet apart, masks are required for guests when not seated, as well as for all restaurant staff. There is a maximum of six guests per table, including the host.
Reservations are available seven days a week for parties of up to five people. Make reservations online or by contacting Adrienne Capps at adrienne@parallelwines.com or 707-486-1100. Guests will be able to purchase Parallel Wines on-site or place orders to be shipped to their homes in states where permitted.
In March, Parallel launched a private online tasting series hosted by Capps, which offers guests three bottles of current-release Parallel Wines, as well as food pairing suggestions and tasting notes, for $95 per person.
Most recently, Parallel added optional food pairings from St. Helena's Panevino for any wine-tasting experience for $35. Items include Rosemary Mixed Nuts, Saucisson Provencal and Oil-Cured French Olive and Provencal Herb Grissini.
In addition, Parallel continues its "Glass of Gratitude" program, offering complimentary tastings – including two bottles of Parallel Wines – to front-line medical workers.
The Boisset Collection
Boisset Collection's Buena Vista Winery in Sonoma and DeLoach Vineyards in Santa Rosa are welcoming guests for food and wine experiences by reservation. Raymond Vineyards in St. Helena is open for retail sales.
The Franco-American company's two Sonoma County wineries will both require a food purchase to enjoy wine on the properties. Tables will be spaced at least six feet apart and pre-packaged food will be placed on the table and the wine poured (either in flights or glasses) along with pre-wrapped utensils before guests arrive at their table to enable self-service and limit interaction with winery staff. Employees will undergo safety training and daily health checks and wear face coverings at all times; guests must wear them except when sitting at their table enjoying food and wine. Only three people at once will be allowed into the tasting rooms for purchases.
Buena Vista is open from 10 a.m. to 5 p.m. daily; reservations are accepted for groups of six people or less on half-hour increments with the last seating at 4 p.m. DeLoach is offering seated outdoor tastings with food service with two seatings of up to six guests at each of the following time slots: 10 a.m., 10:30 a.m., noon, 12:30 p.m., 2 p.m. and 2:30 p.m.
Reservations can be made online via CellarPass or by calling 800-926-1266. Guests may choose between a food and wine experience with both cheese and charcuterie or cheese only starting at $50 for two people (or $24 for wine club members). An Oakville Grocery boxed lunch option is available with wine for $50 per person (or $30 for club members) with 48 hours advanced notice. Guests may opt to enjoy food only for a reduced price. Curbside pick up and local delivery are also available by calling 800-926-1266 or emailing customerservice@buenavistawinery.com.
Raymond Vineyards has not reopened, but customers can recreate its "Winemaker for a Day" experience by ordering an at-home blending kit for $200, shipping included, with code TRHOME. The kit comes with four 750-ml bottles of the Raymond wines used for blending, four graduated cylinders, four pipettes, blending worksheets and an instruction booklet. Buyers can choose between joining the monthly virtual blending sessions led by Jean-Charles Boisset, proprietor of Boisset Collection or scheduling a private virtual session with one of Raymond's wine educators. Once customers have determined their favorite blend, they can order it, complete with a custom name as well as label image and text, for $50 per bottle ($40 for club members) with a 6-bottle minimum, shipping included.
Both the Oakville and Healdsburg locations for Oakville Grocery have resumed daily hours and are open 7 a.m. to 5 p.m. There is a maximum of 15 guests inside at any time and customers must wear face coverings when shopping.
The JCB Tasting Salon in Yountville has reopened for retail sales of bottles and merchandise from 11 a.m. to 5 p.m. Thursday through Sunday (no tasting is available). Face coverings must be worn while shopping and there is a maximum of 14 people in the salon at one time. Curbside pick-up is available by calling 707-934-8237.
Atelier Fine Foods remains open for in-person shopping or curbside pick-up (call 707-967-7600) from 11 a.m. to 5 p.m. Thursday through Monday. Customers must wear face coverings while inside the store.
Be the first to know
Get local news delivered to your inbox!