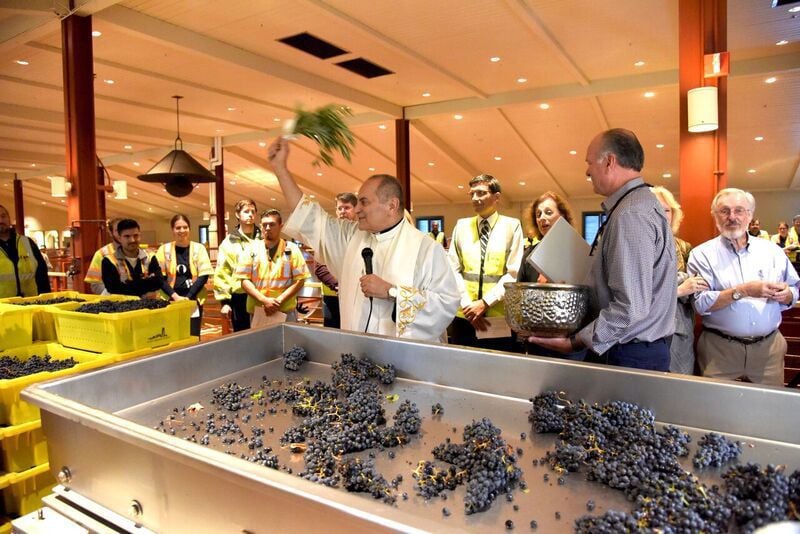 It will be a couple more weeks before many of Napa Valley's winemakers are able to celebrate the end of Harvest 2017, as many are choosing to leave their cabernet sauvignon and merlot grape clusters on the vine for a little more "hangtime." This week's American Viticultural Appellation reports, from north to south, are as follows:
Calistoga
Matt Crafton, Chateau Montelena, "Slow and steady in Calistoga this week as seasonal, predictable weather conditions evened out what had been a rather exciting September. In general, the bright, potent acidity that we'd tasted in the field, so prevalent in many of the early picks this season, has begun to mellow and coarse tannin has softened considerably. We picked the last of our dry-farmed zinfandel on Oct. 1, which is about right given the leaves on the oaks have started to yellow. With many of our tanks open in the winery and dry weather on the docket, we're looking forward to a good push over the next seven to 10 days."
Howell Mountain
Alan Pierson and Erin Smith, O'Shaughnessy Estate Winery, "We are continuing to give water to allow the fruit more hang time. The flavors are coming around nicely. Younger blocks will be picked this week."
Diamond Mountain District
Dawnine Dyer, Dyer Vineyards, "With picture-perfect weather for ripening putting the finishing touches on a wonky harvest we'll see much of Diamond Mountain harvesting this week and next. There doesn't seem to be a lot of hurry but some vineyards are just plain ready and growers and winemakers are pleased with the evolution they've seen in past weeks. Seaver, Dyer, and Diamond Terrace will all finish this week. The Vineyardist is gearing up and plans to start this week with the rockiest blocks. They note that flavors are impressive with small berry size. At Sterling's Diamond Mountain Ranch, Harry Hansen is watching carefully but hasn't pulled the trigger yet. Soon, very soon!"
Chiles Valley District
Alexander Eisele, Volker Eisele Family Estate, "An interesting harvest season to say the least, continuing mild daytime temperatures with cool nights ahead. Almost all varietals besides merlot and cabernet sauvignon have been harvested. The fruit which was harvested had minimal shrivel, and showed the overall benefits of having a wet winter. Beautiful quality and average yields. For the still hanging cabernet and merlot the canopies look good and we are looking for a bit more tannin resolution and balance between flavors and texture."
Spring Mountain District
Stuart Smith, Smith-Madrone, "The warmer weather has spurred even more harvesting than last week, but there's no particular hurry. Most are finishing up with merlot and picking cabernet sauvignon. There's some talk about finishing up around the middle of the month and others might see some cabernet franc go until the end of the month. The pHs seem to be rising and the grapes are being very stingy in giving up their normal amount of juice."
St. Helena
Cathy Corison, Corison Winery, "Last night, on my 3-mile postprandial walk through the vineyards stretching from the city of St. Helena to the western hills, I saw only one small block of grapes still hanging. Reports from fellow winemakers that are active in the St. Helena Appellation, including Mia Klein, Thomas Rivers Brown, Pam Starr and Matt Reid, confirm that most of the area's cabernet sauvignon has been picked, with blocks in the western hills a rare exception. All are grateful for the cooler weather we enjoyed over the last couple weeks and most everyone expects to bring in any remaining fruit this week. Here at Corison Winery we've been picked out for over two weeks and are busy pressing and sending wines down to barrel for malolactic fermentation. We're delighted with the inky, aromatic deliciousness."
Rutherford
Kristin Belair, Honig Vineyard & Winery, "Happy October, everyone! With the reds and golds of fall appearing everywhere, cabernet sauvignon and related varietals are coming in at a steady pace. As of today, Monday, with 40 percent of our reds in, we can just see that dim light at finish. We likely have least a couple more weeks, before we can celebrate vintage 2017. Reds continue to look inky and dense in the fermenters and the cabernet that has come out of the press is in a word, delicious."
Oakville
Linda Neal, Tierra Roja Vineyards, "Harvest has now settled into a gentle rhythm. Every pre-dawn you can find the pop-up cities of lights throughout Oakville. Out and about Saturday morning I counted three huge crew light bars and numerous stationary lights at the south end of Constellation's To Kalon, picking grapes bound for Opus One or Mondavi. Rodeno, Nemerever, Spoto, Goldschmidt and Rudd all reported picking this week, while many other fields can be seen as active, too. The pleasant weather continues reducing pressure to pick as everyone strives for 'hang time.'"
Yountville
Sandra Hewitt Bell, Bell Wine Cellars, "The end of last week saw temperatures rising again, and signs of maturity are showing in reds. Cabernet and merlot are still out in our vineyard while we ferment fruit from further afield. The open lyre trellis canopy has been a boon this year, protecting fruit from over-exposure to excessive sun. We expect the merlot and cabernet to come in by the end of this week or beginning of next week."
Stags Leap District
Elizabeth Vianna, Chimney Rock winery, "If you drove through Stags Leap District this week around 4 a.m., you might have heard a buzz in the air and seen lights on everywhere. Cabernet sauvignon is arriving at full throttle. Marcus Notaro at Stag's Leap Wine Cellars reports that things have been coming in steady – harvesting some fruit from the heart of the Fay Vineyard and some of the top blocks of SLV this past weekend. Remi Cohen at Cliff Lede reports that they are near the end of their 2017 harvest bringing in some cabernet franc and petit verdot and they are, 'Pleased with the early wines in tank and are busy with the fermentation.' Michael Beaulac says that it, 'Finally feels like harvest!' He is pleased with the small berries and great color and happy to be busy. At Chimney Rock, cabernet sauvignon is ready and rolling in as well. It has been a nice pace as our merlots are finished fermenting and we are now able to dedicate the next week to bringing in more of our beautiful cabernet sauvignon, petit verdot and cabernet franc. Mother Nature's gift of moderate temperatures this past week has allowed us a very nicely paced harvest."
Mount Veeder
Sander Scheer, The Hess Collection, "We have not seen much action in the last seven days up here on Veeder. Between decent weather for ripening and fruit condition continuing to hold together the cab is still benefiting from more hang time. At the moment we're harvesting syrah and merlot which are both showing great quality. The mountain chardonnay is finishing primary fermentation and on its way to barrel now. The 2017 white varietals all came off the vine nicely so we will hope that's an indication of what's to come with our mountain red varietals."
Oak Knoll District
Jon Ruel, Trefethen Vineyards, "This week has been busy for us as we wrap up the merlot and malbec. We have also picked most of the cabernet sauvignon from our hillside property, leaving just some cabernet and petit verdot remaining on the valley floor. Sugar development has reached a plateau and we are bringing in each block as the flavors really pop. Paul Goldberg of Bettinelli Vineyards says they are actively picking cabernet in the OKD. He also said, "Timing is about normal. Although, because of the heat, we started paying really close attention to it earlier which ironically makes it feel late!"
Coombsville
Tom Farella, Farella Vineyard, "This just in from Coombsville: nada. Flatline. Nobody picking. No measurable ripening over the last 10 days or so. We've seen this before and it could even continue. We are wrapping up our earlier harvest, down to barrel with pinot and merlot and the malbec and syrah will be pressed off tomorrow or the next day. King Cabernet awaits its own separate harvest. The weather has been great and we are now, actually, close to a normal timeline for cabernet and hope to get started this week."
Carneros
Christopher Hyde, Hyde Vineyard, "Warm weather has returned to Carneros, which has helped push the grape crop to continue ripening. At Hyde Vineyard, pinot noir and chardonnay harvest has finally come to an end, with merlot and syrah harvest continuing into the next week and cabernet sauvignon harvest beginning later in the week."
Wild Horse Valley
John Newmeyer, Heron Lake Vineyard, "All done! Everything is either fermenting or safely in barrels for the winter. Various needs were met: from brix just above 20 for a Rose project, up to 25 for 'sweet, ripe Pinot Noir.' Our picking crews did great work under challenging conditions. The workers are so unlike those of 30 years ago — older, better-paid, newer cars, and more professional."
For real-time harvest photos and updates, visit the Napa Valley Vintners' Harvest 2017 website at napavintners.com/harvest.
Be the first to know
Get local news delivered to your inbox!