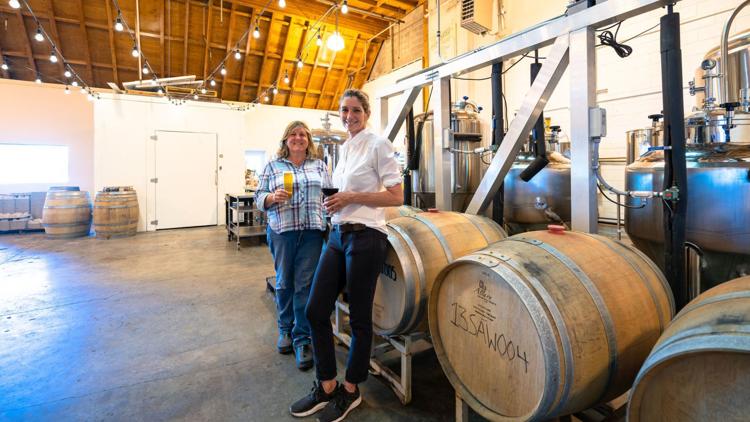 The Napa Valley has become a tourist destination for those drawn primarily by the lure of excellent wine and food. Yet many visitors and locals alike are increasingly searching for something more, namely craft beer. And St. Clair Brown Winery and Brewery has found an innovative way to satisfy this expanded range of tastes.
"We wanted to create a place for people to gather and enjoy wine, food and beer; and we wanted it near town," said Elaine St. Clair, co-owner, winemaker and head brewer. "And because we're within the city we have more options than do most wineries in the valley."
Urban setting
Unlike many of Napa's destinations with views of verdant sweeping vineyard vistas, St. Clair Brown Winery and Brewery is located in what is ostensibly the city of Napa's warehouse district. The expansive complex covers the corners of two city blocks and has a distinctly hip, new, urban feel with an industrial winery and brewery sharing one corner, while across the street there is a lovely one-third-acre organic garden and cafe/tasting room.
The two owners, St. Clair and Laina Brown, president, are local wine-industry veterans who met in 2000 while working at Taittinger's Domaine Carneros. Years earlier, St. Clair had studied wine- and beer-making at UC Davis and then joined Domaine Chandon's winemaking team, working with master winemaker Dawnine Dyer, where she learned the art of making sparkling wines.
Elaine St. Clair
"Elaine was an enologist at Domaine Chandon right out of college and even then she had a keen interest in winery process design and an entrepreneurial spirit," Dyer said. "She's an accomplished winemaker and has been a brewer for many years. I'm not the least surprised that she's been able to make the connection between the current fascination for microbrew and expanded it to small lot winemaking. She also comes from a Scottish background, so she's always really enjoyed a good beer."
Scottish heritage
"My parents are Scottish and I grew up in England until we immigrated to Texas when I was in high school," St. Clair said. "My family loved wine and beer and we moved around a lot. At one point we lived with an Italian family who made wine in their basement — it all had a big impact on what I'd eventually become."
Beyond having a career making both still and sparkling wine, St. Clair has always had a fascination with beer. In 1988 she co-founded and made beer for Napa Ale Works, selling the company in the late 1990s. Later, she went back to making wine, joining Domaine Carneros before becoming winemaker for Black Stallion Winery in 2008. But she always wanted a venue to combine her passions. Enter Laina Brown.
Laina Brown
Before becoming the founding president of Napa's Black Stallion Winery in 2007, Brown had been Domaine Carneros' director of marketing and hospitality since 2000. Earlier, Brown had worked at a distributor/importer company and was one of the first employees of Wine.com. Prior to entering the wine world, she'd owned and operated a fashion-design business in Southern California called Laina Westerland Apparel, where she designed and sold clothing with a distinctly 1940s vibe.
"Womens' clothing in the '40s was both strong and beautiful," she said. "It inspired me."
By the late 1990s, she and her former husband moved to the Napa Valley to raise their three children.
"My apparel business was going well and I thought I could run it from up here," Brown said. "It was fun at first — commuting — but it just became too hard and I ended up closing shop to focus more on the kids. At the time, I wondered if the skills I had learned in the fashion industry would apply to the local wine industry, too."
Brown had grown up in Alaska, where her family had made berry wine and found a love of wine made from grapes, too. She also grew to learn that the businesses of fashion and wine were not too dissimilar.
"When you have a business that makes creative products and is run by creative people, they have very similar dynamics," Brown said. "Because of the subjective nature of both, much of the success for wine or design comes down to the passion and artistry of the people involved. Also, because both of these industries have very strong communities within what are very close-knit worlds, everyone's connected; having worked together at some point in their careers, most people know everyone else in the business, which really helps, too."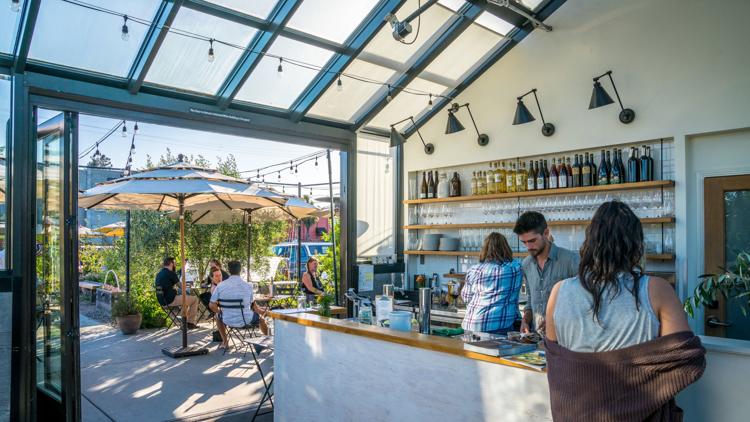 A shared vision, a clear strategy
Over the years, as St. Clair and Brown worked together they came to realize their shared vision to create a small, local winery that combined their passion for wine, beer and food. By 2010, they'd started making their own wine together and opened the doors to the winery and cafe a few years later. In February of 2018, they held their grand opening that included all four parts of the operation: brewery, winery, cafe and garden.
"We wanted a space where people could come together and enjoy both each other and our offerings," Brown said. "Everything we make is something we are proud to serve and grateful to share. It has taken a while to get here, and there is still more work to be done, but we believe that what we've created is even better than what we'd originally planned."
One of the challenges of any winery in the Napa Valley is working within the constraints of the Agricultural Preserve, which was designed to manage growth and protect the environment. Although important to helping maintain the environmental health and vibrancy of the valley, there are often tensions between a business's desire for growth and the Ag Preserve's constraints.
Any winery owner will tell you that if only they could include a restaurant or deli on their property like the handful of grandfathered wineries (V. Sattui; Domaine Chandon; Brasswood; the planned resorts of Auberge at Stanley Lane and the currently under-construction Four Seasons-run collective in Calistoga) they'd be able to sell more wine and, therefore, make more money. The Ag Preserve does not allow such joint food-wine ventures. However, the city of Napa is not under the preserve.
"The Ag Preserve is critically important to the valley," Brown said. "Even here in the city, it has been complicated and taken longer than we envisioned to get to where we are today. But the community and the city have been excellent partners throughout the entire process, and I think we all believe we've set a good and sustainable example."
As a part of their effort to set a precedent and be good neighbors, Brown and St. Clair have planted an organic garden and practiced restraint when it comes to production level limits and the hours of operation.
The ratings
Look up St. Clair Brown online and you will find a theme — their reviews are constantly at the top of the list. Their glass-enshrined café that spills out into a lovely little garden has remained ranked as the best restaurant in the Napa Valley by TripAdvisor for the last few years and has nearly perfect ratings on sites such as Google and Yelp. Customers rave about the friendly service and tasty offerings, and they often marvel at what is described as an "oasis" in the middle of the city.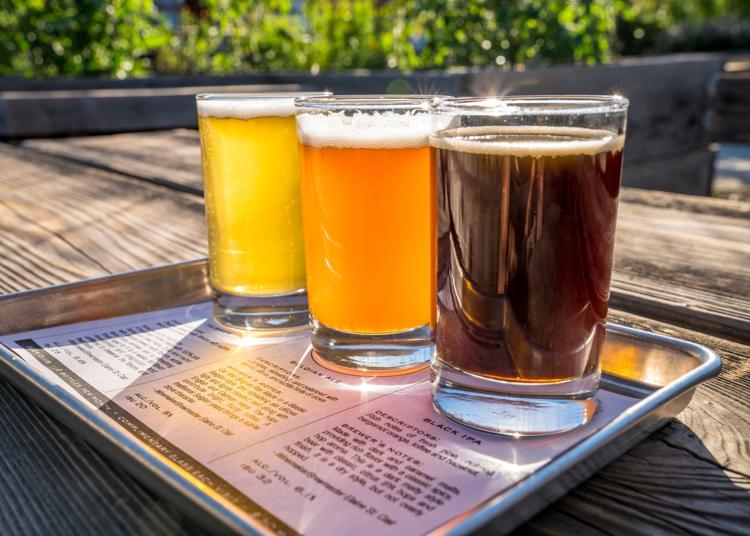 Beer
The recently completed microbrewery was funded in part by a crowd-sourcing "Kickstarter" campaign that raised thousands to complete the space. Cole, one of Brown's sons, works at the winery and helped organize the efforts, whereas another one of Brown's sons, Bren, has recently become assistant brewer.
"We are loving that the next generation is becoming so interested and involved," St. Clair said. "Also, the energy and excitement of the community to complete the brewery has been inspiring and we have plans to put in a taproom sometime in the near future."
For now, guests can taste the various offerings at the Greenhouse Tasting Room and Cafe.
Each of the dozen or so beers is made in 60-gallon batches with each bottled by hand in 750-milliliter Champagne bottles ($20). A tasting of three beers on tap is $12, $4 for 6 ounces or $7.50 for 12 ounces. Each beer I tasted had distinctly fine carbonation and rich, complex flavors and aromas. The Pilsner was fresh and clean with bright citrus and nutty overtones. The Belgian ale was delicious and full of flavors of dried dates, balsamic vinegar, brown baking spices and vanilla, whereas the Black IPA was a chewy medley of molasses, Mexican coffee with cinnamon with a wonderful burnt-orange finish.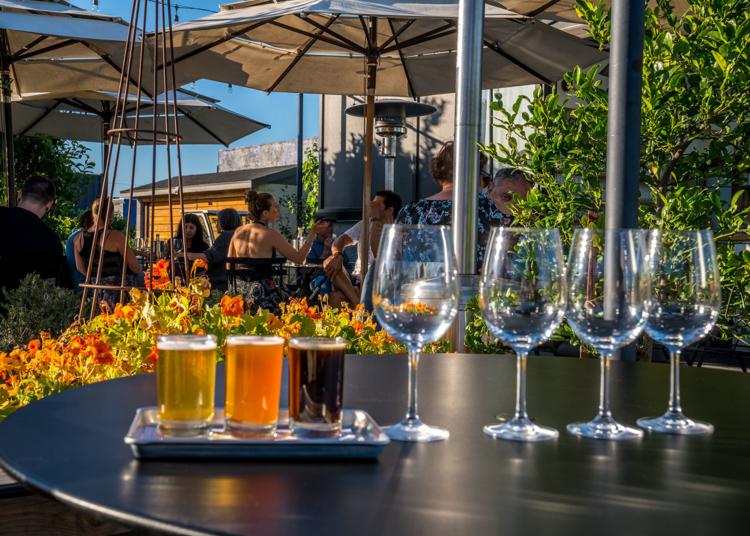 While the beers have a distinctly British-pub heartiness, the wines are more delicate and refined. Made in small lots of often fewer than 200 cases each, the winery offers Pinot Grigio, Sauvignon Blanc and Chardonnay for whites, a Syrah Rosé, Zinfandel, Syrah, Merlot and Cabernet for the reds, plus a sweet Muscat.
The 2017 Rosé (270 cases made, $35 a bottle) is not made by using the bleed from a red wine (saignée, which is a common practice for making many Rosé) but rather from the whole-cluster pressing of Syrah grapes, and it shows through its luscious mouth-feel and its spicy-strawberry-jammy richness. The 2015 Merlot (100 cases made, $52 a bottle) comes from the Stage Coach Vineyard in Napa's Atlas Peak region. The vineyard was recently sold to Gallo, so it's unclear how much longer this wine will be made, but for now those lucky enough to taste it will find a combination of lively red and blue fruits, dark tea and violet candy.
The 2014 Napa Cabernet (100 cases made, $95 a bottle) was a standout and reminded me of the 1992 Robert Mondavi Reserve with its elegance and super-long finish. Full of lingering raspberry, milk chocolate, earthy flavors and aromas, the brilliance of this wine hinges on its balance, allowing the natural acidity to carry it to another level.
A sampler of four wines costs $35, and tastes or full glasses can also be purchased (prices vary). Most of the wines and beer can only be purchase on site as samples, glasses or bottles. Do to demand, they are no longer distributing their wines, but they are expanding distribution for beer, which can be found at Ciccio, Cadet and Miminashi.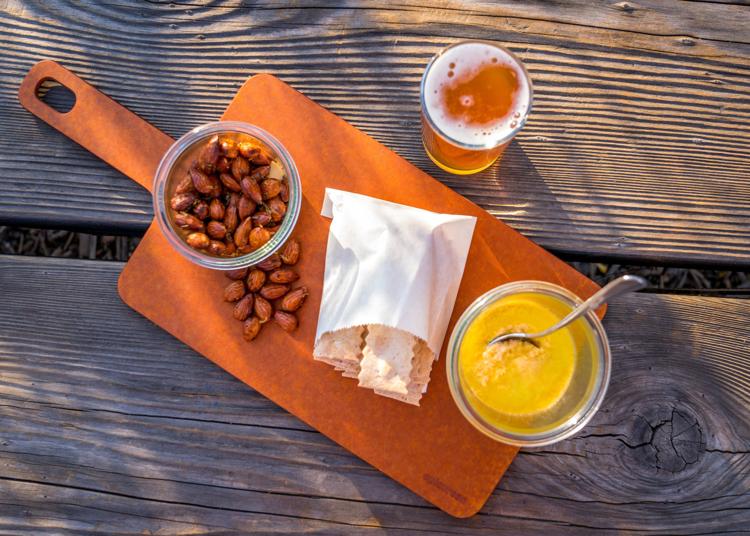 The Greenhouse Tasting Room and Café, which is open Thursday through Saturday, noon to 8 p.m., and Sunday through Monday, noon to 6 p.m., also offers small bites such as a local cheese board with crackers, plump roasted pistachios and Rosé jelly ($22); creamy hummus with lemon zest ($9); marinated olives or roasted almonds ($5); and Pork Rillette with fig compote ($14), with some of the items coming directly from their edible garden.
A rotating roster of food trucks shows up for Locals Night on Thursdays. Check the schedule on the website for updates.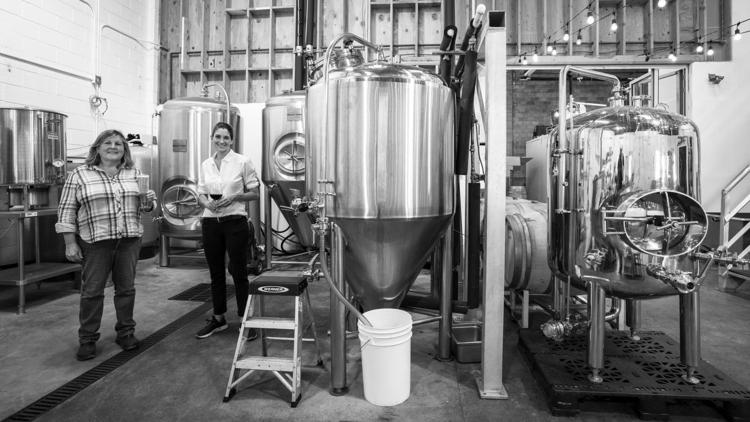 On the St. Clair Brown website, the owners have a page dedicated to the American Unitarian clergyman, writer and philosopher William Henry Channing (1810 to 1884). Using his words, they quote him in their own "Manifesto":
"To live content with small means; to seek elegance rather than luxury, and refinement rather than fashion; to be worthy, not respectable, and wealthy, not rich; to study hard, think quietly, talk gently, act frankly; to listen to stars and birds, to babes and sages, with open heart; to bear all cheerfully, do all bravely, await occasions, hurry never. In a word, to let the spiritual, unbidden and unconscious, grow up through the common. This is to be my symphony."
As the winery/brewery/cafe continues to evolve, both Brown and St. Clair aspire to channel Channing's message.
"One of the things that Elaine and I always connected on were our ethics and values, and so we wanted those to be the centerpiece to this entire experience that we are sharing," Brown said. "Our goal is to do everything we do with respect with an eye to leaving the world a better place for all of our children's children."