This summer, as the Ceja family celebrated the 20th anniversary of the first release of their wines with fans from around the country, the joyful event had a bittersweet undercurrent: In July, Amelia Morán Ceja, president of Ceja Family Vineyards, had lost her father, Filipe, and earlier this year, her mother, Francisca. 
Ceja took the occasion to reflect on how her hard-working parents, and those of her husband, Pedro, laid the foundation for their achievements "and changed all of our lives forever." 
In the 1950s, Filipe Morán was a migrant farmworker from Jalisco, Mexico, who followed the harvests from San Diego to Washington state. His travels took him through Napa Valley. "He knew it was something special," Ceja said. 
He was undocumented then, but by 1962 he was able to get a green card when an employer in Oakville signed a letter of employment for him.
"You had to prove you could support yourself," Ceja said. "So he became one of the pioneer generation who settled in Napa Valley to work in vineyards" — at a time when crops were primarily pears, prunes, and walnuts. His family remained in Mexico.
By 1967, he was a vineyard foreman, and the immigration reform during the Johnson administration made it possible for his family to join him. 
"He decided it was time for us to be united," Ceja said. "He applied in June 1967 and we got the letter telling us he had applied. I remember the day. We had gone to the river to bathe because we didn't have running water or electricity in our house. When we came back, my grandmother had the letter." Ceja, 12 at the time, said, "By the first of August, we had our green cards."
Filipe returned to Mexico to bring his family to Napa. They arrived on Sept. 11, 1957.
"My father had rented a little house for us in Rutherford," Ceja recalled. "And he had bought furniture. It wasn't big but it was cozy — one bedroom with a kitchen and a bathroom and another little room. It was perfect. Where I came from the house floor was dirt. To have an indoor kitchen and a bathroom — I felt like a queen."
In addition to bringing his family to Napa Valley to be together,  Filipe Morán had another goal: education.
"I had finished sixth grade," Ceja said. In her village, that is as far as school went. She could continue, but only if she left home and went to live with relatives. 
"My dad was brilliant," Ceja said. "He understood that for us to have a goal — anywhere in the world — it was to going to be through having an education. It was the equalizer. That is why he brought us here. He knew how hard it was to get an education He knew we wouldn't have the same opportunities in Mexico. It is respectable to work in the vineyards, but he wanted us to have a choice. He also understood that women had it a little harder. I was lucky."
Her father had already visited Robert Louis Stevenson Middle School in St. Helena to enroll Amelia in seventh grade. He had a backpack and a lunchbox for her. "He was perfect. He had thought of everything," Ceja said.
But it was harvest time, and Filipe had already taken off a week from work to bring his family to Rutherford, so he showed Amelia where to catch the school bus on Monday, and early that morning he returned to work while she went alone to the bus stop. "I wasn't afraid," she said. "I was excited to see my school."
When she arrived at the school, Mrs. McDonald was waiting for her. She had spoken with Filipe when he had registered his daughter. "She could speak maybe one-eighth Spanish," Ceja said. "I could see that I mattered to her. I felt comfortable. But the school administration did not know what to do with me. Even though I had perfect 10s — a 10 is like an A in Mexico — I didn't speak English. I was the only non-English speaker. So they placed me in the Special Ed class because they didn't know what to do."
That first weekend in Napa Valley, her father took Amelia with him to harvest grapes. "He told me, 'Wait here in the car. My friend is bringing his kids and wife. I am going to situate all the adults (workers) first,'" Ceja said. "Would you believe it — in those days they would bring workers by bus from the Tenderloin in San Francisco? There were few Mexicans. When men started to bring their families after the immigration reform, that's when the face of Napa began to change. Before, it was mostly men."
While she waited, Amelia noticed the arrival of a truck with a camper, and "all of these people coming out of it." This is how Amelia met Pedro Ceja, who would one day become her husband. 
"Pedro's father and my father were friends," Ceja said. "Pedro's dad had come here also, the same journey; both of them independently fell in love with Napa. In 1967, they both filed the paper work to bring their families here." 
"He gave us a number and he gave us a row (of vines) to ourselves. He told us every time you fill a can, you call your number. I was short. I am five feet now; then I was maybe four and a half feet, and maybe 50 pounds. He gave us those five-gallon cans. I wasn't tall enough to reach up to empty my can [in the gondola]. I had to ask Pedro for his help to dump my buckets.
"Pedro tells everyone -- and it's probably true -- that for the first few buckets I ate most of the grapes. But they were so good. At the end of the day, I made $3. I was so proud.
"I told my dad, 'Someday I am going to have a vineyard of my own.' And he said, 'I know you will.' I had forgotten this but he told me years later. Pedro felt the same way. Both Pedro and I feel that that day we had the sense of what we wanted to do."
Pedro's family had arrived a week before the Moráns, but with seven children, they were still busy getting settled and had not enrolled Pedro, also 12, in school. "My father told them how to do it. I was glad that the following week, there was another kid in Special Ed with me: Pedro."
Both new students made quick progress in learning English. "My dad was so loved by so many people. He made friends very easily because he was so gregarious. One friend, an immigrant from Scandinavia, was excited that my father was bringing his family but he was furious that I was placed in Special Ed. He was retired, an amazing older gentleman who was determined to help me. So he volunteered to tutor me. He subscribed me to The Napa Register. He said the best way you are going to learn is you have to watch TV and you have to read the newspaper. So I started reading the Register in 1967."
The Cejas also wanted an education for their children, she said, "and when adults believe in education things change forever."
The fight for social justice
Filipe Morán eventually become a vineyard mechanic. "Life here revolved around our immediate family but he made sure to uplift everyone around him," Ceja said. 
"He felt strongly that for the Mexican-American community to thrive we needed to have access to health care and education. My father was able to go to committees go talk about the need to have access to health care for the workers. He subsequently became one of the inaugural founders of Clinic Ole."
And he got his daughter involved. "The first Clinic Ole was in Rutherford," Ceja said. "And as soon as I learned English. I worked after school as a translator."
Through his work, she also met Dolores Huerta and Cesar Chavez, the American labor leader and civil rights activists who co-founded the National Farm Workers Association that later merged with the Agricultural Workers Organizing Committee to become the United Farm Workers labor union. "My dad was instrumental in getting them interested in organizing here," Ceja said. Huerta and Chavez became life-long inspirations for her.
Ceja excelled in school and set her sights on attending the University of California, but when she had finished middle school, her parents made another decision. They sent her back to Mexico to attend the Instituto la Paz, a prestigious boarding school where she met girls from all over Mexico. 
"It was the smartest thing my parents did and they didn't even know it," Ceja said. "They needed me to be proud of my country. It gave me the opportunity to really get to know Mexico. I had led such a sheltered life. This gave me such a sense of who I am and where I came from, this amazing culture. Every Sunday I talked to my parents and they were so excited by my own experiences."
She studied in Mexico for two years and then returned for her junior year at St. Helena High School to prepare to apply to university. "When I came back, I said, 'I can take on the world. If people had built the Pyramid of the Moon and Sun, what can I do? I felt such a sense of all of this knowledge had been passed to me, and I felt I could do anything."
"My parents never had a chance to go to school but they are two of the most emotionally intelligent people I know, both of them working to change our paths forever. They never made us feel like we should be grateful because they were sacrificing. They were not able to help us in some ways — they didn't understand how college worked.
"I remember my mom staying up when I was doing a report on the civil war — for moral support. They couldn't help me with homework or to apply to college because I was the first one. But their moral support and their si se puede attitude was there, every moment of my life. That attitude is liberating and the number one equalizer. My father said, 'You may not be able to have now what everyone has in material things but you will always be able to compete in knowledge.'"
Ceja went to UC San Diego but returned during summers to work in vineyards. She and her family remained close to the Cejas, "Papa Pablo Mama Juanita." Pedro studied engineering, and in 1980, they were married. In 1987, with Amando, Pablo and Juanita Ceja, they purchased property in Carneros to begin growing grapes.
Was her father surprised when they launched their own wines in 2021?
"No," she said. "My dad was very, very proud. Thanks to their foresight and focus, we have all been able to do something. My sister became a vineyard foreman — one of the first women. My brother went to Berkeley and became an optometrist."
The Moráns eventually moved to Napa but spent time in Mexico where they had a farm, and their grandchildren, including Amelia and Pedro's children, Ariel and Dalia, were able to spend time there. They also got to meet their first great-grandchild, Dalia's daughter, Luna Isabella.
"My dad was such an amazing man," Ceja concluded. "In less than a generation — the lives of us, the community, and Luna Isabella were changed forever. With my mom, they did something that has major transcendence. I wouldn't be who I am today without those before me."
Photos: Napa's Day Without Immigrants Rally and March 2017
Day Without Immigrants Rally and March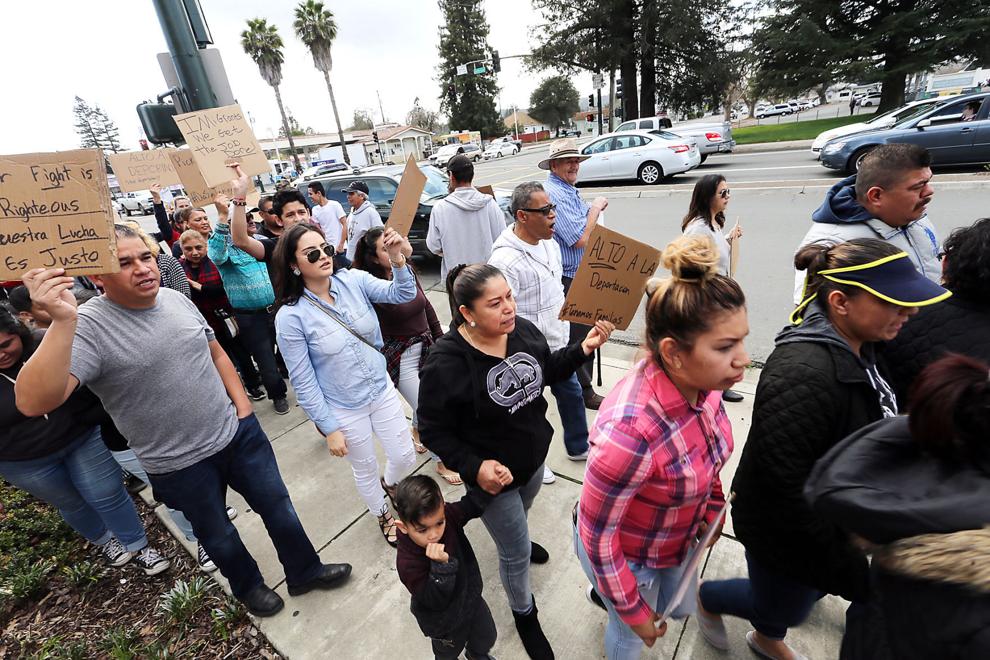 Day Without Immigrants Rally and March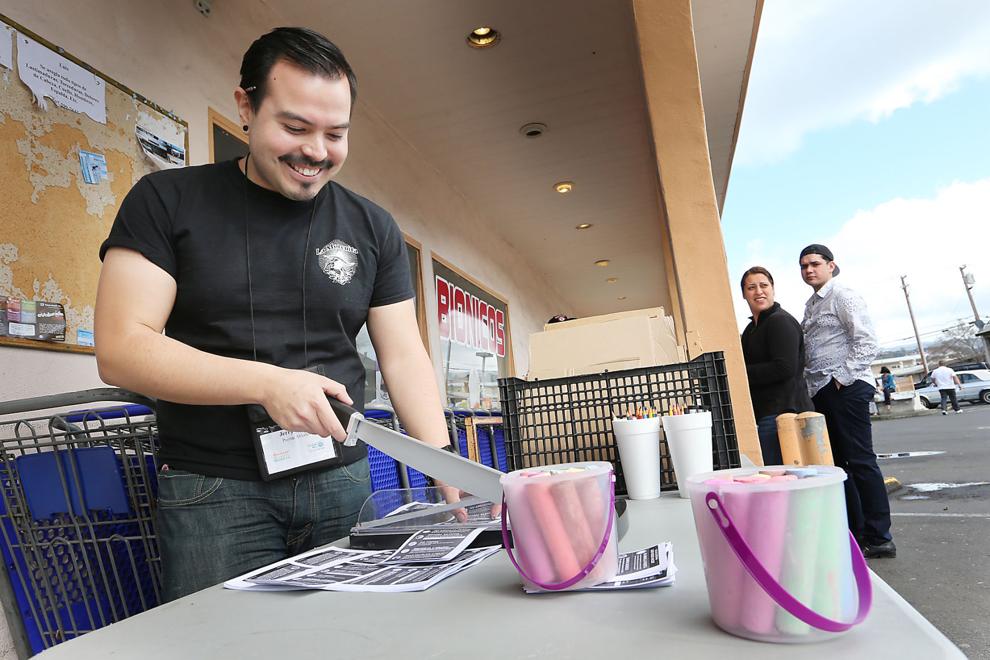 Day Without Immigrants Rally and March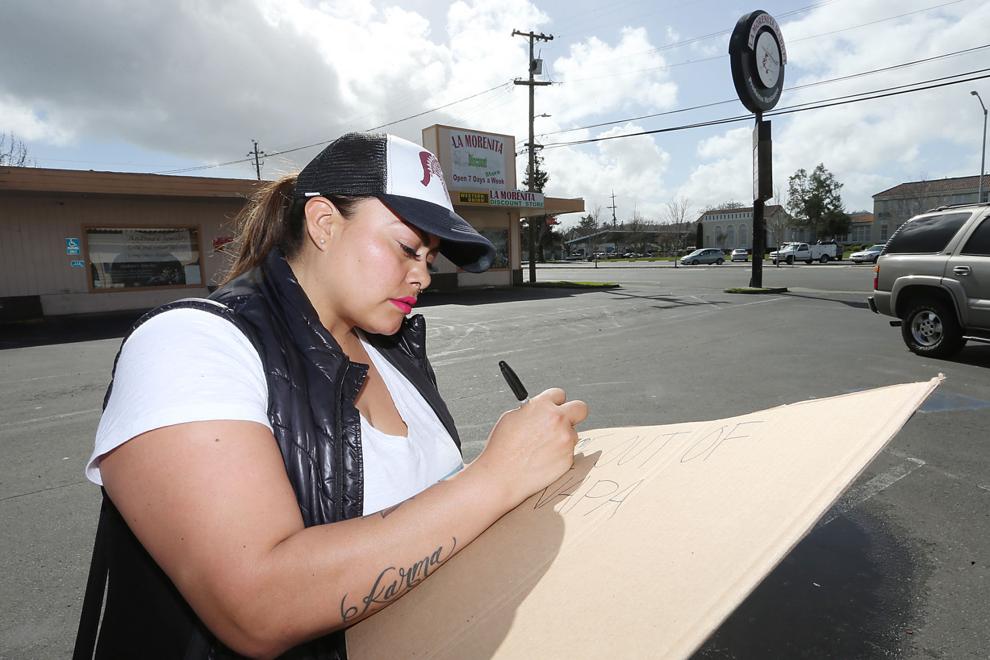 Day Without Immigrants Rally and March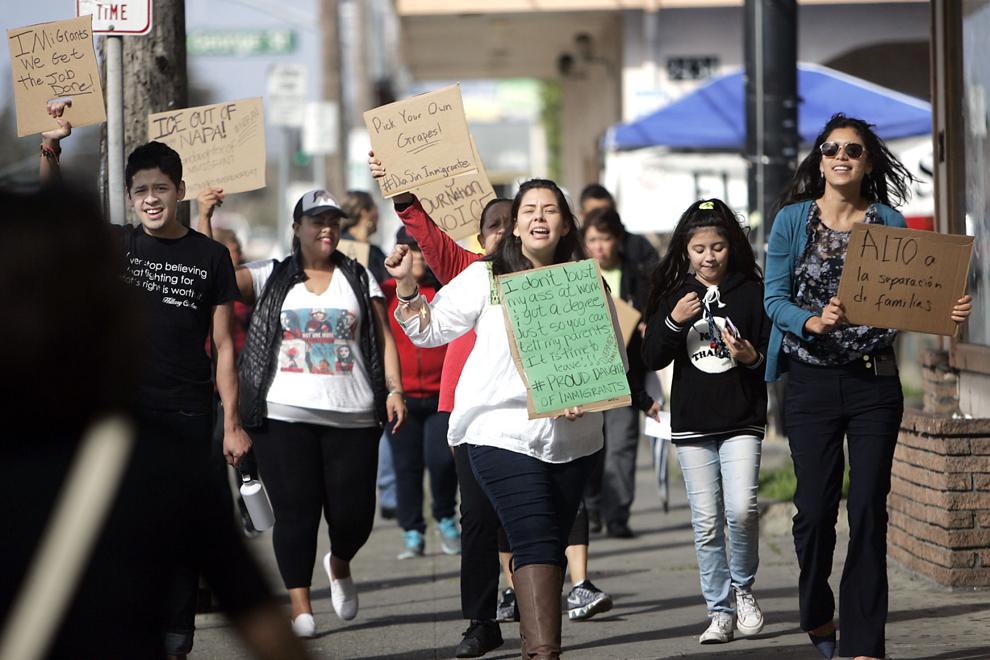 Day Without Immigrants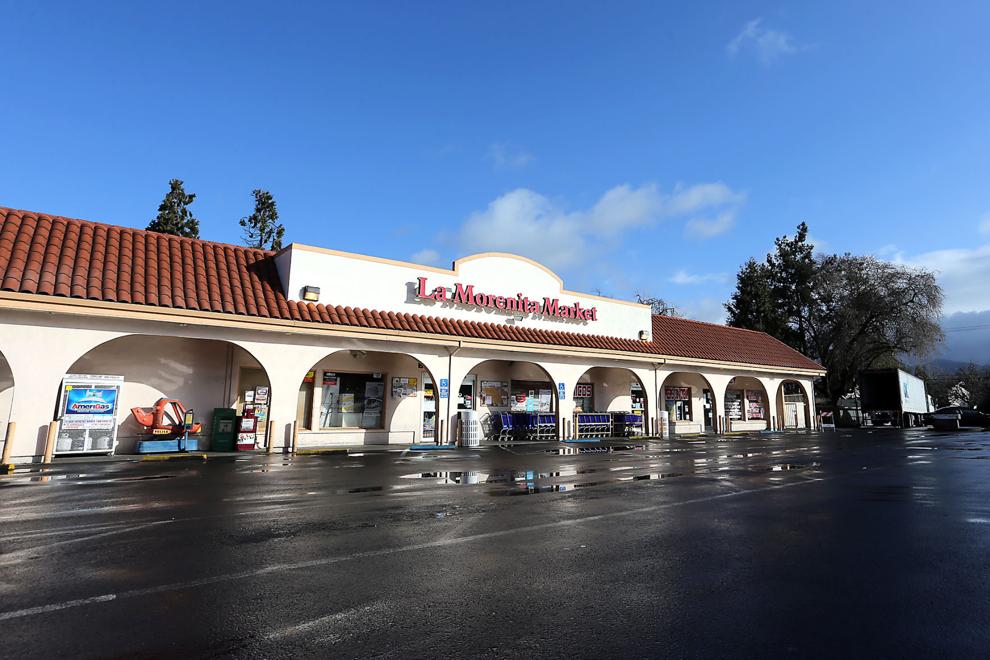 Day Without Immigrants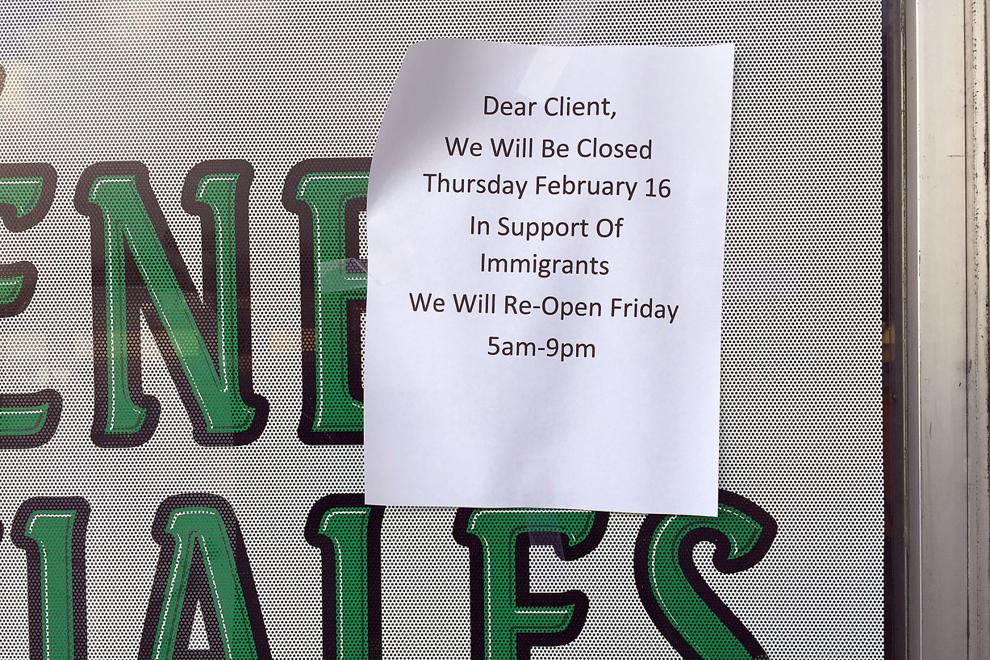 Day Without Immigrants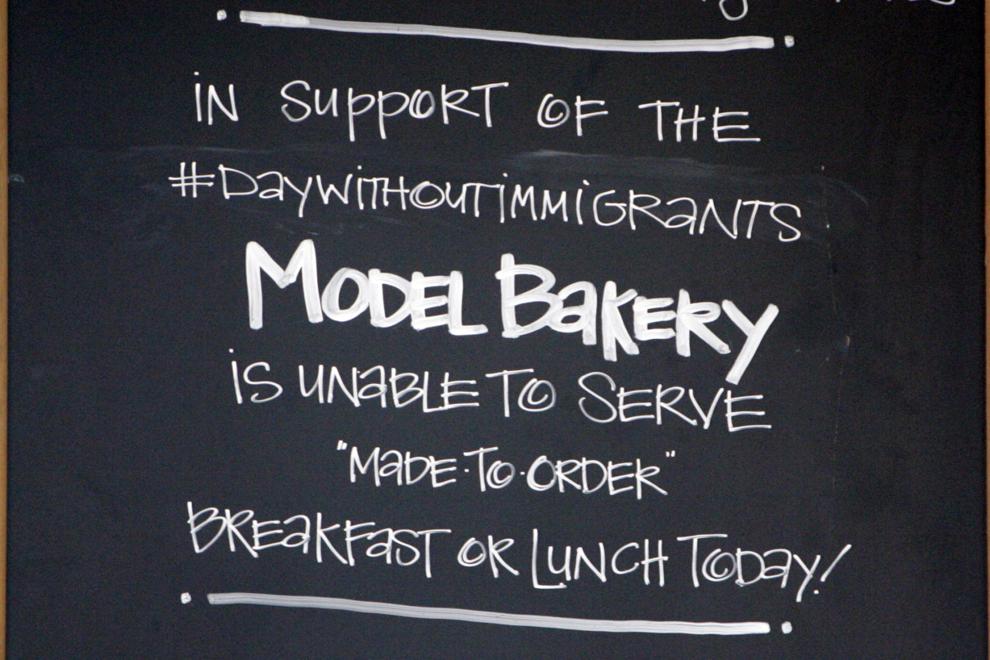 Day Without Immigrants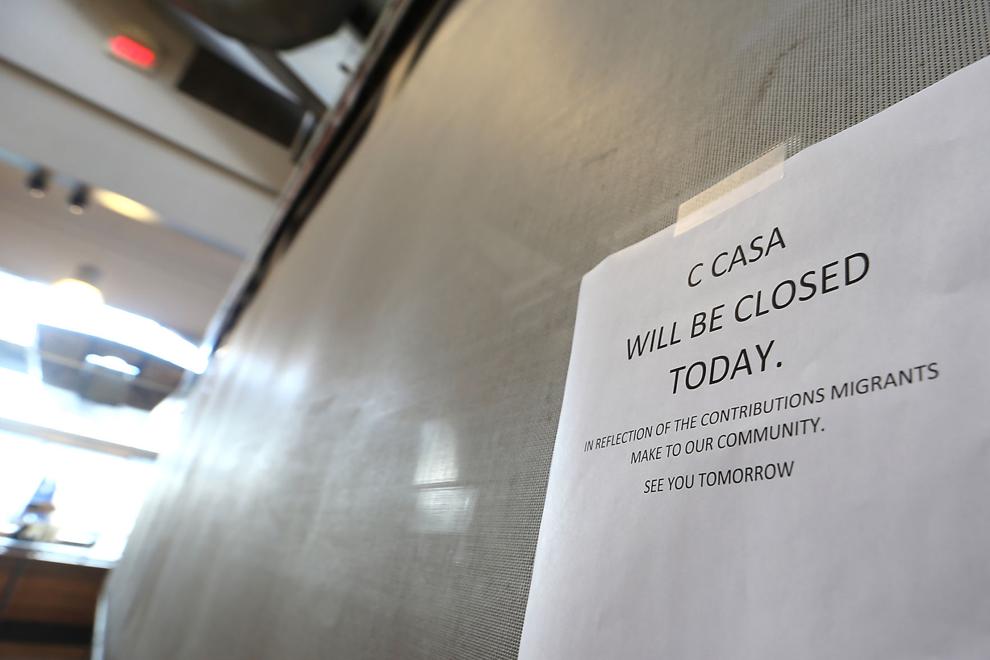 Day Without Immigrants
Catch up on Napa County's top news stories
Get unlimited digital access to the Napa Valley Register for just $1 for your first 6 months! Enjoy every article without restrictions and find tons of subscriber-only perks, such as access to our daily eEdition. Click here for details!