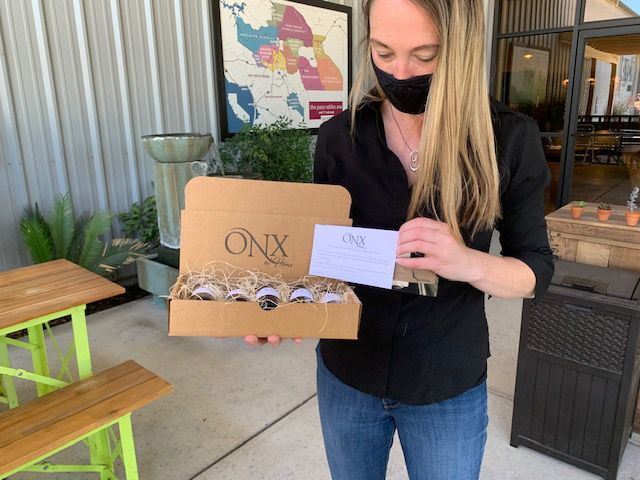 In these times of COVID-19 when lockdowns, prohibitions and constraints change on a daily basis, wineries have had to be creative; they have had to pivot to respond the inability to present wines in tasting rooms, send sales reps on the road and figure out how to capture a piece of the booming wine business even if the brand doesn't have a place on grocery store shelves.
Mass market brands with national name recognition have been riding the COVID wine sales boom while smaller, independent labels have had to build their direct-to- consumer (DTC) quick and figure out customer outreach like never before.
Some have met this challenge by taking a path that called for thinking out of the box, for wine brands and their customers alike. Take, for example, Anne Amie Winery in the Willamette Valley, and their partnership with the popular Zach Bruell Restaurant Group on Cleveland. Both restaurant and winery reached out to their list of followers and offered a three-course meal to be picked up at Alley Cat restaurant along with three bottles of Anne Amie wine. A brilliant bargain at $100 for two. www.zachbruell.com, www.anneamie.com.
After picking up the meal and wines, diners dialed into a Zoom call with both the winemaker and chef to discuss the foods and their wine pairings. The winery saw 37 new consumers that night in a market bursting with young executives ripe for wine knowledge. It went so well that another restaurant in the group, French-themed l'Albatros, will partner with the single vineyards of Dutton-Goldfield in the Russian River Valley for four courses and four wines.
ONX Winery of Paso Robles figured out early on that they needed to do something to reach out to members and potential customers who could not make it to the winery to taste new releases. For about $20, the winery sends two-ounce samples of five wines and then the recipients can organize a Zoom call among friends or relatives with a rep from the winery.
In this successful effort, not only did ONX sell hundreds of kits (one of my friends in Studio City has quite a name at the winery for organizing about 20 tastings and selling 120 kits just by word of mouth) but the winery sold many bottles and will surely be a stop when any of these tasters heads to Paso Robles. In fact, the sampling program has been so successful, ONX is not stopping once tasting rooms are back to normal; they are expanding the program to sample library wines, barrel samples and food and wine pairings. www.onxwine.com.
At the beginning of August, a credit card called Grand Reserve World Mastercard launched with the intention of matching wine aficionados with small or boutique-sized wineries by offering rewards in the form of wine accessories like stemware and wine refrigerators and eventually experiences at member wineries when COVID-19 restrictions let up a bit.
The attractive part of this credit card for wineries is that cardholders earn 5 points for each dollar spent at a member winery, and points add up fast. The bonus for signing up alone is enough for a small wine fridge. And member wineries, at no cost, get all the marketing power of a new and powerful financial tool.
Sam Lando of boutique brand, Lando Wines, broke the norm and loaded up a newly purchased travel trailer wine, the kids and the dogs and went on the road to sell wine. James MacPhail of Tongue Dancer and Megan Delzell for Sangiacomo joined in to hit states like Montana and Wyoming that are not usually hot territories for wine sales but registered low in the number of coronavirus cases. Not only did they use the COVID-19 lockdown for a memorable family vacation but, instead of hitting the phones and email, the old-fashioned face-to-face tastings and wine dinners, always outdoor and with masks and gloves, resulted in sales and new accounts the wineries would not have seen staying in Sonoma County. www.landowines.com, www.tonguedancerwines.com, www.sangiacomo-vineyards.com
When California relaxed its restrictions on selling wine through restaurants, Jasmine Hirsch of Hirsch Vineyards created a concept with a popular Los Angeles restaurant, Marino, to deliver three course meals and two bottles of their prized Pinot Noir for less than $200. A Zoom call with the chef and Jasmine for 20 minutes before the meal was just the right amount of time to balance and education and fine dining. www.hirschvineyards.com.
At Jordan Winery in the Alexander Valley, they've increased their popular vineyard hikes from 3-4 times a year to 2-3 times a week and added a twist to the experience there. "Paris on the Terrace" is a seated five-course meal paired with Jordan wines and Champagne. Using produce from the winery's gardens, winery chef Todd Knoll creates French-inspired food for an escape from everyday life, transported to a Parisian café, French music and all ... while safely distancing. www.jordanwinery.com.
At Larry Stone's Lingua Franca in the Eola-Amity Hills area of Oregon's Willamette Valley, their COVID-19 marketing plan was one of education. For an hour every week, wine educator Sam Schmitt, held Zoom webinars that didn't sell or taste but simply educated viewers on subject from the terroir of the Willamette Valley to the three B's of Italy: Barolo, Barbaresco and Brunello to Emerging Chardonnays of Oregon. At the end of each class, there was a soft sell of some kind of special. I rarely buy wine online but was happy to grab some of these superior Pinot Noirs because I appreciated the time and effort put into each webinar. www.linguafranca.wine.
Partnering with retail outlets and restaurants in other markets has been successful for wineries mentioned earlier but Gary Farrell actually joined with Plum Markets in Michigan to sell a three-pack at special pricing that came along with a Zoom call with winemaker Theresa Heredia. This pivots the in-winery tasting experience to a remote one but allows wine fans that opportunity to meet the winemaker, virtually, but with the impact one would hope for in a tasting room but is rarely possible with a winemaker's schedules and other responsibilities. Via Plum Markets, Heredia and Gary Farrell Winery created dozens of new fans who felt they "knew" the winemaker. This out-of-the-box outreach is how wines are sold now. www.garyfarrellwinery.com, www.plummarket.com.
Watch now: Matt Parish wine tasting
Barbara Barrielle is an award-winning travel and wine writer living in Healdsburg, California. She has been published in dozens of magazines and newspapers and is currently planting a vineyard and restoring a 1967 Airstream while not able to travel. Follow her @barbarabarrielletravels or contact at barbarabarrielle@gmail.com.
Be the first to know
Get local news delivered to your inbox!