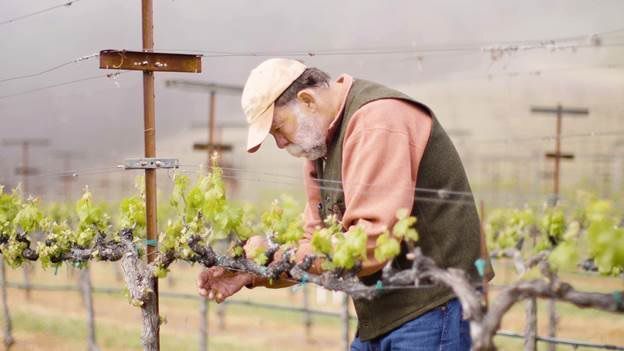 Smith-Madrone featured on Somm TV 
The wine and food streaming network Somm TV devoted a segment in its series "Behind The Glass" to profiling Stuart, Charles and Sam Smith of Smith-Madrone Vineyards in St. Helena. 
The 21-minute segment went online on July 6. It includes drone footage of the steep slopes of the winery's vineyards and coverage of the Smiths tasting a 1979 Cabernet Sauvignon and 1997 Riesling. The 1979 Cabernet was the second vintage of Cabernet the winery released and its third wine.
Support local news coverage and the people who report it by subscribing to the Napa Valley Register. Special offer: $1 for your first 3 months!
On May 14, 1971  founder Stuart Smith closed on the purchase of 200 forested acres on top of Spring Mountain. On May 14, 2021, Smith-Madrone launched a year of 50th anniversary celebrations.
The winery will be re-releasing wines on the 14th of every month through the anniversary year. The re-released wines are very limited in availability and will appear on a specially designated page on the winery's website.
During the program, the Smith brothers tell the story of the historic vineyard that today is Smith-Madrone. "The whole reason to go to the mountains in the first place was to try to grow the very best grapes, so we could make wine from the very best mountain-grown grapes that we could do," Stu Smith says.
They go into detail about the differences of Napa Valley in the 1970s and today; and Charles shares a story of bringing the 1979 Cabernet to a tasting with Andre Tchelistcheff and how Andre held up his glass and said to all the tasters, "Now this is a Cabernet."
"It was very validating at the time," Charles said, "and 42 years later this wine is still a killer; it's really quite special."
The Smiths also talk about their decision to plant and make Riesling, explaining, "You have to be an idiot not to love Riesling."
Smith-Madrone's first vintage of Riesling, the 1977, won Best Riesling in the Wine Olympics, an international tasting organized by the food and wine magazine Gault Millau in Paris in 1979.
Why the name "Smith-Madrone"? Charlie explains: "We had a big list of names and an old friend of Stu's suggested it. The madrone tree is an evergreen hardwood tree that goes from the central California coast all the way to British Columbia. The tree has very red bark; you can spot it easily in the forest. We put it on our list and it won by default. It sounded better than Smith-Poison Oak or Smith-Douglas Fir."
All of the winery's wines are made from the estate vineyards that Stuart and Charles planted 50 years ago. 
In 2010 the winery introduced its first reserve wine, the 2007 Cook's Flat Reserve. Each wine is numbered and presented in a multi-color tissue which reproduces the estate's deed, signed by President Chester Arthur in 1885. This wine has its own website.
In 2018, Stu was named one of Wine's Most Inspiring People as a pioneer and champion of hillside grape growing, by Wine Industry Advisor.
Smith-Madrone's current releases are the 2017 Chardonnay, 2016 Cabernet Sauvignon, 2017 Riesling, 2016 Cook's Flat Reserve and in very limited availability, magnums of the Cabernet Sauvignon and Cook's Flat Reserve.
Dinner with the Brothers under the stars
The Lasallian Christian Brothers Foundation will host an afternoon wine tasting and al fresco dinner on Aug. 28, from 3 to 8:30 p.m. at Mont La Salle. 
Guests will be the first to taste and purchase two new releases, the 2018 Brother Timothy Cabernet Sauvignon and the 2019 Brother Timothy Chardonnay. Attendees will also be able to sample the 2018 Brother Timothy Chardonnay and buy the last of the remaining 2016 Brother Timothy Cabernet.
These limited production vintages of Brother Timothy Cabernet Sauvignon and Chardonnay are produced by The Hess Collection Winery in honor of Brother Timothy Diener and are rarely available to the public.
Guests will be serenaded by acoustic guitar as they taste wine, tour the property, and dine with the brothers.
The cost is $25 per person for the private wine tasting only with advance reservations or $200 per person for the wine tasting and alfresco prix fixe dinner prepared by executive chef Juan Zavala, a graduate of the Culinary Institute of America. Registrants are welcome to attend just the dinner, if preferred. Dinner seating is limited and reservations are required. 
All proceeds from this event support the mission of the Lasallian Christian Brothers Foundation.
News from Newton
Newton Vineyard has appointed Andrew Holve as head of winemaking.
In his six years at Newton, Holve has worked with two head winemakers in mastering Newton's mountain wine philosophy. Born in Sebastopol, Calif., he holds a master's degree in viticulture and enology from UC Davis and has worked at Sonoma wineries including MacRostie Winery and Ridge Vineyards, as well as internationally at New Zealand's Church Road Winery and Cloudy Bay.
"We are proud to promote Andrew to this role," said general manager Jean-Baptiste Rivail. "This will be his seventh vintage with Newton. He has been a key member of our winemaking team since 2015 and completely understands what our mountain vineyards can express."
"I'm Californian; I grew up around these mountains," Holve said. "It's been incredibly special being at Newton, and having the opportunity to study and explore such distinctive terroirs. We are privileged to work with vineyards from varied elevations of up to 1,800 feet, different soil complexes, and a myriad of exposures and aspects."
He added, "I want to showcase the distinctiveness of our mountain terroir, which delivers a lively balance of bright freshness and ripe Napa fruit. Ultimately the environment shapes these wines, and I nurture and allow them time to make a wine that spotlights and stands true to the Napa Valley."
A new CEO for Kenefick
Kenefick Ranch Vineyard & Winery in Calistoga has appointed Chris Kenefick, son of the late founder Dr. Tom Kenefick, as CEO and second-generation proprietor.
Chris, along with his sister Caitlin, grew up visiting and working on the 250-acre ranch and watched their father build the winery from the ground up.
"Caitlin and I are very committed to the property, the brand, and the continued success of what our dad started," Chris Kenefick said in a statement. "I'm looking forward to continuing to build off what our dad accomplished and take the vineyard and brand to the next level."
Established in 1978, the vineyard began by primarily selling grapes to multiple labels including Caymus, Joseph Phelps, Shafer and Pride Mountain.
In 2002, Kenefick Ranch began producing and selling its own portfolio of  wines. Previously vice president of sales for Kenefick Ranch, Kenefick joined the winery full-time in 2016 after working in hotel management in San Francisco. Over the past five years, he has been involved in day-to-day operations, including production, distribution and marketing.
Diaz joins Demeine Estates
Demeine Estates, a Napa Valley-based négociant of fine wines, has appointed Scott Diaz as senior vice president for global brand strategy and marketing.
A wine industry marketing veteran, Diaz was previously vice president of marketing and brand management for Wilson Daniels. In 2012, he was selected by founder Jack Daniels to lead the marketing and brand management team, covering a portfolio of 40 brands and was subsequently appointed to oversee the creative services and public relations teams.
Diaz worked with Wilson Daniels for 13 years and has successfully developed strategic marketing and budget plans for properties, including Schramsberg Vineyards, Domaine de la Romanée-Conti, Biondi-Santi, Royal Tokaji and Ponzi Vineyards.
He has a degree in accounting from the University of Colorado Leeds School of Business and has earned multiple trade certifications including Society of Wine Educators' Certified Specialist of Wine, French Wine Society's Bordeaux Master Level, WSET Level 2 and The Culinary Institute of America's Certified Wine Professional.
Founded by the Lawrence family and master sommelier Carlton McCoy, Jr., Demeine Estates supports a portfolio of  legacy wineries that share the goal of producing fine wines with a focus on sustainability.
As a key member of the executive team, Diaz will work closely with Demeine Estates President Philana Bouvier and the direct-to-guest  teams at individual estates leading initiatives in brand management, price positioning, trade marketing, DTG communications, digital, ecommerce, and event marketing.
Stone Brewing celebrates 25th anniversary
Tickets are now on sale for a beer-pairing dinner at Stone Brewing in Napa to celebrate the brewery's 25th anniversary. It takes place on Friday, Sept. 17, from 6:30 to 9:30 p.m. Tickets are $125 per person or $75 for designated drivers and can be purchased at StoneBrewing.com/25thAnniversary.
The Cabernet Classic coming up
Patron Foundation will host the inaugural Cabernet Classic on Aug. 19 through 21 at The Meritage Resort and Spa in Napa.
The event includes expert-led tastings and gourmet dining experiences.
Tickets start at $700 for day passes and $2,000 for weekend passes. Guests can also purchase passes for just the Grand Tasting where they will be able to experience 30 of the weekend's wines and meet with the winemakers. Tickets for the Grand Tasting are $300 per person. Event tickets can be booked at cabernetclassic.com. Accommodations can be booked directly on The Meritage Resort and Spa website, with rates starting at $249.
Catch up on Napa County's top news stories
Get unlimited digital access to the Napa Valley Register for just $1 for your first 3 months! Enjoy every article without restrictions and find tons of subscriber-only perks, such as access to our daily eEdition. Click here for details!