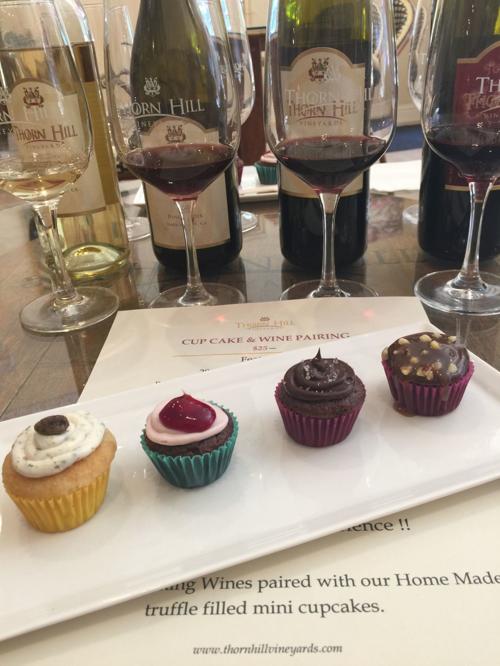 I learned a long time ago that, for me, red wine loves chocolate. It's not only just a piece of chocolate or a chocolate truffle, however.
When I am out and about dining, I always check the dessert menu to see if there is a chocolate something that I might need at the end of my meal. If there is, I always save some sips of my red wine to enjoy with said chocolate dessert.
A little piece of chocolate is sometimes offered along with red wine tastings at our local wineries. Sometimes it's a simple Hershey's Kiss and sometimes something fancy schmancy.
I've discovered that the Thorn Hill tasting room in St. Helena offers a new, really fun and different chocolate and wine tasting that takes these pairings up a couple of notches: wine and cupcakes.
Owner Amy Thorn had been toying with this idea since 2014 long before cupcakes became all the rage. She was just waiting for the all the planets to align to launch a wine and cupcake tasting.
Sampling from several local cake shops, bakeries, caterers and patisserie's were definitely impressive, but the pairing had to be the flavor profiles that enhanced the Thorn Hill Vineyards wines.
Up stepped the tasting room manager of Thorn Hill, Deniese Steelman, who wondered if she might be able to create some samples for Thorn to try alongside their wines. Steelman knows her way around the kitchen and had years of experience creating baked goods, breakfast entrees, appetizers and more during her 20 years managing Wine Country Inn, in St. Helena.
Fast-forward to today and you will find four mini cupcakes paired alongside four different varietals of Thorn Hill wines. Steelman now hand makes cupcakes daily for this new tasting room experience.
The 2015 Thorn Hill Pinot Grigio is paired with a white Belgian chocolate pistachio mini cupcake with a pistachio truffle center. The hint of pistachio used is a perfect touch. This Pinto Grigio is like summer in a glass, perfect for this time of year. I'd also like to try this cupcake with the Thorn Hill Sparkling Brut Cuvee. I believe this could be fun and festive.
With the 2013 Thorn Hill Pinot Noir, tasters enjoy a dark chocolate raspberry mini cupcake with raspberry and ganache truffle center. The mini dollop of raspberry garnish atop the cupcake complemented the berry notes of the Pinot.
A dark chocolate and sea salt cupcake with a dark chocolate ganache truffle center was perfect for enjoying with the 2013 Thorn Hill Merlot. The slight saltiness created a nice balance with the soft tannins of this wine.
Another taster who happened into the tasting room during my visit commented that the combination of this cupcake and this wine was "unexpected" and I had to agree. It was a lovely surprise on the palate.
The final pairing was a 2014 Thorn Hill Old Vine Zinfandel, out of Lake County. Some might actually call this "ancient vine," as the vineyards were originally planted in 1886. This is a big wine, with an alcohol percentage of 16.5 percent. The cupcakes stood right up to this wine without a whimper. Dark chocolate, hazelnut and caramel cupcake with hazelnut espresso truffle center.
You have free articles remaining.
Frostings are lightly whipped and not overly sweet.
The chocolate for the truffle centers of the cupcakes are created by local chocolatiers at Le Belge, in Napa. Classic chocolate artisanship with contemporary ideas.
A gentleman wandered into the tasting room and announced to Steelman, "I hear you have the best cupcakes in town." He was there to buy cupcakes to take home. Not the first request they had received, it seems, because they had a perfect little "to go" box for six cupcakes.
Yes, it wasn't quite the plan, but it did speak quite well of those cupcakes.
The pairings are $25 per person.
The St. Helena tasting room itself is one of the most comfortable tasting rooms I've visited. It has enough open space to be comfortable, at the tasting bar or individual tables, and a decor that is not pretentious, but rather welcoming and interesting.
The art work displayed is by John R. Clarke. His choice of canvas is silk, which causes his water-based paints to "bleed" across and saturate the fabric naturally, almost at will. They call this "The Art of the Unexpected."
Amy and Jack Thorn divide their time between their home and winery in Lancaster, Pennsylvania, the Napa Valley, and their bed and breakfast villa in Lake County.
Thorn Hill Vineyards focuses on small production, single vineyard wines and distinctive appellations.
Over the years, production as grown from eight to 16 varietals.
Amy Thorn is the winemaker; Jack Thorn's educational expertise in biology and botany immerses him in the growing of the grapes.
It's a family affair, with son Jonathan overseeing activities at the Lake Country tasting room in Lower Lake, while daughter, Rachael, tends to the visitors in the Lancaster tasting room, which has the distinction of being the first California wine store in Pennsylvania.
The Thorns understand hospitality as much as they do the wine world. They understand the importance of celebrations and include loyal followers, who have become friends over the years, in frequent wine dinners, excursions (this year it's a European river cruise), release parties and a monthly gathering of the Bookwino Book Club, Wild Women of Wine, Trivia Nights and live music events.
Amy likes to say "wine is bottled friendship." With cupcakes.
The Thornhill tasting room is at 1234 Main St., St. Helena.