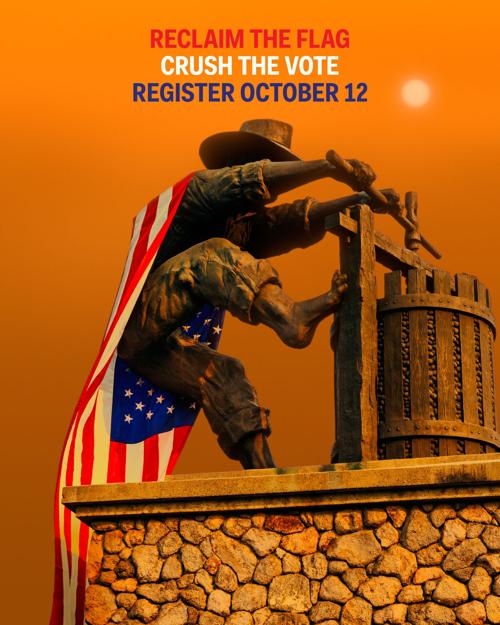 As the North Bay suffers its most devastating bout of wildfires in recent history, local winemakers will be pouring their wines gratis for guests who register to vote at "Crush the Vote," taking place at Ashes & Diamonds Winery on Oct. 12 from 5 to 9 p.m.
Dan Petroski (Massican Wines), Scott and Jenny Schultz (JolSara Morgensternie-Laide Wines), Steve and Jill Matthiasson (Matthiasson Wines), Marty Winters and (Maître de Chai), Kim and Tyler Elwell (Halcyon Wines), Dan O'Brien (Gail Wines), (Ruth Lewandowski Wines) and Kashy Khaledi (Ashes & Diamonds) are participating in the effort "to acknowledge the importance and urgency of the forthcoming election."
Organized by local winemaker Meghan Zobeck (Inconnu Wines, Screaming Eagle), Ashes & Diamonds proprietor Kashy Khaledi, and the People's Collective for Change (PCC) Napa as "Crush The Vote," the purpose of the registration drive is to achieve full local voter registration and to build national awareness through the wineries' respective social media followings. Currently, 75% of Napa Valley citizens are registered.
Zobeck said, "There is a lot riding on this election. We need everyone who is eligible to register and make their voices heard by voting."
"There may not be an immediate solution for preventing perpetual wildfires, but if there is any doubt that climate change has arrived, let me state it unequivocally from ground zero: it's here, it's unrelenting and it's indiscriminately changing our local landscape," says Khaledi. "There is much work to do, but for now, we begin with the most powerful tool we have as citizens: our ability to vote."
Since opening in 2017, Ashes & Diamonds has demonstrated a commitment to pro-social initiatives and global activism, contributing to a wide range of non-profit organizations such as AIDS/Lifecycle, Baby2Baby, The Okra Project and the Center for Urban Education about Sustainable Agriculture (CUESA).
Watch now: Allison Levine tastes Ashes & Diamonds wine
iframe width="560" height="315" src="https://www.youtube.com/embed/X_uIDaVyVG4" frameborder="0" allow="accelerometer; autoplay; clipboard-write; encrypted-media; gyroscope; picture-in-picture" allowfullscreen>
Be the first to know
Get local news delivered to your inbox!