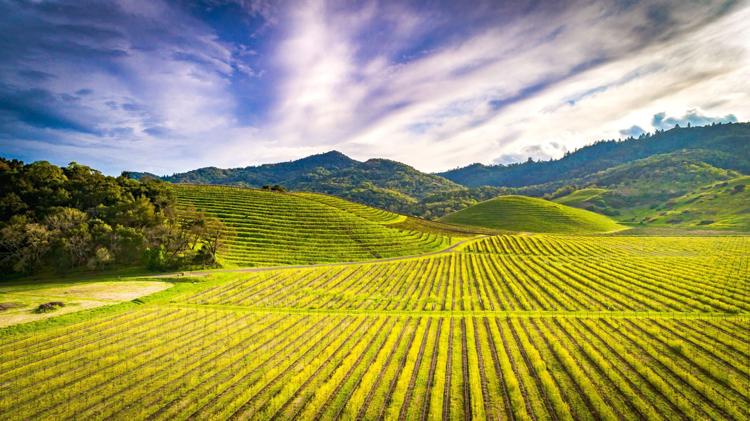 In their seminal book exploring the geology, history and environment of the Napa Valley, "The Winemaker's Dance," geologists Jonathan Swinchatt and David Howell chronicle how such a small piece of the globe is able to consistently produce such wonderful wine. Paraphrasing the French saying "Wine grapes are a tool for extracting flavor from the soil," they broaden the concept to explore how even smaller regions — "microenvironments" — contribute to a wine's quality.
"Microenvironments, including soil and sun, are often the key defining characteristics in determining a wine's quality," said Glenn Salva, estate manager for Antica in the Napa Valley's Atlas Peak region. "Without a clear understanding of the particulars of a site it is nearly impossible to grow grapes that are a true expression of a place, or what is often referred to as ' terroir.'"
"Terroir" driven by dirt and Mother Nature
The word "terroir" is a derivative of the French word "terre," meaning land or earth, and is often used to define characteristic taste, flavor and texture imparted to a wine by the environment in which the grapes are grown. The concept of terroir goes back at least to the ancient Greeks but was brought into focus in France when the Benedictine order of monks emerged in the sixth century. The Benedictines (and later the Cistercians in the 11th century) were dedicated cultivators of wine grapes throughout the church's vast landholdings in Burgundy.
Beyond just growing grapes and making wine, they conducted large-scale studies to determine the influence of various parcels of land on the wines they produced, eventually establishing the boundaries for many of the Grand Cru vineyards that still exist today, forming the basis of France's "appellation d'origine contrôlée."
"Without terroir, wine is nothing," said Russell Bevan, owner and winemaker of Bevan Cellars. "As winemakers we are not artists but instead caretakers of terroir, and the best wines allow for the pure expression of place. For me terroir is a function of dirt and Mother Nature. Everything else — microbes, yeast, oak, punch-downs — is a type of manipulation."
Others disagree, suggesting that terroir is more a marketing trick than something rooted in science, such as in Mark Matthews' book, "Terroir and Other Myths of Winegrowing," published in 2015.
Nevertheless, everyone seems to agree that wines grown in different places taste different. And to figure out the key drivers of these differences scientists have used chemical analysis, examined microbe DNA, and experimented with different rootstock, varietals, trellising, row orientation and other variables in the name of understanding how to grow better grapes to produce better wine from a particular region.
Ultimately, it all seems to come down to microenvironments.
Defining microenvironments
Micro-environments (often used interchangeably with "microclimates") are defined by Swinchatt and Howell as, "referring to local climatic or environmental conditions in an area of unspecified size that generally does not encompass more than a single vineyard."
This definition is broader and more vague than other authors on the subject, such as Australian viticulturists Richard Smart and Mike Robinson. In their influential book on the subject, "Sunlight Into Wine," they refine microclimates down even further into "micro, meso and macro," but for our purposes we'll stick with the broader definition.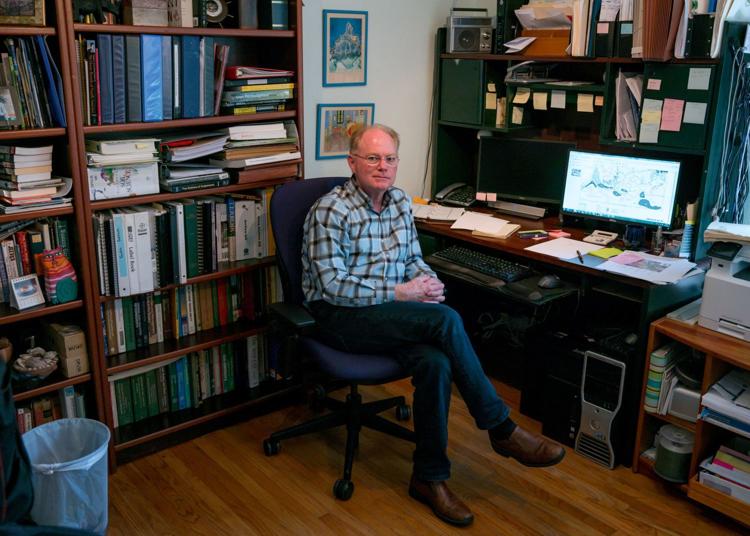 Dirt and light
"Soil supplies all the major components for plant growth (water and nutrients) except light," said Paul Anamosa, owner of Vineyard Soil Technologies, a Napa-based company that provides services for vineyard development and management. "Even minor variations in soil properties influence vine growth and performance."
As a part of the process to understand a vineyard site, Anamosa and his team dig pits into the earth to conduct dozens of tests that highlight everything from pH to the micro-porosity of each substratum of dirt, be it sand, silt or clay.
"One of the key elements in understanding a vineyard site is determining the water-holding capacity of the soil," Anamosa said. "One of the keys to making quality wine is ensuring that the fruit ripens uniformly across the block (a defined section of vineyard)."
Anamosa explained that once a vine goes through berry set a vineyard manager wants to withhold water just enough so that vines are stressed so as to produce the highest-quality grapes. Whereas over-watering can cause the grapevine to produce more fruit that can ripen fully, under-watering too severely can cause the grapes not to fully develop. Beyond water, understanding the makeup of the soil's nutrient profile allows for additions of natural elements to ensure the nutritional needs of the vines are met.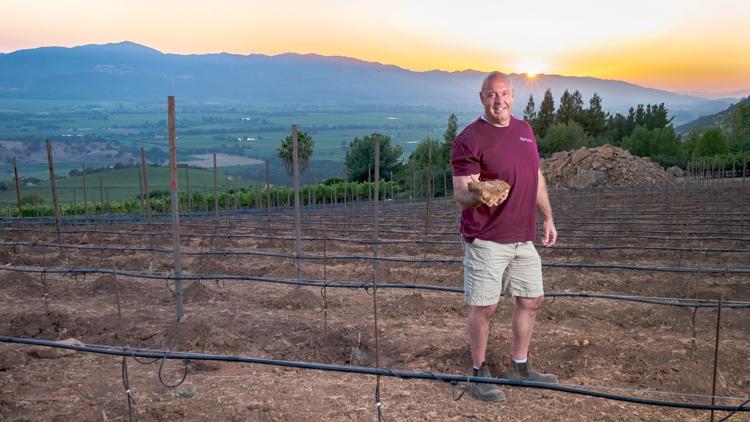 Beyond dirt
You have free articles remaining.
Once the soils are understood, the light goes under the microscope.
"We know that berries (grapes) in direct sunlight can have temperatures 7 to 15 degrees higher than ambient temperatures," Anamosa said. "We also know that berry temperatures greater than 107 degrees cause physiological damage to enzymes responsible for phenol and anthocyanins (flavor, color and aroma chemicals) development in the skins. Therefore we design vineyards so that the grape clusters are naturally shaded during the hottest days of the year."
Taking into consideration the slope, elevation and site conditions, Anamosa uses azimuth data (the angle along the horizon with zero degrees corresponding to north and increasing in a clockwise fashion) to calculate both the direction and angle of the sun so that vines might be oriented to shade their fruit during the hottest days of the year.
According to Anamosa, knowing all elements of the soil — structural and nutritional — and creating a plan to protect the grapes from becoming sun-damaged are the basis for understanding a vineyard and its unique microenvironment.
Taking microenvironments beyond science
"When Piero Antinori first purchased this site in the mid-1980s there were not many people growing grapes up in this area of the Napa Valley," Salva said. "It wasn't like we could just ask a neighbor what they'd been doing, so we ended up doing a lot of experimentation, finding exactly what might work best, where."
Antinori, from the famed Italian winemaking family, had 26 generations of experience growing grapes in Italy. Nevertheless, when they purchased the 1,200-acre estate — now called Antica — in the eastern mountains of Napa Valley, they faced new challenges. According to Salva, Antinori knew that the property's Atlas Peak location with its rocky soil and high elevation above the fog line had great potential for growing quality wine grapes, but exactly what grapes might grow best would need to be tested over time.
At first, they primarily planted a grape near and dear to the Antinori name, Sangiovese, which grew well but produced wines that were distinctly different from those same vines in Italy. Over the decades they've refined and replanted, explored the soils and tested alternatives that have included different trellising techniques, clonal selections, row orientation and vine spacing.
"Understanding the site, we've come to realize that whereas we (and nearly everyone else) used to plant 1,000 vines per acre now we are planting up to 2,500 vines per acre," Salva said. "We've also moved toward the clones derived less from UC Davis and moved toward those from the French ENTAV clones, which often seem better suited for our site."
Over 30 years, they've come to know their site to the point where their 500 acres of planted vineyards include blocks of nearly a dozen varietals, ranging from Cabernet Sauvignon on the rocky benchland to cooler-loving varietals such as Chardonnay and even Pinot Noir in the lowest sections of the estate that have deeper soils.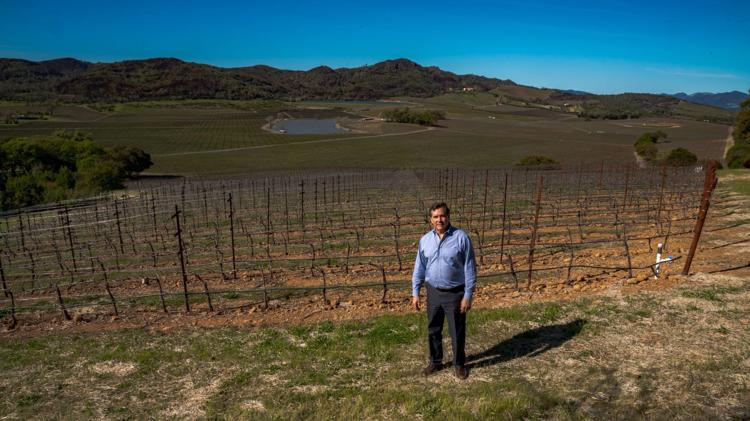 Antica wines — a study in microenvironments
Tasting Antica wines at their mountain estate is an experience unlike many others in the Napa Valley. First, the drive to the winery, which travels up Soda Canyon Road, is like traveling back in time as you leave the valley floor and head upward into often steep rocky chaparral land. Eventually the valley opens and the road ends at the winery's gate. Once inside, the Atlas Peak high-plain plateau stretches eastward. Hills, mountain slopes and benchland speak to the land's rough and varied nature.
Once at the winery, guests are warmly invited to enter a working kitchen where longtime staff might be cooking a simple, aromatic pasta dish made with garlic, olive oil and spicy chili flakes to serve for their lunch.
Tasting wine at Antica feels refreshingly authentic, like one has entered a longtime friend's home and been asked to share a glass or two. The experience was so different from what I've come to expect that I nearly lost my bearings. "Wait, am I at a wine tasting or with some long-lost family friends somewhere in the hills of Tuscany?"
Most of the grapes are sold to other wineries, but for the wines made for the Antica brand they are "estate" in that they are grown and made on-site. I tasted the Chardonnay (4,000 cases made at $35 a bottle), a Rosé made from Pinot Noir (100 cases made at $28 a bottle), the 2014 Townsend Cabernet Sauvignon (400 cases made at $110 a bottle) and the 2016 Sangiovese (100 cases made at $42 a bottle).
Each wine displayed unique characteristics, often with distinct bright fruit flavors, complex aromatics that included stony earth and dried sweet herbs, and finishes that left a distinct impression of earthy elements such as stone, truffle or sandalwood. All the wines were what I refer to as "value wines" in that they over-delivered for the price.
But it was the Sangiovese that grabbed my attention and would not let go. This wine spoke of both place and history. According to Salva, Antinori brought cuttings over from Italy and planted them. The wine they produced was good but different from what he'd expected. Over time, much of the Sangiovese vineyard has been replaced with Cabernet Sauvignon. The reasons are many — the quality seems more in line with current consumer interest, the price per ton of grapes is vastly better for Napa Valley Cabernet compared to Sangiovese, and the wine is just so different from that in Italy — all reasons that scream "microenvironment" and "terroir" in my mind.
With fingers crossed, my hope is that Antinori and crew continue their courageous journey to explore their estate with an open mind and a nod to both the future and the past. Or as the authors of "The Winemaker's Dance" remind us:
"Thus the bottle of wine that we might be drinking tonight can, with a little effort on our part, reconnect us with both its roots and our own, for we both, ultimately, come from the Earth."