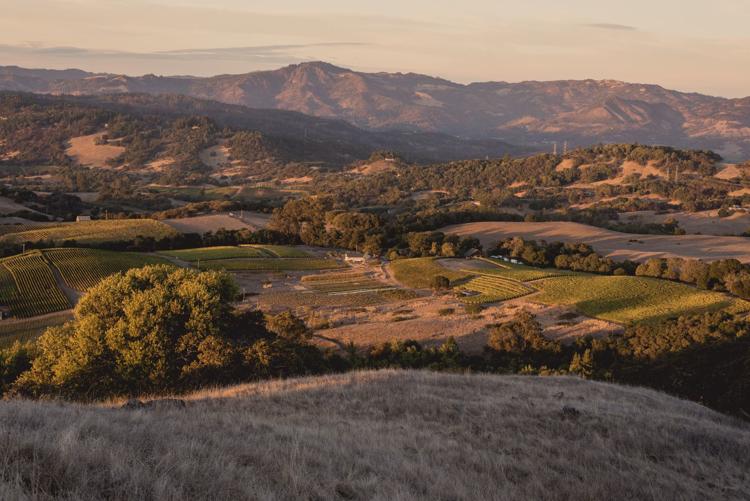 I tasted the wine first, a bottle of Chardonnay, unfined and unfiltered, looking like fog in a bottle. I didn't know the label, Belden Barns, but it had a tree on it. I chilled it, opened it and poured a glass.
Sometimes, a wine surprises you. What was so appealing about it? It was a little citrus, a little tropical. It was crisp and fresh as a spring morning. It was different; it was delicious. I added a little to a chicken I was cooking. I have to say, that was one fine chicken.
I decided to visit this unknown winery, Belden Barns and made an appointment. The official address is Santa Rosa but the GPS sent me to Glen Ellen and up the winding Sonoma Mountain Road, which grew narrower as the views became more spectacular. I came to a chain link fence with a small, wooden sign: Belden Barns.
"Please close the gate after you," the directions had read. "It's deer season."
An unpaved road lined with cypress trees led to a splendid view of vineyards, and oak and pine trees below a magnificent mountain. To one side, a little house was under construction. Uphill was an old relic of a barn. I saw another ancient-looking structure. I did not, however, see any people.
I had no phone service to find out of I might have come to the wrong place on the wrong day. Finally, I headed back down the mountain. When I reached Glen Ellen, my phone lit up.
"Hi, this is Nate Belden," the caller said. "I was just making sure you weren't lost."
"Oh no," he said when I explained, "I was just in the barn, getting the tasting ready."
"Did you see a barn up on the hill?"
I turned my car around and headed back up the mountain.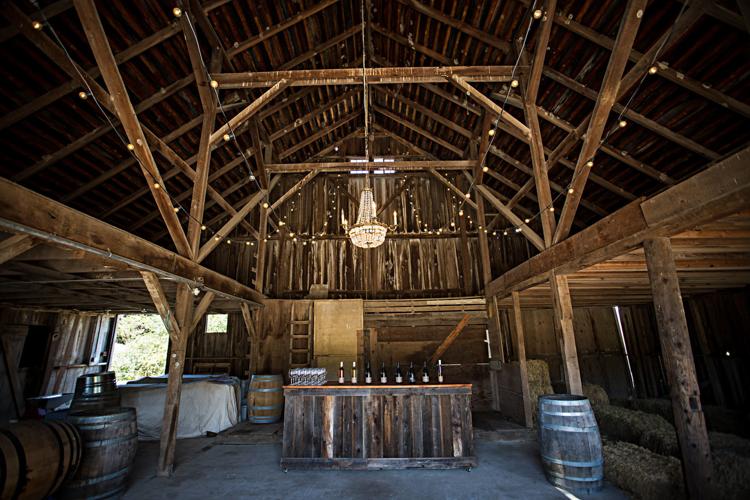 And so I found myself sitting on a bale of hay in a 1800s-era milk barn that serves as the hospitality center for Belden Barns. Learning the story of Belden Barns, I felt like I'd discovered an adventure such as one might have found many decades ago venturing into the then-unknown world of Napa. Only, I dare say, the wines were probably a whole lot better.
A road home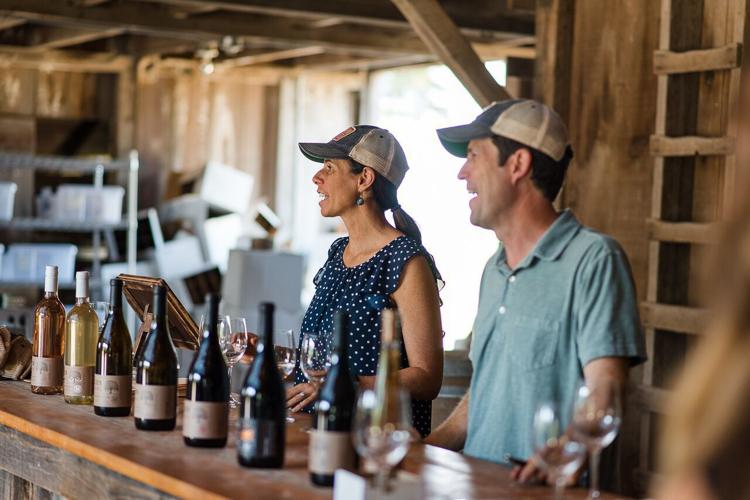 Nate Belden, grew up on a horse farm in Colorado. One grandfather operated a cattle ranch in Montana and the other raised dairy cows and corn in Nebraska. Belden naturally gravitated towards something entirely different. "Growing up steeped in agriculture, I did everything I could to get away from it," he said. "But childhood experiences have a way of staying in your blood."
He went into finance in New York. A move to San Francisco meant a visit to wine county. In 2004, a weekend in Sonoma reignited thoughts of farming. He slipped back to look at a farm for sale on Sonoma Mountain Road.
"It was love at first sight," he said.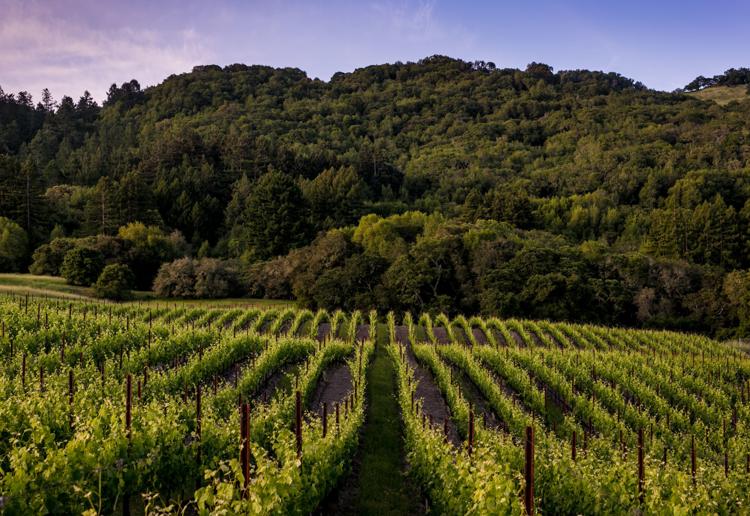 Although the price was far beyond his means, and he didn't know where he'd find the time to embark on life as a farmer, Belden said he kept going back, parking in front of the mail box and fantasizing about buying it.
"The site sits geologically in a bowl backdropped by Sonoma Mountain, which makes it feel isolated and wild," Belden said. "You are truly transported to another world."
The 1800s farmstead had become a retreat for nature-hungry San Franciscans in the early 19th century. Rumor has it that a dance hall there was the site of speakeasy action during Prohibition. In 1973, David Steiner planted vineyards.
Belden began taking winemaking and viticulture classes at UC Davis and Santa Rosa Junior College while he imagined possibilities. Then the blow fell: on a pilgrimage to sit in front of the mailbox, he discovered the "For Sale" sign was gone. Devastated, he called a Realtor to ask about other properties, and he learned that the sale had fallen through. Sometimes, you only get a chance to do something crazy once. He managed to buy it.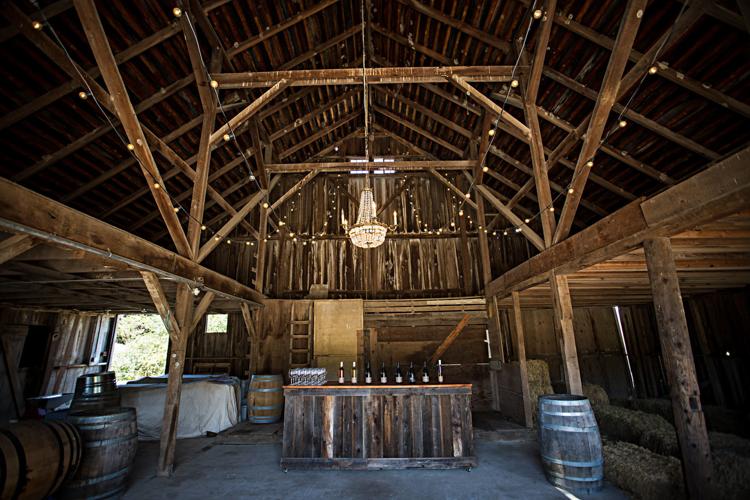 As he set about creating Belden Barns, he said it was a priority to preserve "the colorful character and palpable soul of the site," to keep the original farmstead footprint and preserve the ancient trees.
"Beyond its sheer beauty, the property had a reputation for producing outstanding Pinot Noir. My desire to grow Pinot Noir and other cool-climate varietals really got me excited about the possibilities."
But he was thinking even bigger. "In my classes at Santa Rosa JC, I met young people who were really enthusiastic in farming and gardening, but I wondered, 'How would they ever find a place to learn?'"
The site's combination of hillside and flatland were ideal to combine grapegrowing with vegetables gardens and orchards. He began to toy with the idea of creating a "farmer-in-residence," program, to create a Belden Barns "to reflect the 360 degrees of agriculture in Sonoma County."
First, he tackled the vineyards. He began working with Chris Bowland, a graduate of Cal Poly and owner of Bowland Vineyard Management, which farms some 400 acres of wine grapes in Sonoma County. "Chris began working with our estate vineyards in 2005, and has helped with every step of development," he said.
They removed the much of the exiting vineyards, widely spaced, diseased and planted to Bordeaux varietals that didn't do well in the cool-climate site, which sits at 1,000 feet altitude at the end of the Petaluma Gap. "We were able to save one 1.5-acre block of Pinot Noir, but we had to redevelop the remainder of the vineyard. We ended up planting 18.5 acres and now have a total of 20 acres planted to grapes." Wanting to experiment, they planted Sauvignon Blanc, Grüner Veltliner, Chardonnay, Syrah, and Grenache. They also developed three acres of vegetable and orchard crops, including an apple orchard block dedicated to hard cider varietals.
Today, the Belden Barns property does have its resident farmers, Jenny and Vince Trotter, who, with their son Evan, grow greens, grains, beans and fruit. The Trotters provide produce for Belden Barns' events and tastings, and also sell to restaurants under the name Kibo Farm.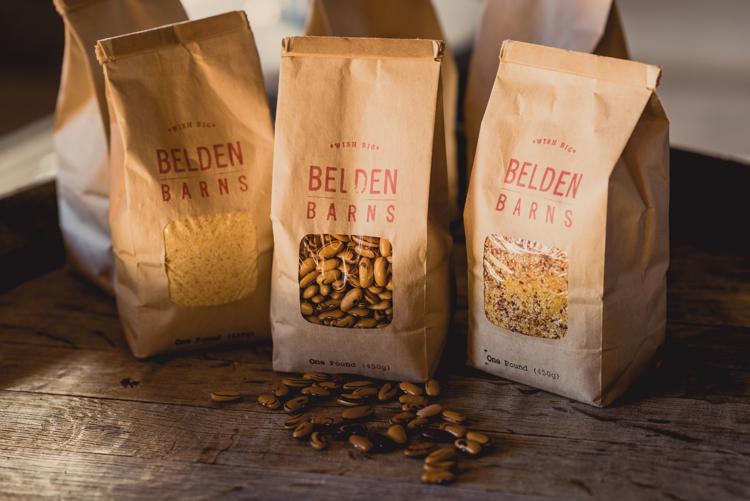 The next step, Belden said, will be adding milk animals and a small creamery. "Our goal is to provide the livelihood for a family dedicated to traditional vegetable, orchard and dairy farming on site, as well as an opportunity for a young farmstead cheese maker to have the resources to learn their craft."
The vision? "You be able to pull on some boots, head out and pick some asparagus for making a tart using estate-grown cheese, all to pair with a delicious, terroir-driven wine produced from the same site."
And wine, too. After selling the wine grapes, Belden has launched a Belden Barns label, and working with his neighbor, Justin Harmon, the former Chicagoan who founded Argot Wines, Belden has a portfolio of 10 wines, all with a tree on the label. Which brings us to the story of the Wishing Tree.
'Wish big'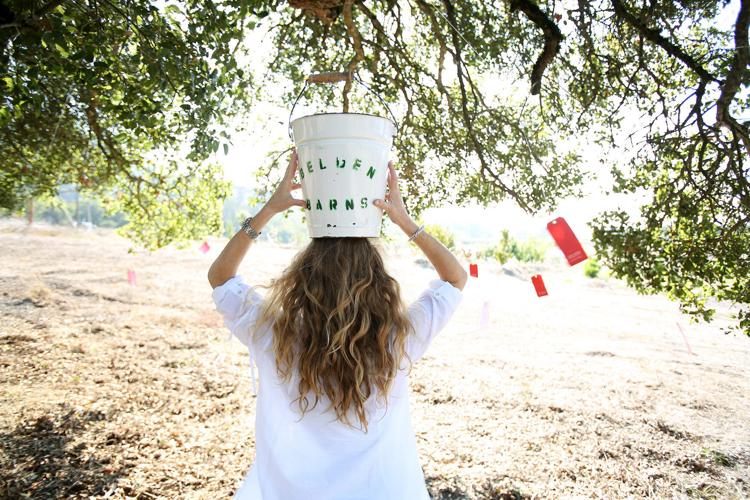 Belden explained that when he and the woman who would become his wife and partner in Belden Barns, traveled the world before settling down, "every where we went we seemed to find 'Wishing Trees' — places where people would hang a wish in hopes for it to come true.
"Each time, we'd read the wishes people had tied to the branches and hang some of our own. And each time, we walked away feeling like we were putting some hope and positivity into the world."
When they married, they decided to add this tradition to the ceremony and set up a Wishing Tree for their guests on one of the old, impressive oak trees.
Lauren Belden said, "When the wedding was over and we made our way back up to the tree, the hopes and dreams and positive energy hanging from every branch. We knew that we'd hit on something magical, and that if we summoned up the courage to start our own wine label, the Wishing Tree would play a key role not only in helping us turn our dream into a reality, but in reminding every single visitor to our vineyard about the inherent powers of putting good energy and hope into the world. It's why we decided to feature it in the center of our label and to remind people to 'Wish Big' on every cork.
Lauren Belden holds the title of "chief creative cultivator" on the Belden team. A brand expert and advertising professional, she said she never gotten much closer to farming than a "disappointing attempt to raise sea monkeys in her kitchen" before she met Nate Belden.
"Nate is an incredibly humble guy, and when he told me on one of our first dates that he had taken some classes at Davis and was 'playing around with growing a few grapes,' I pictured a couple of little vines in his backyard and thought it sounded like a really cool project.
"I remember walking around the property together and feeling like I was in a dream. To this day, I still think it is one of the most romantic, calming and soulful pieces of land I've ever seen in my life. Like everything else about the property, the soil seems to have a magical quality to it. No matter what seeds or vines we put in the ground, they seem to thrive."
"I'm a born and bred New York City girl, so I doubt that the sight of my husband driving his tractor around the vineyard will ever lose its novelty," she said.
The wines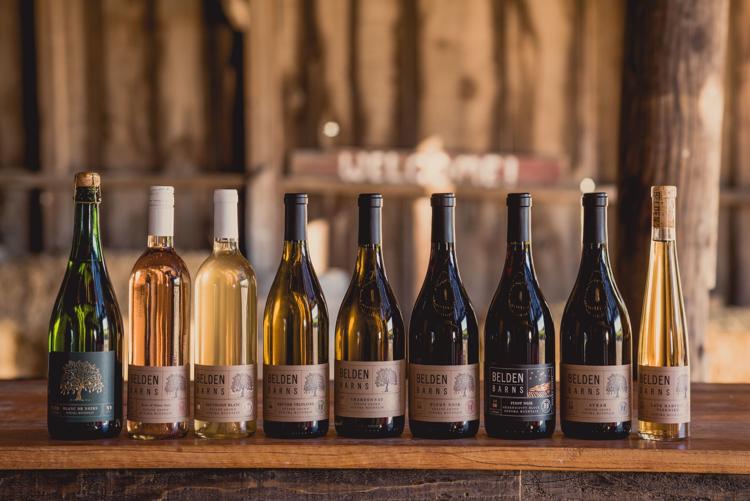 While Nate Belden told his stories, he was pouring tastes of their estate wines: Sauvignon Blanc, that memorable Chardonnay, Rosé, Grüner Veltliner ("We rolled the dice on that one.") Pinot Noir, Syrah, Late Harvest Viognier — and his special favorite, the Serendipity Block Pinot Noir.
Serendipity Block, Belden said, was the result of "a very deliberate effort to create a very special wine."
In their best pocket of vineyard, they inter-planted nine Pinot Noir clones. "Knowing full well that none of the clones ripen at the same time, we limit the picking of Serendipity Block to one day," Belden explained. They ferment the entire lot whole cluster and age it in neutral oak. Their goal? "To capture the essence of Serendipity Block at one moment in time with limited wine-making influence ... (a) nature over nurture approach, truly a product of life's magical possibilities.
"The first time we tasted this wine out of barrel remains one of my top life moments," Belden said.
Do wines reflect the person who makes them? The Belden wines, each distinctive, shared an interesting, thoughtful quality — a complex, balanced, focused intent to create a small lot of a delicious wine. If a wine can be called intelligent, these are super-smart wines. I loved them. I went home with Serendipity and a four-pack of rosé in cans. I will go back for more.
The experience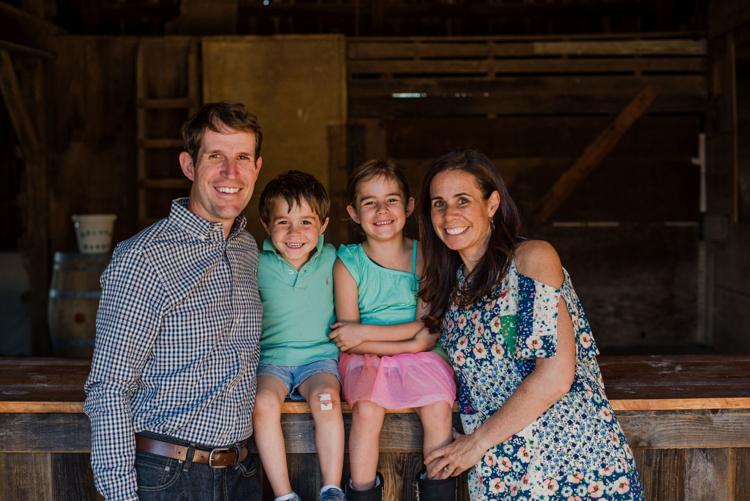 The Beldens, parents of two youngsters — Olivia and Milo — said they see Belden Barns as "an alternative to the traditional tasting rooms that shuffle customers in and out the door."
"Our reality is that we are a family business with the two of us working to build Belden Barns while raising two young children," Belden said. "The same is true of our farming partners. We are a family business based on the production of a single and magical piece of land on Sonoma Mountain."
When people visit Belden Barns, their average length of stay is two and a half hours, Lauren Belden said. "We encourage them to take a tour of the property and farm, play a round of Frisbee golf and hang a wish on the Wishing Tree."
"And it's crazy how many people have thanked us for helping them make these hopes and dreams come true. I can't even tell you the number of marriages, babies, new homes and pets that people are now convinced are (at least in part) thanks to our Wishing Tree. If you share your hopes with the tree, get ready to be blown away by the power of your own intention. People are constantly reporting back how quickly their seemingly impossible wishes came true."
Sometimes, a wine surprises; and sometimes the place that made it surprises you. Thank goodness it can still happen.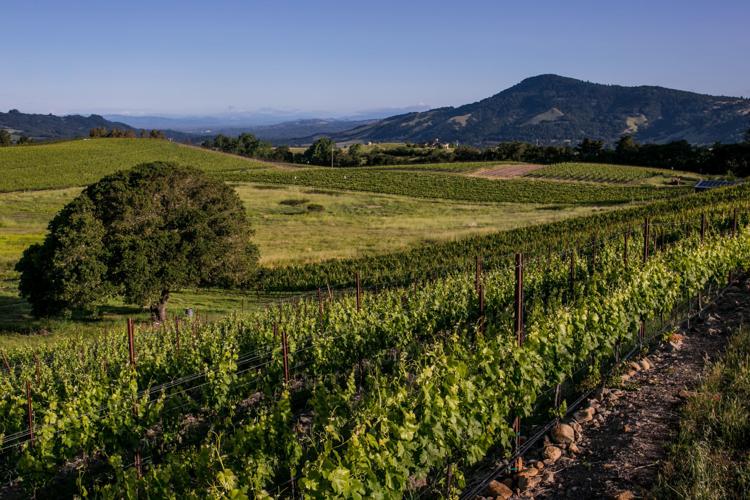 Belden Barns is at 5561 Sonoma Mountain Road, Santa Rosa. For more information, call (415) 577-8552 or visit beldenbarns.com.